That Time Kristen Bell's Kids Walked In On Her And Dax Shepard Having Sex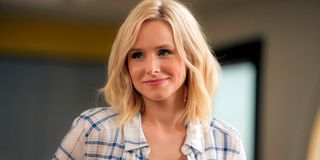 Kristen Bell has proved yet again that she and Dax Shepard, her husband of four years, are one of the most relatable celebrity couples in Hollywood. Bell recently stopped by The Talk for a sit-down interview, and the co-hosts asked the 37-year-old The Good Place actress to describe an incredibly embarrassing thing her two daughters--four-year-old Lincoln and two-year-old Delta--have accidentally seen her and Shepard doing. No, Bell did not talk about a time when the girls caught their folks knitting or making dinner or filming a Game of Thrones musical tribute. Instead, she explained that the most awkward thing ever was when the kiddos accidentally walked in on her and her hubby getting down and dirty in the boudoir. Bell revealed,
Hilarious! Kristen Bell is one of the funniest women in Hollywood, and her explanation was comedic gold. The last bit, when she clarified that they did not "continue," might be the best part. Julie Chen of The Talk pressed Kristen Bell to give details of the awkward moment, but the A Bad Moms Christmas actress did not budge from her stance that the accidental walk-in was no big deal. Bell said,
But Kristen Bell often shares incredible anecdotes about her family and marriage. For example, some years ago Bell talked to Ellen DeGeneres about the time Dax Shepard brought her a sloth home for her birthday. Her dramatic retelling of the story was such a good performance that even received the autotune treatment.
Kristen Bell seems like a wonderful person with a huge heart. She and Dax Shepard first met back in 2007. They got engaged in 2010, but they did not marry until 2013, mostly because they wanted to wait until same-sex unions became legal. The actress talks about life matters with humility and poise. Of course, it is hilarious to hear her talk about her kids walking in on her and Shepard in the middle of the act. But even when reporters asked Bell about the more serious topic of her friends Anna Faris and Chris Pratt's breakup earlier this year, Bell gave the most sensible response ever. She essentially said we ought to be focusing on the happy times instead of the ending.
Similarly, when Kristen Bell got caught in Florida during Hurricane Irma, she hunkered down at a hotel and live-tweeted the whole experience with entertaining updates to keep people's spirits up. She seems like a real gem. With a mom like her, young Lincoln and Delta are sure to grow up to be well-adjusted adults. Well, as long as they can ever move past the scars they might now have from seeing Mom and Dad getting frisky. (Just kidding!)
Your Daily Blend of Entertainment News
Thank you for signing up to CinemaBlend. You will receive a verification email shortly.
There was a problem. Please refresh the page and try again.