Beyonce And Jay-Z Just Recreated Their Infamous Elevator Incident, See The Photo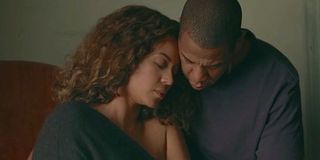 Beyonce and Jay-Z recently got the last laugh when they allowed the cameras to capture them in an elevator, a photo-op that harkened back to the infamous moment when Solange struck Jay-Z in an elevator three years ago at the 2014 Met Gala in New York City. The recent photo-op took place in an elevator on the ground floor of the Angelika Film Center in New York City, where Beyonce and Jay-Z were celebrating Jay-Z's 48th birthday. Take a look:
Reportedly, Queen Bey had set up a private screening of Woody Allen's film Wonder Wheel for herself and her husband to enjoy. On the way down from the theater, Jay-Z reportedly asked his bodyguard to step off of the elevator ahead of him and his wife so that the photographers could get the shot. Entertainment Weekly says Jay-Z could even be heard telling the photogs to "come and get it," indicating he and Beyonce knew what the paparazzi wanted to capture and why.
In recent years, both Beyonce and Jay-Z have released albums full of candid revelations about the hard side of their marriage. Beyonce's Grammy Award-winning Lemonade album showcased the emotional arc of a wife who notices, uncovers, processes, and recovers from infidelity in her marriage. Jay-Z's 4:44 album from this year is not a direct response to his wife's record, but it does cover a lot of ground including the admission of infidelity. Jay-Z's 4:44 is up for eight Grammy Awards this year, and it contains revealing lyrics about that infamous elevator ride, such as,
But before the albums, what really kicked off the whole narrative about trouble in Beyonce and Jay-Z's marriage was the infamous elevator moment. As the world watched the grainy elevator camera recording of Solange lunging at her brother-in-law, a lot of us wondered what Beyonce, herself, asked on "Hold Up" from Lemonade--"Are you cheating on me?" Well, not on "me," but on Bey. Then came the albums, and now Jay-Z has continued the conversation in recent interviews.
For example, Jay-Z delved deeper into the topic of infidelity in his marriage. In Dean Baquet's interview with Jay-Z for the New York Times, Jay-Z suggested that he saw problems like cheating as manifestations of unresolved inner turmoil. The rapper explained how easy it is to "shut down emotionally" in different areas of life, but how doing so leads to heartache and pain that re-emerges as bad behaviors like cheating.
In fact, back in September Jay-Z told Rap Radar about how he and Solange are on good terms these days. He said they have always had "a great relationship," but they had "one disagreement"--presumably the one we all saw go down in that elevator at the Met Gala. Regardless, Jay-Z said,
Those are pretty amazing words for him to share about Solange. Moreover, it is incredible how far this family, especially Beyonce and Jay-Z themselves, have come since those days. If only they could have convinced Solange to join them for the party. Imagine how huge that photo-op would have been.
Your Daily Blend of Entertainment News
Your Daily Blend of Entertainment News
Thank you for signing up to CinemaBlend. You will receive a verification email shortly.
There was a problem. Please refresh the page and try again.