The Rock Is Seriously Considering A Presidential Run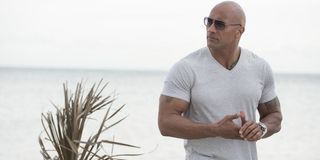 Will Dwayne Johnson run for President? Many social media commenters asked that question this year when The Washington Post said Johnson could win if he campaigned. Johnson himself talked about the idea in interviews, and even teased about it with Tom Hanks on Saturday Night Live. Now it appears the concept is a real consideration for the 45-year-old movie star.
Dwayne Johnson recently told Variety he is mulling over the thought of running for President in 2024. Apparently, Johnson's schedule is full for several years, but he would love to make a difference in politics, so he plans to listen to what people talk about in case he decides to run. Johnson realized people were responding to the idea of The Rock in the White House. He said:
Dwayne Johnson said the current administration is not doing everything he wants. However, that bit might not have been a declaration of his politics, and it remains a mystery which party Johnson would choose to support if he ran. After all, Johnson is a registered Independent who previously attended both Democratic and Republican conventions.
In fact, both major parties in the 2016 general election asked Dwayne Johnson for an endorsement, and he denied them both. Still, we can speculate what Johnson might stand for if he ran. For example, he has indicated he supports firm U.S. national security, but disapproves bans that keep immigrants from entering the U.S.
In the interview, Dwayne Johnson revealed controversial topics should be opportunities for the President to learn about the needs and wants of U.S. citizens. Johnson also intimated his support of empowering women. Plus, Johnson suggested the rise of stories surfacing about sexual misconduct in the movie business might lead to improvements in workplaces in all industries. So, we can gather ideas about his beliefs from these interesting observations.
Still, Dwayne Johnson gives middle-of-the-line answers concerning politics. But doing so could, perhaps, help him in an election season. He already has the popularity factor, especially in Hollywood where he recently earned his star on the Walk of Fame. And regarding a possible run by The Rock, a recent independent poll showed both Democrats and Republicans viewed Johnson favorably, and the survey said Johnson most likely could triumph over the incumbent president.
Regardless, it makes sense for Dwayne Johnson to put his political ambitions on the backburner for now. These days, The Rock is busy all the time. This year alone saw him promoting The Fate of the Furious, Baywatch, and Jumanji: Welcome to the Jungle. Next up, he will be making the rounds to market Rampage.
Plus, Dwayne Johnson's personal life is extra busy. He and his singer-songwriter girlfriend, Lauren Hashian, recently announced they are expecting another baby girl. The little one will be the third child in the family ,after Hashian and Johnson's one-year-old daughter Jasmine, and Johnson's 16-year-old daughter Simone from his previous marriage.
Therefore, it sounds like Dwayne Johnson will be pressing pause on politics to keep up with his busy work schedule. But if he keeps listening to what people are saying, we might soon find out what The Rock is cooking next is a career in Washington.
Your Daily Blend of Entertainment News
Your Daily Blend of Entertainment News
Thank you for signing up to CinemaBlend. You will receive a verification email shortly.
There was a problem. Please refresh the page and try again.