Check Out The Adorable Photos Of Kevin Hart With His New Baby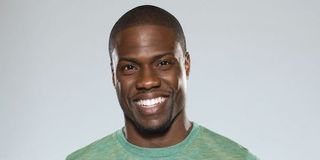 Over the weekend, comedic actor Kevin Hart and his wife, Eniko Parrish, welcomed their brand-new baby boy, Kenzo. Kevin Hart and Parrish each took to social media to announce the news. The Jumanji: Welcome to the Jungle actor first posted an adorable photo of himself holding his newborn child close to his chest. Take a look:
Not long afterward, Kevin Hart shared an adorable close-up picture of little Kenzo Hart's inquisitive eyes. Check it out:
Kevin Hart shared the photos with his 55.2 million followers on Instagram. Did you check out the beautiful poem Kevin Hart added to the caption of the picture? The heartfelt words were a touching tribute to the actor's brand new baby boy, and included thoughts about how blessed he and his family are to have Kenzo in the world.
Kevin Hart's wife, Eniko Parrish, followed suit by sharing the latter of the two photos on her social media accounts. She also added this beautiful shot of herself holding her pride and joy in her arms:
Kenzo Hart is Eniko Parrish's firstborn child and Kevin Hart's third child. He and his ex-wife, Torrei Hart, share two children, Heaven and Hendrix.
In October, Kevin Hart and Eniko Parrish prepared to welcome their newborn bundle of joy by throwing a lavish baby shower with a Lion King theme. The guest list included the couple's celebrity friends, like Ludacris, and Hart reportedly dropped six figures on the party to make Parrish feel like a queen and the results looked pretty exceptional.
This year, Kevin Hart also made headlines for creating a crowdfunding campaign to raise money to help people affected by Hurricane Harvey. Celebrities like Alex Rodriguez, DJ Khaled, Dwayne Johnson, Khloe Kardashian, Jennifer Lopez, and Nicki Minaj rose to Hart's challenge and donated hundreds of thousands of dollars to the cause. Evidently, little Kenzo and his siblings have big shoes to fill in the hospitality department.
During promotions for Captain Underpants: the First Epic Movie, for which Kevin Hart voiced George Beard, the actor told E! he wanted the letter K to be in the name somewhere. This approach comes as a surprise when you consider Hart's other two children's names begin with the letter H. Regardless, Hart and Eniko Parrish landed on a super cute name. Welcome to the world, Kenzo!
Your Daily Blend of Entertainment News
Thank you for signing up to CinemaBlend. You will receive a verification email shortly.
There was a problem. Please refresh the page and try again.