Mexican Wrestling Star Dies After Freak Accident In Match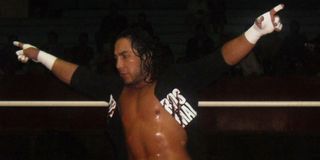 One of the biggest stars in Mexican pro wrestling shockingly passed away last night after a match in Tijuana. Perro Aguayo Jr., the son of one of Mexico's favorite charismatic performers was only 35 years old when something went terribly wrong in the ring leading to the professional wrestler's unexpected death.
According to The Wrestling Observer, who first broke the story Aguayo Jr. and Manik (T.J. Perkins of TNA) where in a match against Rey Mysterio Jr. and Extreme Tiger when the freak accident occurred. Aguayo Jr. entered back into the ring after taking a spinning head scissors when he bumped to the floor and Mysterio Jr. gave him a low dropkick. Soon after, Aguayo Jr. hit the ropes and fell unconscious. The Wrestling Observer explains in the competitive terms:
Nobody knew the severity of the hit, whether or not he was selling or he was severely hurt. So, even as he was knocked out, the match continued and when the paramedics arrived to the show, they attempted to revive him until they finally needed to carry him out and rush him to the hospital.
Sources who were at the Hospital del Prado in Tijuana said that the initial cause of death was cervical spine trauma. This is believed to have occurred when the ropes snapped the wrestler's neck. Video footage of the fight has been circulating the internet and the fight does not seem anything outside the ordinary in comparison to other professional wrestling matches. You can watch it here, but obviously it is very difficult to view considering the circumstances.
Aguayo Jr. started wrestling as a young teen and quickly rose to stardom as AAA's top heel performer. He's been a top wrestling star for nearly two decades now, and this comes as a huge loss to his large number of fans. He will be dearly missed.
Your Daily Blend of Entertainment News
Your Daily Blend of Entertainment News
Thank you for signing up to CinemaBlend. You will receive a verification email shortly.
There was a problem. Please refresh the page and try again.