Watch Val Kilmer And Dave Grohl In Tenacious D's New Video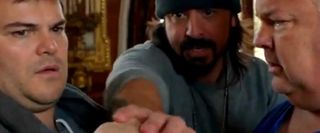 You can't really be the world's greatest rock band without going through an equal amount of good and hard times. To be the world's greatest band, you must first record the best song in the world; or at least pay tribute to it. Then after the success of that smash hit, things could turn for the worse or go up hill from there. In the sad case of the Jack Black and Kyle Gass group Tenacious D though, their cult classic film Tenacious D and the Pick of Destiny was seen by no one and ended a long reign of success. Until now. After their appearance at the 2010 installment of Bonnaroo Music and Arts Festival, Tenacious D is finally back!
The band has released a new video cataloging their demise after The Pick of Destiny, and their eventual comeback to fame and glory with Rize of the Fenix (misspelling intended), their new album coming out May 15th. As mentioned back in May of last year, the actor, comedian, and rock aficionado has been hard at work on the D's latest album. What if their reunion at Bonnaroo never happened though? How could the world's greatest band possibly reunite? Obviously in a gloriously epic way, that's how. It wasn't an easy road for them, but as shown in the video To Be The Best, Val Kilmer, Dave Grohl and Josh Groban help them get their shit together. Watch it below:
Possibly the coolest video on the internet today? Kyle Gass escaping from an insane asylum, a rich and famous Jack Black, the epic death of Val Kilmer, and the added bonus of Dave Grohl helping Black learn how to play guitar work together to create an hilarious experience on all levels. To say the least, it makes me even more excited to see what's in store on their new album Rize of the Fenix. With a video like To Be The Best though, it is hard to think otherwise.
Subsequently with the release of their new video, the band has also released a slew of tour dates for fans to revel over. Check out the summer dates below. And if you haven't already, listen to their new single ""Rize of the Fenix".
Tenacious D 2012 Tour Dates:
05/23 – Santa Barbara, CA @ Santa Barbara Bowl
05/24 – Oakland, CA @ Fox Theater
05/26 – Bend, OR @ Les Schwab Amphitheater
05/27 – Vancouver, BC @ PNE Amphitheater
05/28 – George, WA @ Sasquatch! Festival
06/01 - Nürburgring, DE @ Rock am Ring Festival
06/03 - Nuremberg, DE @ Rock im Park Festival
06/05 – London, UK @ O2 Academy
06/06 – London, UK @ O2 Academy
06/09 – Leicestershire, UK @ Download Festival
06/10 – Manchester, UK @ O2 Apollo
06/12 – Glasgow, UK @ SECC
06/23 – Nashville, TN @ Ryman Auditorium
06/25 – Atlanta, GA @ The Tabernacle
06/26 – Charlotte, NC @ The Fillmore
06/28 – New York, NY @ Hammerstein Ballroom
06/30 – Philadelphia, PA @ Penn's Landing
07/02 – Boston, MA @ Bank of America Pavilion
07/03 – Uncasville, CT @ Mohegan Sun Arena
07/06 – Detroit, MI @ The Fillmore
07/07 – Chicago, IL @ Aragon Ballroom
07/19 – Austin, TX @ Austin Music Hall
07/20 – Dallas, TX @ Palladium Ballroom
07/21 – Tulsa, OK @ Brady Theater
07/23 – St. Louis, MO @ The Pageant
07/24 – Kansas City, MO @ Uptown Theater
07/26 – Denver, CO @ Red Rocks Ampitheatre
07/29 – San Diego, CA @ SDSU Open Air Theatre
Your Daily Blend of Entertainment News