After Jenna Ortega Revealed Aspects Of Wednesday 'Made No Sense' To Her, She Explained How Season 2 Will Be Different
It sounds like season 2 will be fairly different, in a good way.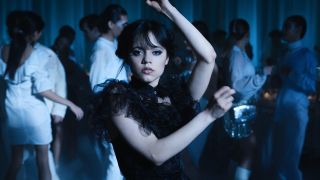 (Image credit: Netflix)
Jenna Ortega has not been shy about letting her feelings be known regarding how hard it was to shoot Wednesday and how some of the story choices in Season 1 left her scratching her head. According to the actress, there were aspects, such as the love triangle, that "made no sense" to her, and she had to put her "foot down" on the set spinoff. In a recent interview, she explained how the confirmed Season 2 would be handled very differently because of what happened with the first installment, and it will probably make lifelong fans of the Addams Family character very happy.
The Scream VI star appeared on The Tonight Show starring Jimmy Fallon to discuss her upcoming horror movie; still, she also revealed some details regarding the upcoming second season of the Netflix series that took the internet by storm. After explaining that she had to put her foot down so much on the set of Wednesday's first season on the Armchair Expert podcast, the performer said that a writers' room is forming for Season 2 now, and she has a pretty good idea of what direction she wants to take her character. She told the host:
Some fans had pointed out that the love triangle felt out of place for a character not known for displaying much emotion, so this new direction should please them. And if anyone knows the plans for Season 2, it would be Jenna Ortega. She recently revealed that she would be taking on the dual role of actress and executive producer for the forthcoming season. Based on Ortega's candid thoughts on how her character was handled in Season 1 (even though she did a great job embodying the classic character), it's not hard to imagine the second season embracing more of what has made the iconic comic strip character so beloved. Plus, any additional horror elements make this spooky fan very happy.
Ortega might be a rising scream queen--thanks to the success of X, Scream, and Scream VI-- however, she will be showing off her comedic side next as she's set to join the ranks of Season 48 hosts in the next episode of Saturday Night Live. The American Carnage performer said recently she has only heard scary things about hosting the sketch show, but she was pretty confident everything would be "delightful" once she got to Studio 8H.
While we don't have many details about the upcoming season of the Netflix hit, you can check out what we hope to see in Season 2 of Wednesday. Until then, you can catch Jenna Ortega host Saturday Night Live tonight, when her episode airs at 11:30 p.m. ET on NBC as part of the 2023 TV schedule. And if you've yet to check out Wednesday, stream the coming-of-age series using a Netflix subscription.
Your Daily Blend of Entertainment News
Ryan graduated from Missouri State University with a BA in English/Creative Writing.