Are You The One: 7 Ways Season 9 Is Different From Previous Seasons
Is Paramount+ Are You The One's perfect match?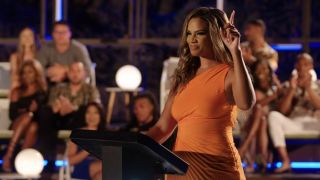 (Image credit: Paramount+)
Before Love Is Blind, Perfect Match, and some other shows that emphasize finding your perfect match, there was Are You The One? It's a former MTV dating show that encourages singles to find their most compatible partners from a limited sample size to win a cash prize and maybe find love. The show has been going strong for nine seasons but may be one of the network's least-known reality shows. However, it's definitely one of the best reality TV shows from the channel, and one of the best dating reality shows. Hopefully, now that it's available on Paramount+ more people will check it out.
Recently, the show experienced a few changes for Are You The One? Season 9. Some of these differences are major, and some are just slight tweaks in the format. Let's explore whether they hurt or help the series.
Are You The One? Season 9 Takes Place In A New Location
The current season of Are You The One? was filmed in Gran Canaria, Spain. Most of the previous seasons were filmed in Hawaii, but this is not the first time the show has ventured to another location. Other spots include San Juan, Puerto Rico, Cabarete, Dominican Republic, and New Orleans, Louisiana.
Therefore, it isn't a big change for the reality show. However, it is noticeable, because the difference in locale stands out. Gran Canaria is beautiful, so the singles are still experiencing paradise. You just may immediately go "that's not the same house" and be a little stunned — at first — with the scenery change.
It Has A New Host
Throughout its history, Are You The One? has had three hosts. Ryan Devlin (yes, Mercer on Veronica Mars) hosted the first five seasons, then Terrence J hosted from Seasons 6 through 8.
Kamie Crawford hosts Season 9. Many may know her best for tackling some of the wildest Catfish twists alongside Nev Schulman on Catfish.
She does such a great job there that I was excited to see her takeover as the Are You The One? host. Unfortunately, it seems as if this Paramount+ version gives her even less to do than the MTV version gave Terrence J and Ryan Devlin. She occasionally offers commentary and advice, but is definitely not utilized much.
This isn't a bad thing, because sometimes it can be annoying if a host steals too much screen time from the actual contestants. However, the series can give her slightly more to do. She's a great host when allowed to shine.
The Competitions Are More Focused On Testing The Knowledge Of Other Contestants
Let's be honest, the competitions on this show have always been kind of irrelevant. They're just filler to extend the episodes' runtimes. Their main purpose has always been to allow people to go on dates and get into the truth booth. During each episode, I sat through the competitions just to get to that exciting part.
The competitions chosen to win dates were also very random at times. Sometimes they were just silly party games that never tested how much the contestants knew about each other or encouraged real self-reflection. Some of the competitions were dating term quizzes, obstacle courses, and word puzzles. Just some silly things to pass the time.
Therefore, I prefer Season 9's game method. Most of the competitions test the individual's knowledge of their housemates. These games are more crucial because they allow dates and truth booth matching, but they also force contestants to really get to know everyone.
You can't win unless you at least talk to all the contestants to find out about their dating history. This forces contestants to try harder to know everyone and potentially form a real connection.
It Has An International Cast
Season 9 has expanded the dating pool to other countries. There are people from the UK, Ireland, Australia, and New Zealand as well as those from the United States. Previous seasons of Are You The One? strictly focused on Americans finding love.
Taking dating international seems to be a growing trend, as shows such as Netflix's Perfect Match, multiple seasons of Too Hot To Handle, and other dating reality shows have realized that adding cast members from around the world can increase the entertainment. If Love Island, Big Brother UK, and The Circle taught us anything, it's that those from the U.K. can be just as messy as us. We need scandalous international reality TV stars.
It Returns To The 10 Episode Format
The first five seasons had ten episodes each. However, the show began increasing that number in Season 6. The episode count went from 10 to 12, then increased again in Season 7 to 14, and then went back to 12 in Season 8. Are You The One? Season 9 keeps things simple by only having 10 episodes.
Reality TV shows often feel like they're dragging if they go over ten episodes. Too many episodes of a reality show can make it seem like the producers are milking a few storylines as much as possible. Ten is the perfect number; it's just enough exposure to over-the-top behavior and drama.
It Feels Like A Different Show
I enjoy reality dating TV shows at times. I loved the drama of Perfect Match and the allure of a possible happy ending for the Love Is Blind couples, but I don't love the majority of reality dating shows. I often find them boring and tedious. However, I have adored Are You The One? since its inception.
It's a fun concept to have to use statistics, logic, and math to find your potential partner. It also has plenty of drama, unique characters, and destructive couples. Therefore, I was excited about its return, especially on Paramount+, where the producers may have more freedom to create an even more compelling reality show.
I have seen most of the season so far, and it just doesn't feel like the same show. It doesn't have that many changes, but something is missing. Maybe it's the editing, the storylines that the producers focus on, or maybe it's that the contestants just don't seem to be connecting like those in previous seasons.
I can't say why the season isn't as great as usual, but it's not the same Are You The One? I know and love. It could be a Paramount+ thing or it could be me. Maybe I just lost interest in the show.
That said, I still plan to finish the season and give it another go if it's renewed. It may just be experiencing a few bumps as it navigates these changes and a long hiatus. Are You The One? could come back stronger next season or even just have a strong finish to this season. It's not leaving my must-watch list yet.
Major, Are You The One? Season 9 spoilers are ahead. Don't read the next part if you want to remain unspoiled.
The Cast Achieves Something Never Done In Are You The One? History
If you have watched for years, you know that some casts have endured the dreaded blackouts. If a match-up ceremony results in no one sitting by their match, then the prize money decreases. Some casts have lost $250,000 from a blackout. However, no Are You The One? cast has ever gotten a blackout on the first episode…until Season 9.
Yes, the show kicks off with a big first. The cast loses $250,000 from the prize pot at the first match-up ceremony. Despite the pain of losing so much money, the blackout eliminates eleven potential matches. This is good information to have for a show that's all about odds and probability. It's helpful and really increases the chances that they win the remaining prize money before they run out of time.
If you subscribe to a Paramount+ plan, then definitely give this new version of the reality show a try, and see if Are You The One? is your dating show perfect match.
Stream Are You The One? on Paramount+ (opens in new tab).
Your Daily Blend of Entertainment News
Spent most of my life in various parts of Illinois, including attending college in Evanston. I have been a life long lover of pop culture, especially television, turned that passion into writing about all things entertainment related. When I'm not writing about pop culture, I can be found channeling Gordon Ramsay by kicking people out the kitchen.