Jeremy Renner Reveals What 'Brings Hope' To Him Amid Recovery From Snowplow Accident
He's a superhero through and through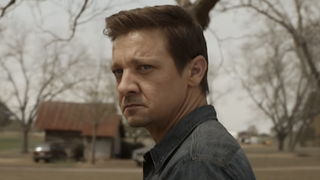 (Image credit: Marvel Studios)
Ever since Jeremy Renner's serious snowplow accident back in January, the actor has been sharing updates of hope and recovery. He's currently on a mission to gain his strength back and seems to be doing his best to let fans know he's doing well. Renner is currently home from the hospital and seems to be making progress. And in his most recent social media post, the Avengers alum shared a message about something that "brings hope" to him as he continues to get better.
Despite breaking over 30 bones due to the accident, Jeremy Renner is on the mend. The accident left the actor in critical condition, but he's now starting his rehabilitation process at his residence. The Mayor of Kingstown star shared his most recent hopeful and touching post to his Instagram story, and it's a nice summation of what the little things can do for a person. You can see his story below:
While anyone would be happy to see a pathway to their house plowed through a mountain of snow, this seems to be particularly symbolic for the actor. The accident certainly was a traumatic occurrence and the recovery journey will be long and difficult, yet there is a path forward. Many of the 52-year-old's friends have sent their own messages of hope, wishing him a speedy recovery. This includes Chris Evans, who recently joked with the actor on social media, and the exchange proved that the Clint Barton actor's sense of humor is still intact. He seems to maintain his strong will and infallible spirit, so I'm sure his superhero strength will carry him through.
On New Year's Day, the Marvel actor got into a snowplow accident in Reno, Nevada as he was helping a family member get out a stuck vehicle in three feet of snow. Jeremy Renner was airlifted to a nearby hospital, where he was admitted to the ICU and went into surgery the following day. After becoming stable, he started his recovery journey in earnest. Reports indicate that the ordeal was very serious, and it may be a while before Renner gets back to work. All the while, fans have been sending their well wishes.
Before the accident, the star had been receiving buzz for his leading role in the hit series Mayor of Kingstown , which is produced by Yellowstone's Taylor Sheridan. He also reprised his role as Clint Barton in the Disney+ series Hawkeye alongside Hailee Steinfeld. In addition, there are many rumors about him possibly returning to the Marvel Cinematic Universe for Avengers: The Kang Dynasty. This return to form is all wishful thinking at this point and, at this point, we'd be best just to gather those same feelings of hope and optimism that the actor has and aim it squarely in his direction.
You can catch Jeremy Renner on Mayor of Kingstown, which is currently streaming for Paramount+ subscribers. In addition, fans of Renner can revisit his iconic performances as Hawkeye by streaming the Avengers films, which are all available with a Disney+ subscription. For more information about other television projects headed to streaming in the near future, be sure to consult CinemaBlend's 2023 TV schedule.
Your Daily Blend of Entertainment News
Writer, podcaster, CinemaBlend contributor, film and television nerd, enthusiastic person. Hoping to bring undying passion for storytelling to CinemaBlend.