Longtime Pal Jennifer Aniston Is Pumped About Rom-Com Queen Reese Witherspoon Starring In Her New Netflix Movie With Ashton Kutcher
We love women supporting women!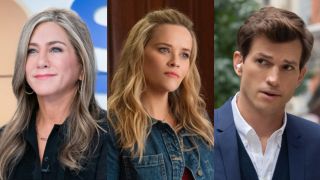 (Image credit: AppleTV+ / Netflix)
Jennifer Aniston is definitely one to show support for her friends, and that includes longtime bestie and co-star Reese Witherspoon. The Legally Blonde actress has been very busy promoting her latest rom-com, Your Place or Mine with Ashton Kutcher, and it seems like Aniston also wanted to give her friend's new film a boost. The Friends alum pumped up the new Netflix film on her social media, showing this duo is always there to cheer each other on.
Aniston took a break from promoting her upcoming Murder Mystery 2 film with Adam Sandler to show Witherspoon some love on her Instagram story. The actress reposted Kutcher's post about the film, and highlighted how excited she was to see it. You can check out the story below:
This comes as Witherspoon and Aniston recently wrapped filming Season 3 of their hit Apple TV+ series, The Morning Show. The two seem closer than ever and fans can't wait to see all the twists and turns the new season has to offer. However, they have been pals and co-stars for decades. Witherspoon guest starred as Aniston's sister way back in the early days of Friends, and now they seem to have carried on that sisterly bond on their award-winning streaming series.
If Aniston is going to get excited about a movie, Your Place or Mine is a great pick. Kutcher and Witherspoon co-star as longtime friends who switch houses to give each other a break from their typical everyday lives. They soon realize what they thought they wanted may be different from their original plans. This is a classic romantic comedy, and while rom-coms were in a slump for years, new films like Ticket to Paradise and Shotgun Wedding are starting to revive the genre and feature A-list talent. Both actors have a rom-com past, starring in movies like Sweet Home Alabama and No Strings Attached, so this is basically a match made in heaven.
This is Witherspoon's first film with Netflix, and she marked the occasion by wearing "Netflix Red" to the premiere. Kutcher has worked with the studio previously on his own sitcom The Ranch and most recently on an episode of That 90's Show. They both know their way around the small screen, so I'm sure these two could just sit back and have fun while returning to their old rom-com stomping ground. The duo got really personal while making the film, so I'm sure this chemistry will come across on screen.
Your Place or Mine will be available to stream for Netflix subscribers on February 10, just in time for Valentine's Day. You can also catch Reese Witherspoon and Jennifer Aniston on The Morning Show which is now streaming its first two seasons with an Apple TV+ subscription. For more information on other projects hitting streaming in the near future, make sure to consult our 2023 movie release schedule.
Your Daily Blend of Entertainment News
Writer, podcaster, CinemaBlend contributor, film and television nerd, enthusiastic person. Hoping to bring undying passion for storytelling to CinemaBlend.