Sex/Life Creator Shares Empowering Reason For Season 2 Nude Scene, Which She Totally Did (Hard) Research For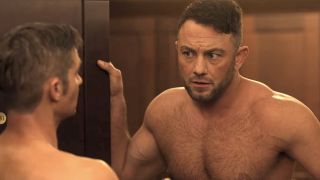 (Image credit: Netflix)
Everyone with a Netflix subscription who likes steamy content had a long wait to see how Sex/Life Season 2 would pick up the action after the shocking ending to its first season, but now that many fans have been able to check out the new episodes, there's plenty to talk about. The drama is known for its many bold sex scenes, and the second installment didn't disappoint on that front, with one wild full-frontal scene from the finale now being a big topic of conversation. The show's creator has revealed a pretty empowering reason for including the surprising shot, which she actually did research.
What Did Sex/Life's Creator Say About Season 2's Full Frontal Nude Scene?
Alright, if you haven't yet managed to watch the sophomore episodes all the way through the ending (which may give you some serious thoughts about who Billie ended up with), know that they saved possibly the craziest nude scene for the finale. I'll get into exact spoilers later, but for now, you should understand that this time around we see Cooper's trouble-making, misogynistic buddy, Devon (Sex/Life cast member Jonathan Sadowski) disrobe in a very unexpected fashion. According to what series creator, Stacy Rukeyser, told Variety, she had a similarly unexpected, but also very empowering reason for using the scene. As she told the outlet:
Well, well, well! I totally get where she's coming from. The idea that a producer would declare that fat women, specifically, shouldn't appear in any capacity on one of their shows would (or at least, should) make lots of people angry, so while Rukeyser had to deal with that sexist, fat-phobic rule at the time, she's now trying to turn things around a little bit with her daring relationship drama. No small peens, indeed!
As fans who checked out the first season will know, while every episode was filled with scenes of a sexual nature and many moments of nudity, there is one episode in particular that set the internet ablaze. It featured Brad (star Adam Demos) in a gym shower, with all of his personal man-business on full display (though Rukeyser has never confirmed it wasn't a generous prosthetic) as Cooper (Mike Vogel) looks on.
Considering what the creator said (and how viral that moment went), it makes sense that she would be intrigued by the prospect of outdoing herself in Season 2, and though it's difficult for actors to get carried away by sex/nude scenes (as it should be), viewers are a different story. I'm about to SPOIL the hell outta what happened now, so, again, if you haven't watched, you might want to skip ahead. Ready?
OK, so Cooper hits rock bottom during this season, which leads to him taking a cocaine-fueled trip in a newly-bought luxury sports car with a sex worker after his divorce from Billie is finalized. Devon, ever the devil on his shoulder, precipitates this incredibly bad decision, and is doing the same in his own car, with his sex worker giving him a blow job as he drives. When Cooper loses focus and causes the cars to crash into each other, Devon's…Little Devon, is the only casualty.
Skip ahead to when Coop has cleaned up his act and Devon has recuperated, and they are in the locker room at their fancy gym talking about their lives now when Cooper mentions to his friend that he thought the accident would have negatively impacted Devon's sex life. And, friends, that's when his buddy confirms the opposite by dropping his towel and showing off the reconstructed Devon Jr., which now includes a penis pump.
END SPOILERS!
Not gonna lie, while watching, I went from giggling slightly, to confused, then hit ohmygod, they're really doing this, and eventually landed on a full belly laugh as Devon, uh…gave everyone watching a demonstration. From what the creator said, she had long ago written a spec script that detailed similar equipment, so she was thrilled by the prospect of using that info here:
Everyone's efforts seem to have paid off, as the shot in question has become one of the most talked about of both seasons. There's no word right now on whether or not there'll be a third season, but I wouldn't be shocked if there are already plans to top themselves when it comes to surprising, and rather comedic, nudity.
Your Daily Blend of Entertainment News
Yennefer's apprentice, Gilmore Girl; will Vulcan nerve pinch pretty much anyone if prompted with cheese...Yes, even Jamie Fraser.