Ted Lasso: 6 Things To Remember Before Season 3 Premieres
The return of A.F.C. Richmond!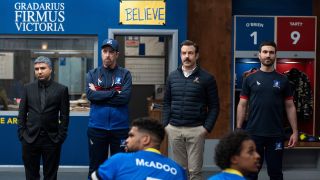 (Image credit: Apple TV+)
Pull out your jerseys and get ready to bake some biscuits for your boss because Ted Lasso is finally coming back! After more than a year off, the hit Apple TV+ original series is finally coming back for Season 3 and I am literally more excited than anything in this world. I feel like I've been waiting years and now, the time has finally come.
Since it's been so long, as the last episode of Ted Lasso came out in October of 2021, I feel that it's fair we take a look at some things that we might have forgotten about from the last season. From where everyone is to what the conflict coming up might be, here are six things you should remember before you watch Ted Lasso Season 3.
Richmond Has Been Promoted To The Premier League
The entire reason why Ted Lasso was brought to the United Kingdom in the first place was for Rebecca to spite her ex-husband and ruin the team. But, through two, painful, gruelling seasons (and after Ted got her and the team on his side), they've actually gotten better. Well, partially.
At the end of Ted Lasso Season 1, Richmond lost a crucial game that led to them being downgraded to a level below the Premier League, and while Ted (played by Jason Sudeikis) was pretty close to resigning after, Rebecca reassured him that they would just try to get the promotion next year – and then once they did, they would win the championship.
Well, that is the case at the end of Season 2. When Richmond is facing their last opponent at the end of Ted Lasso Season 2, Dani is able to score a penalty kick, which cements their return to the Premier League after a whole season of working hard to get back there.
Now, it seems like we're getting closer and closer to the ultimate championship.
Keeley Now Has Her Own PR Firm – Plus She And Roy Are Still Together, For Now
One of my personal favorite characters from the show has always been Keeley (played by Juno Temple), who has really undergone such a major transition in who she is over the last two seasons, changing from a football player's model girlfriend to an independent women working in PR and seriously killing the game. Not only has she basically become best friends with Rebecca, she's done a great job of expanding her brand.
At the end of Season 2, she was actually given the chance to own her own PR firm while Bantr finances it, which is huge for her. But of course, owning your own PR firm won't be easy and we do see that she is stressed about it at the end of the episode, which seems to be putting some pressure on her relationship with Roy.
The Best Juno Temple Movies And TV Shows And How To Watch Them
If you love Juno Temple in Ted Lasso, check out her other roles.
For the most part, Roy and Keeley have been pretty solid in their foundation, but there have been other moments that have tested their relationship, such as Nate and Jamie opening up to Keeley about feelings (and Nate freaking kissing Keeley without her consent), and Roy getting closer with his niece's teacher. Roy even attempted to surprise her with a getaway but because she's already overworked, she couldn't go.
All I can say is that if these two are heading for a breakup, I don't know if I'll ever be the same.
Sam Is Staying At Richmond Despite The Breakup With Rebecca, And Opening His Own Nigerian Restaurant
One of the biggest surprises of Ted Lasso Season 3 was the fact that Rebecca and Sam ended up having a relationship. It started off as anonymous texting through Bantr before they found out who they were, and while Rebecca thought it was wrong at first, they did end up together for a while.
However, Rebecca ends things, and after that, Sam (who has been making quite the name for himself in football), is offered the chance to play with Raja Casablanca on a team of the best African players, which is owned by billionaire Edwin Akufo. Rebecca tells him that she doesn't want him to go, but tells him it's his choice.
Sam, in the end, decides to stay with Richmond, saying that it would be better for him and his career overall rather than moving to a different country and playing on a different team – even though we all know he also cared about what Rebecca thought. He also decided to lease a space for a Nigerian restaurant, so that way, he can feel closer to home without leaving Richmond.
Trent Crimm Was Fired From The Independent
Trent Crimm is probably everyone's favorite hard-nosed journalist who has won our hearts because of his blatant honesty, and in Season 2 of Ted Lasso, we actually saw a pretty awesome side to him when he actually reveals who his anonymous source regarding Ted's panic attacks was – Nate.
However, because he revealed this to Ted, it caused Trent to be fired from his job. While it's not that surprising, considering that revealing your sources is a major deal within the field of journalism, it's still shocking to see it happen, because all we've ever known is "Trent Crimm of The Independent," and now he's just…Trent Crimm. Freelancer? We'll see soon.
Rebecca's Ex, Rupert, Bought West Ham United
I don't think I've ever disliked a character in a television show more than Rupert because he just grosses me out to new heights I didn't even know imaginable. Now, because Rebecca owns Richmond and is making a real career of it, Rupert has decided to re-enter the world of pro football and buy his own team again – West Ham United.
This is a major deal, and something that is most likely going to play a major role in Season 3, since Richmond is back in the Premier League and they are most likely going to face West Ham at some point down the line. But it's a huge thing to remember for an even bigger reason, and that's due to Nate.
Nate Has Joined Rupert As Part Of West Ham's Coaching Staff
I don't think I have ever gone from liking a character to hating a character so fast than I did with Nate in Ted Lasso Season 2. I know that was the point, but man, he gave me such the biggest ick at the end. Nate, for all of Season 2, felt underappreciated and unrewarded by Ted ever since he was brought onto the coaching staff. To be honest, it almost felt like he was going through a midlife crisis when he's not even middle-aged.
Even so, he had a conversation with Rupert at one point that we didn't know about, and at the end of Ted Lasso Season 2, we see that Nate is actually one of the newest members of West Ham's coaching staff, leaving Richmond behind. Whether he's the head coach or just another part of the staff, I'm not quite sure, but he's there.
This is literally the biggest betrayal I've ever seen. Ted literally gave Nate a chance and now he went and just left after he was a waterboy a year ago. I am so rooting against him.
What are you the most excited for when it comes to Ted Lasso Season 3? I have to break out my A.F.C. Richmond jersey, because March 15th can't come soon enough. Then again, it might end after that, which I'm not ready for.
Your Daily Blend of Entertainment News
Big nerd and lover of Game of Thrones/A Song of Ice and Fire. Will forever hate season eight. Superhero and horror geek. And please don't debate me on The Last of Us 2, it was amazing!