Spider-Man: Across The Spider-Verse Has Screened, See People's First Reactions To The Animated Sequel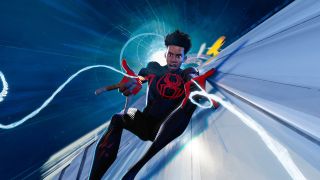 (Image credit: Sony PIctures)
Spider-Man: Across the Spider-Verse has a lot to live up to when it hits theaters on June 2, with its predecessor — the Oscar-winning Spider-Man: Into the Spider-Verse — becoming some fans' favorite Spider-Man movie after its 2018 release. That's a challenge that seems to be within web-slinging reach for Shameik Moore's Miles Morales, as he teams up with Hailee Steinfeld's Gwen Stacy for an adventure across the multiverse that will see them fighting with (and against?) more Spider-heroes as they face a new threat. The movie has screened, so let's see people's first reactions to the highly anticipated sequel.
There are high hopes for the animated movie's opening-weekend, with box office projections ranging from $85 million to over $100 million in a summer filled with big movie releases. Given what we know about Spider-Man: Across the Spider-Verse, it's easy to see why. In addition to Shameik Moore and Hailee Steinfeld, the sequel's voice cast is an impressive array of actors including Brian Tyree Henry, Jake Johnson, Jason Schwartzman, Issa Rae, Daniel Kaluuya, Oscar Isaac, Greta Lee, Andy Samberg and more.
CinemaBlend's Sean O'Connell is certainly impressed with the film, calling this not just the best Spider-Man movie but possibly his favorite movie ever. He tweets:
OK. #SpiderManAcrossTheSpiderVerse lives one step above Masterpiece. It's an actual work of art. Every frame deserves to be hung in a museum. The jokes and nods to Spidey lore are perfect. It's OUTSTANDING. The best #SpiderMan movie. Might be my favorite movie ever. Cherish it. pic.twitter.com/mQxSnfKF0NMay 25, 2023
Johnny 2 Cellos is already anticipating his second viewing of the movie, saying he hasn't stopped thinking about it since he left the theater. Multiple characters' arcs are satisfyingly paid off, while still leaving audiences hungry for what's next, he says in this thread:
I got to see #SpiderManAcrossTheSpiderVerse late last week and I genuinely have not stopped thinking about it since.Visually, there has never been anything like it. Ever. It absolutely melted my brain in the best way.Y'all are not ready.May 25, 2023
Brian Davids of THR notes that it's darker and sadder than anticipated, but that's necessary to the plot. Another win for writers/producers Phil Lord and Christopher Miller, Davids tweets:
#SpiderManAcrossTheSpiderVerse is yet another resounding win for the Lord Miller-produced universe. Hailee Steinfeld really comes into her own as Gwen Stacy, and her scenes with Shea Whigham's Captain Stacy are truly special. It's darker and sadder than I expected, but necessary. pic.twitter.com/BekW4nVAyvMay 25, 2023
Greg Alba gives a spirited reaction to his viewing of Spider-Man: Across the Spider-Verse, saying audiences are not ready for what they're about to witness:
after watching #SpiderManAcrossTheSpiderVerse …..Holy shit. Holy shit. Holy shit! Didn't want it to end. No amount of trailer footage prepares you for this. AVOID SPOILERS as much as you canMay 25, 2023
Daniel Baptista of The Movie Podcast says the animated sequel does the impossible by surpassing its predecessor to deliver the best Spider-Man movie, writing:
#SpiderManAcrossTheSpiderVerse is AMAZING and a REVOLUTIONARY achievement in animation. It does the impossible of surpassing the original and delivers one of THE BEST Spider-Man stories EVER. It's more mature and a WEB-SLINGING WONDER beginning to end.#SpiderVerse @SpiderVerse pic.twitter.com/8zuklJH8EIMay 25, 2023
Vanessa D. is moved not just by the incredible story and animation, but by the Puerto Rican representation. She also says she loved it more than the first one:
#SpiderManAcrossTheSpiderVerse is not only an incredible achievement in story & animation. It's a cultural experience that will make every Puerto Rican teary eyed & filled with pride! I shed tears every time I saw that PR flag pop up on the big screen! #SpiderVerse @SpiderVerse pic.twitter.com/Z2rUcIg98eMay 25, 2023
Aaron Perine calls the movie a "masterclass," and his favorite of the year so far. The moviegoer predicts that Spider-Punk, Spider-Man 2099 and Spider-Man: India will become instant classic characters, tweeting:
#SpiderManAcrossTheSpiderVerse lives up to the hype in every conceivable way!Miles Morales absolutely shines in his second Marvel movie adventure. Gwen Stacy takes her place at the head of this table too. Tons of heart on display in every corner of this one. pic.twitter.com/7SFbpOqhKAMay 25, 2023
Across the Spider-Verse seems to have made quite an impression on this fan, who says he'll never forget the first time he saw it in theaters:
#SpiderManAcrossTheSpiderVerse is the most ambitious animated film of all time. I will never forget experiencing this for the first time in theater. Bursting with beauty AND heart.May 25, 2023
These tweets are enough to get even the casual Spider-Man fan excited, and hopefully Spider-Man: Across the Universe will prove to be worth the wait for those who have been desperate for more after the 2018 movie. The release date is nearly here, as it will hit the big screen on Friday, June 2. This is just one of several family-friendly movies coming out this summer, so keep an eye on our 2023 Movie Release Schedule to be sure you don't miss anything! And if you want more web-slinging fun, here's how to stream every Spider-Man movie.
Your Daily Blend of Entertainment News
Mom of two and hard-core '90s kid. Unprovoked, will quote Friends in any situation. Thrives on New Orleans Saints football, The West Wing and taco trucks.