How Much It Will Cost You To Get CBS Without Commercials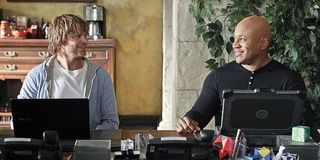 Recent years have made it easier than ever for us to watch our favorite TV shows without necessarily sitting at through all the commercials on a TV. For those of us who have gotten used to streaming shows ad-free with services like Netflix and Amazon Prime, it can be rough to deal with ads for shows that are only available elsewhere. Ad-free does come with a price, however, and CBS All Access may be asking for more than subscribers may be willing to pay, as the network announced its signature service will be offered without commercials at the cost of $9.99 per month.
The ad-free option is new to CBS All Access. Until now, the only streaming option cost $5.99 per month and included commercials. The commercial plan will still be available for the $5.99/month, so current subscribers don't have to worry about rates going up now that All Access is offering a new way for folks to stream content.
On the one hand, $9.99 doesn't sound like all that much more than $5.99, and commercial-free is a pretty great option. All Access has a library for more than 7,500 episodes of phenomenally popular CBS shows that aren't available for streaming elsewhere. With the $9.99 plan, late night, daytime, and even news programming will be available without commercials, and upcoming original series like Star Trek: Discovery and the digital edition of Big Brother can be watched without dealing with breaks in the action. All in all, uninterrupted viewing sounds fabulous.
On the other hand, the $5.99 option should still be fine for those of us who can deal with watching a few minutes of commercials per episode. Commercials are already reduced from what they would be if subscribers were watching on TV, and the series in the CBS Classics library will be available without commercials even without the upgrade to the ad-free option. Besides, the $9.99 option doesn't actually guarantee freedom from all advertising. All the live-streaming fare will include the same commercials as are airing live, and some on-demand series will feature commercial interruptions no matter which All Access plan is selected.
The new ad-free option for CBS All Access has a lot in common with the ad-free option rolled out by Hulu not so long ago. Hulu's content is available for $7.99/month with limited commercials and $11.99/month with no commercials. It's a pricier option than CBS All Access, but it also features programming from a wide variety of networks. Hulu actually updated its plans to include ad-free partly in response to the complaints of some subscribers; CBS presumably is more about staying competitive in the streaming market. Networks are largely desperate to stay relevant as streaming becomes more and more popular, so CBS could gain more of an edge in the market with its new option.
For those of us who haven't made up our minds about whether or not to subscribe to either plan of All Access (opens in new tab), we can at least count on CBS series returning to the airwaves sooner rather than later. Check out our fall TV premiere schedule to see when your favorites from CBS and all the other networks will be back in the near future.
Resident of One Chicago, Bachelor Nation, and Cleveland. Has opinions about crossovers, Star Wars, and superheroes. Will not time travel.
Your Daily Blend of Entertainment News
Thank you for signing up to CinemaBlend. You will receive a verification email shortly.
There was a problem. Please refresh the page and try again.