Is Gilmore Girls A Big Hit For Netflix? Here's What The Data Says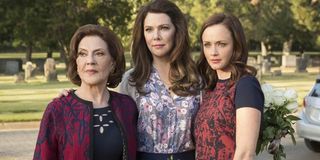 There is endless fascination around the way that Netflix does business. Ratings are often less of a factor than buzz, or at least so it seems, as Netflix is not keen to give the show creators and creative teams any indication of its ratings, much less the general public. However, some organizations, including one called Symphony, have tried to gauge how many people are watching Netflix shows. According to the company, Gilmore Girls was a success---just maybe not the biggest success that Netflix has seen, yet.
Per the numbers Symphony Advanced Media have put together, Gilmore Girls did well, but not quite as well as a few of the subscription streaming service's other shows. The number Symphony has been able to glean is 5 million viewers in the 18-49 demographic---the demographic that helps sell ads on regular television platforms. Although those numbers don't include viewers on either side of that age range, if those numbers hold up, that places Gilmore Girls below Orange is the New Black Season 4 and Fuller House Season 1 in terms of overall viewership. THR also reports that Daredevil and Luke Cage have been bigger hits than than the 4-episode Gilmore Girls revival.
Still, compared to the myriad shows on Netflix, shows that include The Crown, Narcos, Bloodlines, The Ranch, Black Mirror and so, so many more, Gilmore Girls has done exceptionally well.
That doesn't mean everyone universally loved the revival series. Reviews have been mostly positive, but reactions have been mixed---especially regarding the show's ending--on various social media platforms. Even Alexis Bledel, who plays Rory Gilmore on the series, said that she was a little surprised about where show creators Amy Sherman-Palladino and Daniel Palladino chose to take the series, as much of the drama focused on a Rory Gilmore who was pretty different from the Gilmore gal who was hard-working and competent during the show's original run.
The good news for Gilmore Girls is that even if people weren't super happy with the way things panned out, they still stuck with the series until the very end. The new report states that 6 million viewers tuned in for the first episode of Gilmore Girls: A Year In The Life. Of that 6 million, 83% stuck around for the remaining few episodes. Of course, Gilmore Girls has only been available for a week at this point, and more people could catch the show as it goes on.
So, what does that mean for the future of the series? Well, if I had to venture a guess, I would assume that Netflix might want to do more episodes, but that would really depend on the schedules of Emily Bishop, Scott Patterson, Lauren Graham and Alexis Bledel. In that way, it's pretty similar to where Arrested Development is currently at. We could always take or leave the rest of the characters (although there are some arguments for Rory's former love interests, I'm sure), but those are especially needed. So far, the creators have stayed mum about new episodes, but good ratings and fan interest are an encouraging sign. Because the show also ended on a big cliffhanger, there is certainly more story left to tell, as well.
We'll let you know if the series decides to keep chugging along. In the meantime, you can see what Netflix has coming up with our 2017 premiere schedule.
Your Daily Blend of Entertainment News
Reality TV fan with a pinch of Disney fairy dust thrown in. Theme park junkie. If you've created a rom-com I've probably watched it.
Your Daily Blend of Entertainment News
Thank you for signing up to CinemaBlend. You will receive a verification email shortly.
There was a problem. Please refresh the page and try again.