How Supernatural's Big Finale Will Lead Into Season 13, According To Misha Collins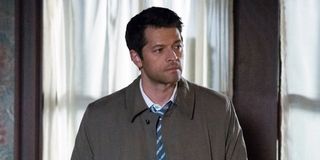 Season 12 of Supernatural will be coming to an end in a few short hours, and we'll have to say goodbye to the Winchester boys and Castiel for a while. At this point, we can only hope that nobody gets exploded by Lucifer, mauled by a hellhound, or banished down to Hell. Luckily, the show has already been renewed for Season 13, and Misha Collins took the time to speak with CinemaBlend about how the Season 12 finale will lead into Season 13, saying this:
Supernatural is the longest-running show on The CW, and it can't be easy for the folks behind the scenes to come up with fresh ways for the characters to save people and hunt things. Going by what Misha Collins told me in preparation for the big finale, the writers found the way to end Season 12 in a manner that sets the stage for some exciting new directions in Season 13. The two-part finale also happens to mark Collins' 100th episode as Castiel, so it'll be a pretty momentous night all around.
The finale will pick up on the Winchester boys trapped down in the Men of Letters bunker while the battle between the Brits and American hunters comes to a head. Lucifer will take advantage of his newfound freedom from Crowley to go after his soon-to-be born nephilim son, which will undoubtedly pit him against Castiel yet again. "Oh shit" indeed! Misha Collins also explained how fans may feel after the finale comes to end:
Given that seasons of Supernatural have ended on everything from the death of a Winchester to the literal apocalypse, I'm not sure if we should be nervous or excited about what's to come. Misha Collins mentioned that he'd like to see fans recording their reactions to the end, so whatever happens, we can bet that it will be a cliffhanger to remember.
Supernatural showrunner Andrew Dabb revealed in a talk with CinemaBlend earlier this year that the show can continue so long as fans stay invested in the characters, and it sounds like Season 13 will be taking our characters in some story directions that we haven't necessarily seen before. In fact, we already know one of those story directions, as it was reported earlier today that we're in for an animated Supernatural/Scooby-Doo crossover when the show returns in the fall, and that's definitely something we haven't seen before.
The two-part finale of Supernatural Season 12 kicks off tonight at 8 p.m. ET on The CW. Misha Collins will keep busy over hiatus with his epic GISHWHES -- that is, the Greatest International Scavenger Hunt the World Has Ever Seen -- charity scavenger hunt extravaganza. Registration is currently open, so be sure to check it out!
Stay tuned to CinemaBlend for the latest in TV news, and don't forget to check out our summer TV premiere schedule to discover all your viewing options now and in the coming weeks. Be sure to drop by our rundowns for cable/streaming and broadcast TV renewals and cancellations as well. Our TV season finale schedule can give you all you need to know about your shows ending.
Resident of One Chicago, Bachelor Nation, and Cleveland. Has opinions about crossovers, Star Wars, and superheroes. Will not time travel.
Your Daily Blend of Entertainment News
Thank you for signing up to CinemaBlend. You will receive a verification email shortly.
There was a problem. Please refresh the page and try again.