A Christmas Story Live!, An Updated Cast List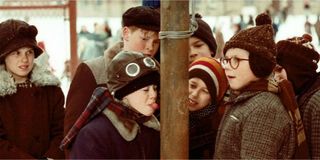 Fox is at it again. The network hopped on the live musical bandwagon with Grease: Live in January 2016, and they plan to keep things going with A Christmas Story Live! on December 17 at 7 p.m. For the uninitiated, A Christmas Story is a 1983 film about nine-year-old Ralphie Parker and his family and the comedic trials and tribulations they go through during a holiday season in the 1940s. Little Ralphie only wants one thing for Christmas (a Red Ryder Carbine Action 200-shot Range Model air rifle), and he spends the film trying to convince everyone that it's the perfect gift for him while also dodging bullies, dealing with his cranky father and being comforted by his kind mother.
The movie has become a holiday classic, while Christmas and/or Christmas Eve are frequently home to all day marathons of the film. Its popularity even spawned a Broadway musical in 2012, which was nominated for three Tony Awards. This live version of the story will be based on both the film and that musical, with songwriters Benj Pasek and Justin Paul, who scored the Broadway show, once again teaming up to compose new songs for A Christmas Story Live!
After announcing the three hour project in May, Fox was slow to let us in on who would be filling the show with song come December. But, now, casting information for the special is finally starting to trickle in, so read on to see who we can expect to hit the stage in a few months!
Andy Walken - Ralphie Parker
The people behind A Christmas Story Live! knew they would have to get the casting of Ralphie Parker right, as the boy they chose for the part would have to lead the production. Well, after a nationwide casting search, 11-year-old Seattle, Washington native Andy Walken has finally nabbed the role. The young actor got his first credit in 2015 with a part on NCIS, and has since been seen in Heartbeat, The Most Hated Woman in America and Escaping Dad.
Maya Rudolph - Mother Parker
As I mentioned above, Ralphie often butts heads with his cranky dad and gets tormented by bullies, but, he's got his mom on his side all the way. As the nurturing and supportive Mother Parker, Maya Rudolph will be lending her talents to A Christmas Story Live! While best known for the seven hilarious seasons she spent on Saturday Night Live from 2000 to 2007 (where her impressions of Donatella Versace and Beyonce garnered many laughs), the funny lady has appeared in many films and other TV shows over the years. Rudolph has worked her magic in 50 First Dates, Away We Go, Grown Ups, Bridesmaids and television shows The Grinder and Maya & Marty among many others.
Matthew Broderick - Adult Ralphie
Anyone who's seen the film knows that A Christmas Story has a narrator in the form of an adult Ralphie who relives the tale for our enjoyment, and for the live version that role will be taken on by star of stage and screen Matthew Broderick. In the movie, the audience never actually sees Ralphie as an adult, we only hear his voice. And, while it seems like a shame to cast someone as well known as Broderick and only have him lend his voice to the production, we don't know right now if he'll actually appear on screen for the broadcast. The Tony winner has been entertaining the masses for decades, and has starred in films such as War Games, Ladyhawke, Ferris Bueller's Day Off, The Lion King, The Producers (he also starred in the Broadway play) and Tower Heist.
Jane Krakowski - Miss Shields
Since Ralphie is a little boy, one person who plays a big role in his life is his teacher, Miss Shields, and for the Fox version of the musical Jane Krakowski will take on that part. Krakowski is best known for her work as the nutty Jenna Maroney on 30 Rock, but she's recently gained notice for another wild character, Jacqueline, on the Netflix series Unbreakable Kimmy Schmidt. Krakowski's no stranger to singing and dancing, either, as she won a 2003 Tony award for her work in the Broadway musical Nine.
Chris Diamantopoulos - Old Man Parker
As Ralphie's dad, known in the movie only as Old Man Parker, actor Chris Diamantopoulos has signed on to fill his cantankerous shoes. Possibly best known for his recent work in the HBO hit Silicon Valley, Diamantopoulos has also appeared in Good Girls Revolt, Episodes, Hannibal, The Office, Arrested Development and 24, among many other shows. He also recently starred in the popular Broadway musical Waitress.
Ana Gasteyer - Mrs. Schwartz
Even though young Ralphie has a few bullies to contend with, he does also have a few friends to have childhood adventures with, and, lucky for those friends, they have parents. As the mother to Ralphie's friend Schwartz, SNL vet Ana Gasteyer will be taking on the role of Mrs. Schwartz. While known for her impressions of celebrities like Martha Stewart and Celine Dion, Gasteyer has gone on to appear on a wide variety of shows since her time on the sketch comedy, including Suburgatory, The Good Wife, Lady Dynamite and People of Earth. She also graced the small screen in Grease: Live! and has starred in Broadway productions of The Rocky Horror Show, The Royal Family and Wicked.
Tyler Wladis - Randy Parker
The story of Ralphie Parker just isn't complete without his infamously meatloaf-hating little brother, and for Fox's A Christmas Story Live! that part has gone to Tyler Wladis. The young actor has, so far, mostly done theater work in Syracuse, New York and Maine, so he should be great with the live aspect of the show.
JJ Batteast - Flick
Even if you've never seen the whole film of A Christmas Story, you've probably seen the most famous scene from it, and it's all thanks to Flick's poor decision. Broadway actor JJ Batteast, who appeared in Motown the Musical, will play the kid who gets his tongue stuck to a frozen flagpole in the live production.
Sacha Carlson - Skut Farcus
Remember those bullies that Ralphie and his friends come into contact with? Well, Skut is the main neighborhood bully that makes life a living hell for the kids, and the character will be played by Sacha Carlson.
Ken Jeong - Salesman and Restaurant Owner
In a slightly surprising move, actor Ken Jeong, who's best known for his comedic turns on both the big and small screens, will be playing two parts in the live production of A Christmas Story. Jeong has signed on to play both a Christmas tree salesman and a restaurant owner in the show. The doctor turned actor has made a big impression on audiences with his roles in The Hangover, Community and his own series Dr. Ken.
David Alan Grier - Santa Claus
It's not a Christmas special without Santa, and A Christmas Story Live! has nabbed The Carmichael Show's David Alan Grier to fill the fat man's fluffy red suit. Grier is a three-time Grammy and Tony nominee who made his live TV musical debut in 2015 when he played The Cowardly Lion in NBC's The Wiz Live! but he's mostly known for his comedic roles on In Living Color from 1990-2001.
Be sure to bookmark this page, as we'll be updating it as the cast of Fox's A Christmas Story Live! continues to be revealed!
Your Daily Blend of Entertainment News
Yennefer's apprentice, Gilmore Girl; will Vulcan nerve pinch pretty much anyone if prompted with cheese...Yes, even Jamie Fraser.