The Top 10 Shows Of 2017, According To Laura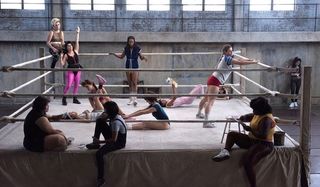 (Image credit: Image courtesy of Netflix)
Another year of television has come to an end, and there have been more options than ever of what to watch on the small screen. Between network TV, basic cable, premium channels, and streaming services, there were a lot of TV shows to choose from. As somebody who spends a lot of time watching and writing about all things TV, I have my fair share of favorites that had me laughing, crying, rewinding, and frantically turning on closed captioning to make sure that certain twists really did happen. Now, as 2017 winds down, the time has come to look back at the best of what the past year had to offer. In the spirit of the season, read on for my picks of the 10 best shows of 2017!
The Good Doctor, ABC
The Good Doctor is a show that could have gone wrong very, very easily. Medical dramas have been done time and time again, and not all of them are able to stick out from the crowd. The Good Doctor succeeds by putting a twist on what could have been a tired formula and casting an immensely talented group of actors. Freddie Highmore carries the show as Shaun Murphy, who is a young surgical resident with autism and savant syndrome. The actor who had previously been known best for playing Norman Bates tackles the complex role fabulously. Richard Schiff of The West Wing is as awesome as ever as Shaun's mentor, and the rest of Shaun's peers manage to challenge him in intriguing ways. I didn't get into The Good Doctor until it had already been on the air a few weeks, but now I'm totally hooked. There's no wonder that it's one of the 10 most-watched scripted shows of fall 2017.
GLOW, Netflix
Netflix brought the world of wrestling to the small screen in 2017 with GLOW, which stars Alison Brie as an actress-turned-wrestler back in the 80s. The show was always going to be funny just based on characters battling it out in aerobics gear. The Gorgeous Ladies of Wrestling mastered the art of wrestling without actually doing any damage, and it was clear almost right away that there would be plenty of comedy beyond the sight gags of 80s fashion and technology. Alison Brie is fantastic as a leading lady, and GLOW is unafraid to cross some lines that wouldn't be possible on network TV. This was a show I didn't intend to binge-watch but ultimately watched almost all the way straight through, and I regret nothing. Hopefully we don't have too long to wait before Season 2.
Game Of Thrones, HBO
Season 7 was the penultimate batch of episodes for HBO, and I'll be the first to admit that it wasn't perfect. There was a lot that had to be packed into only seven episodes, and a few things fell by the wayside because so many epic battles had to be fit in. That said, Season 7 delivered a lot of what fans have been waiting for over the entire saga to date. The big moments were handled really well for my taste, ranging from Dany finally unleashing her dragons on Westeros (and the look on Jaime's face as he realized what he was in for) to the Night King taking out Viserion and then reanimating him. Throw in Littlefinger biting the dust, the Wall coming down, and the confirmation that Jon really is the son of a married Rhaegar and Lyanna, and Season 7 was rewarding enough for me that I could rank it as one of my top 10 of the year.
Mindhunter, Netflix
Mindhunter is another show that very easily could have flopped. It's a series about serial killers that leaves most of the serial killing that horror fans love off-screen, it tackles some very ugly subjects that non-horror fans might not enjoy, and it takes a couple of episodes to really pick up. Still, once it does pick up and the actors settle into their roles, Mindhunter is difficult to stop watching. The descent of the lead character as he spends more time with killers and comes to relate with them is almost troublingly compelling, and the ongoing tease of the mysterious murderer in Kansas works as a hook to keep viewers on the line for Season 2. This is one show I couldn't quite binge-watch in the space of a couple days, but it's definitely one of my favorites of the year.
Agents Of S.H.I.E.L.D., ABC
While superhero fatigue has been getting to me with some of the other comics-based shows currently on the airwaves, Agents of S.H.I.E.L.D. remains a winner. Season 4 tried something new by breaking the whole season up into three separate arcs with definitive beginnings and conclusions, and it was like getting three short seasons in the span of one batch of episodes. S.H.I.E.L.D. didn't need to bother with any sort of filler episodes when arcs could be told in fewer than 20-odd episodes. Ghost Rider was a pleasant surprise, and the Framework enabled the show to take the characters in some new (and admittedly somewhat upsetting) directions. Season 5 has taken most of the agents into space in a relocation that has worked for me, although I'm looking forward to Fitz rejoining his pals. My fingers are crossed that the ratings aren't so low as to doom the series.
The Punisher, Netflix
That superhero fatigue that was wearing me out with other comic TV universes didn't apply to The Punisher. The show starring Jon Bernthal as Frank Castle is more of an action adventure/psychological drama series than any kind of superhero project, despite the fact that the lead character made his debut in Season 2 of Daredevil. There were no superpowers to speak of. Instead, Frank rampaged through New York in his ongoing mission to take out all who wronged him (as well as any bonus enemies who wronged the people he cares about) all while dealing with the PTSD from his time in the military and the deaths of his family. For me, this was by far the most compelling Marvel Netflix season since Jessica Jones Season 1. Also, can we just move Deborah Ann Woll from a regular on Daredevil to a regular on The Punisher? I could watch the intensely unconventional dynamic between Frank and Karen all day.
Outlander, Starz
Outlander finally returned to the airwaves in 2017 after more than a year of hiatus, and expectations were pretty high following such a long break. The show dragged out the reunion between Claire and Jamie for a surprising number of episodes, but the payoff felt all the more poignant for the time they spent apart. Besides, they deserve to stand up as characters on their own rather than just halves of a couple. Season 3 managed to be funny, heartbreaking, devastatingly romantic, and incredibly suspenseful. This was also the first season I watched after having read the book source material, and it was fun to see where the show followed the novels and where it diverged. Season 3 ended on a pretty great cliffhanger that has me ready for Season 4 and hoping against hope that the hiatus won't be nearly so long this time around.
Stranger Things, Netflix
Stranger Things is another show that had fans waiting more than a year for a new season, and Netflix pulled out all the stops to get us hyped for what was to come in Season 2. When the second season finally debuted in time for Halloween, I know I'm not the only one who binge-watched the nine episodes as quickly as possible. All things considered, while the season wasn't perfect (and there's one episode that I think could have done much better), Stranger Things managed to bring together the plots by the final few hours (with that one exception) in a way that paid off on some of the slower parts of the season. Honestly, Stranger Things might have made my best of 2017 list just for Steve the babysitter, but the heartbreaking and lovely dynamic between Eleven and Hopper didn't hurt. Besides, we got the long-awaited Snow Ball with an 80s-tastic soundtrack. What's not to love?
Brooklyn Nine-Nine, Fox
Brooklyn Nine-Nine is the funniest show on television that nobody talks about, as far as I'm concerned. The show boasts one of the funniest ensembles on television, and there's really not a weak link on the cast. Andre Braugher never fails to make me laugh, and there's enough earnestness to the humor that it has allowed Andy Samberg to flex some of his more dramatic muscles in addition to the funny bone he showed off on Saturday Night Live. The main romance of the series is handled so well that it serves as proof that "will-they-won't-they" is not necessary to keep a TV relationship interesting. Most of the detectives are competent, and they almost all like each other. Basically, Brooklyn Nine-Nine is the epitome of a feel-good comedy, and who doesn't need a nice feel-good comedy to lighten things up every once in a while?
The Handmaid's Tale, Hulu
If there's one show that's the opposite of a feel-good comedy like Brooklyn Nine-Nine, that show has to be The Handmaid's Tale on Hulu. Set in a dystopian future, the few remaining fertile women are forced into absolute submission and regularly raped by men in power to try and force them to conceive a child. The Handmaid's Tale shows the fall of civilization, the rise of the new and terrible society, and the state in which fertile women are forced to live. It was as devastating as it was horrifying. At the same time, the story was so well-crafted that I couldn't stop watching, and Elisabeth Moss shone as a leading lady. Alexis Bledel was remarkable as well, and the first season somehow managed to end on a somewhat uplifting note after many episodes of hopelessness. I'm definitely looking forward to Season 2.
Hopefully we'll get even more great TV shows in the new year. Check out our midseason TV premiere guide to discover what will hit the airwaves in the coming weeks, and our 2018 Netflix schedule can help you plan your streaming lineup. Be sure to stay tuned to CinemaBlend for the latest in TV news.
Resident of One Chicago, Bachelor Nation, and Cleveland. Has opinions about crossovers, Star Wars, and superheroes. Will not time travel.
Your Daily Blend of Entertainment News
Thank you for signing up to CinemaBlend. You will receive a verification email shortly.
There was a problem. Please refresh the page and try again.