Yep, Riverdale Just Convinced Us Who The Real Black Hood Is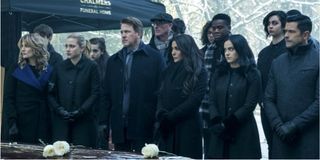 Warning: Spoilers ahead for the most recent episode of Riverdale. Feel free to head on over to one of our other amazing articles until you've caught up!
The denizens of Riverdale have spent months believing that the serial killer who once walked among them was out of the picture. Well, with the Black Hood mystery back upon us after the shocking (and sudden) murder of Midge Klump during Carrie The Musical, it looks like the most recent episode may have given us enough clues to finally narrow down the real culprit. And, unfortunately for Betty and Alice, Hal is looking guiltier than ever. Here's what happened.
As could be expected on an episode of Riverdale, a lot went down, and a good portion of the events dropped some pretty heavy hints to the audience about who the Black Hood actually is. The opening focused on Midge's funeral; a sad occasion that brought out most of the town. Aside from the reveal that Cheryl and the rest of the Riverdale High School River Vixens, apparently, have black versions of their cheer uniforms at the ready in case they all need to head to a funeral, we also found out that those very same Vixens are now committed to finding Midge's killer, and Cheryl wants to take down Sheriff Keller for failing to protect the town, as well.
Later, with Keller still interviewing those who had anything to do with the musical, he stops by the Cooper house to speak with Chic since he was seen backstage that night. Hal tells him that he no longer lives there, but says they'll bring him by the station tomorrow. Alice, of course, is not happy about this and accuses Hal of throwing Chic under the bus, but Hal notes that she shouldn't be worried if he's done nothing wrong.
After Betty, Alice and Jughead find out something shocking about Chic, Midge's death prompts the Black Hood to call his favorite Riverdale teen, Betty. When Jughead catches the tail end of her conversation and asks who she was talking to, Betty says it was her dad, which is the first sly nod to the idea that Hal and the Black Hood are one and the same. Betty gets another call from him later and he asks her to "deliver" Chic to him so that no one will ever know about the man Chic killed in their home and he could get the justice he deserves.
Betty is reluctant at first, but comes around to the idea while her parents are arguing about Chic again. Using the gun she took from Ms. Grundy, she forced Chic to go to the cemetery with her and meet the Black Hood. When Betty gets home, she lies to Alice about Chic, saying she took him to the bus station. She realizes that Hal isn't at home and starts to get a panicked look on her face, which only intensifies when Alice tells her that Hal went looking for her. The assumption is pretty obvious: that Hal "looking for" Betty is actually the same as the Black Hood waiting in the cemetery for Betty to bring Chic to him.
Add to these two things the fact that Hal is the same build as the Black Hood, and the Hood has already proven that he knows things about Betty that no random person should, not to mention that he has always hated Chic, and it looks like Hal Cooper is our serial killing winner. It's also worth noting that this episode did a good job of eliminating two other suspects, since Sheriff Keller is being forced out of his job (Why make yourself look incompetent by starting to kill again?) and Chic was tied up at the time the Black Hood placed the second call to Betty.
We should find out the truth behind the Black Hood before too long, and you can keep up with Riverdale when it airs Wednesdays at 8 p.m. EST on The CW. For more on what you can watch in the coming weeks, check out our midseason premiere guide and summer premiere guide. To see when finales for all your favorites will air, bookmark our 2017-2018 season finale guide.
Your Daily Blend of Entertainment News
Yennefer's apprentice, Gilmore Girl; will Vulcan nerve pinch pretty much anyone if prompted with cheese...Yes, even Jamie Fraser.