Upcoming SNL Hosts: Who Is Hosting And Musical Guests For Season 44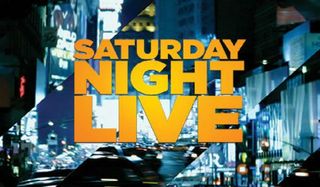 Well, Chevy Chase might not be happy with Saturday Night Live anymore, but the show still has tons of fans who eagerly await news of the comedy staple, and Season 44 is already promising to deliver some surprises. We already know, for instance, that Alec Bladwin's lauded impression of President Trump will be back this season, but potentially not as frequently as before. This is also yet another season where longest-running cast member Kenan Thompson will add his unique brand of humor to weekly laugh fest, along with some players who have recently been upgraded to repertory status.
Obviously, covering politics has been huge for SNL the past few seasons, but Leslie Jones, for one, would like to see the show cut back on that a bit, if possible, and bring the laughs with more old fashioned silliness whenever it can. If the Season 43 blooper reel is any indication, you can be sure that pretty much everyone involved in the new season will be able to do just that on a weekly basis. While I'm sure a good number of guest hosts have to deal with at least a bit of stage fright before hitting the live stage, they usually mange to pull off fantastic performances nonetheless. Season 44 of Saturday Night Live is still going strong, and every fan wants to know who will be hosting the show and appearing as musical guest on a weekly basis. Luckily, we've got that for you, right here!
May 18 - Paul Rudd With Musical Guest DJ Khaled
Actor Paul Rudd, fresh off his appearance in one of the biggest movies of all time, Avengers: Endgame, will host for the fourth time on SNL's last episode of the season. DJ Khaled will make his debut as musical guest that night to promote his new album, Father of Asahd. In addition, the show will welcome several other musical guests for the season finale. John Legend, Sza, Lil Baby, Jeremih, Meek Mill, Lil Wayne, Big Sean and J Balvin will also appear that night.
Recently Aired
September 29 - Adam Driver With Musical Guest Kanye West
The Season 44 opener will have Kylo Ren himself, Adam Driver, once again step up as guest host. Driver first hosted SNL back in Season 41, which led to some rather well-known sketches that ended up going viral after his episode aired, so it's no big surprise that he's been asked to return. He most recently appeared in the Spike Lee film BlacKkKlansman, but has several projects in various state of production right now, including The Man Who Killed Don Quixote and Star Wars: Episode IX. Kanye West will make his sixth appearance as musical guest for the opening, with many assuming he's about to release Yeezus 2, even though that hasn't been confirmed yet.
October 6 - Awkwafina With Musical Guest Travis Scott
Taking on hosting duties for the first time during SNL's second week back will be rapper/actress Awkwafina. She's had a breakout year, with roles in Ocean's 8 and the mega hit romantic comedy Crazy Rich Asians. She's also had parts in Neighbors 2: Sorority Rising and Future Man, and has several new projects in various states of production right now. Rapper Travis Scott will be appearing to promote his third studio album, "Astroworld," which debuted at number one on the Billboard 200 in August.
October 13 - Seth Meyers With Musical Guest Paul Simon
Former SNL head writer and Weekend Update anchor Seth Meyers will return to the show in October. Meyers, who's been hosting Late Night with Seth Meyers since 2014, will be back as host for the first time. Music legend Paul Simon will hit the stage in support of his recently released 14th album, "In the Blue Light."
November 3 - Jonah Hill With Musical Guest Maggie Rogers
Jonah Hill will hit the SNL stage the first weekend of November. The Oscar nominated actor appears in the recent Netflix series Maniac with Emma Stone, and his directorial debut, Mid90s, is in theaters right now. Singer Maggie Rogers is making her first appearance on the show in support of her upcoming album "Heard It in a Past Life."
November 10 - Liev Schreiber With Musical Guest Lil Wayne
Actor Liev Schreiber is making his hosting debut on the comedy for the November 10 show. Schreiber stars in the Showtime drama Ray Donovan, which is currently in its sixth season. He'll be joined by musical guest Lil Wayne, who recently released his 12th album, "Tha Carter V."
November 17 - Steve Carell With Musical Guest Ella Mai
Funny man Steve Carell will host SNL for the third time on November 17. While he's still fondly remembered for his time playing goofy boss Michael Scott on The Office, he's made great strides in dramatic movies since then. Carell can be seen this year in the movies Beautiful Boy, Welcome to Marwen and Vice. Singer/songwriter Ella Mai will hit the sketch show's stage for the first time when she appears. Her debut album was released in October, and features the multi-platinum hits "Boo'd Up" and "Trip."
December 1 - Claire Foy With Musical Guest Anderson .Paak
The Crown star and Golden Globe winner Claire Foy will host December's first SNL this season. While she came to prominence because of her role as Queen Elizabeth II on the Netflix drama, she's also known for Wolf Hall, Unsane, The Girl In the Spider's Web and First Man. Grammy nominee Anderson .Paak will make his debut on the show the same night.
December 8 - Jason Momoa With Musical Guest Mumford & Sons
After December 8 you might have visions of Khal Drogo dancing in your head for the holidays, because that's when Jason Momoa will hop onto the Saturday Night Live stage for the first time to play host. Momoa also starred as Aquaman in Justice League and is leading his own film as the character, which is due out December 21. Folk rock band Mumford & Sons will perform to promote their latest album, "Delta."
December 15 - Matt Damon With Musical Guests Mark Ronson And Miley Cyrus
Matt Damon will hit the stage in mid-December to host for the first time. In the past year, he's made surprise appearances in several films, like Thor: Ragnarok, Deadpool 2 and Unsane. Mark Ronson and Miley Cyrus will perform their new single "Nothing Breaks Like a Heart."
January 19 - Rachel Brosnahan With Musical Guest Greta Van Fleet
The first show of 2019 will see actress Rachel Brosnahan give SNL hosting duties a try for the first time. Brosnahan has made a name for herself recently with her Golden Globe winning performance in the Amazon comedy The Marvelous Mrs. Maisel. Up and coming rock band Greta Van Fleet will appear as musical guest to promote their debut album, Anthem of the Peaceful Army.
January 26 - James McAvoy With Musical Guest Meek Mill
James McAvoy will step in to host SNL for his first time on January 26. The actor is getting rave reviews for his work in Glass, and will also be seen later this year in X-Men: Dark Phoenix and IT: Chapter Two. Rapper Meek Mill is also making his Saturday Night Live debut on the same night, and will be appearing to promote his new album, Championships, which hit number one upon its release last November.
February 9 - Halsey With Musical Guest Halsey
That's right, singer Halsey will act as host and musical guest when she comes to Saturday Night Live in February. The Grammy-nominee is a multi-platinum selling artist, with several singles having ranked high on the Billboard charts.
February 16 - Don Cheadle With Musical Guest Gary Clark Jr.
Oscar nominee Don Cheadle will make his hosting debut when SNL has its second live February episode. The actor is currently starring in Black Monday on Showtime and will also be seen in the upcoming blockbuster Avengers: Endgame. Grammy-winning musician Gary Clark Jr., who's best known for his fusion of blues, rock, soul and hip hop, will hit the stage in support of his new album, This Land, which comes out on March 1.
March 2 - John Mulaney With Musical Guest Thomas Rhett
Former SNL writer and comedian John Mulaney will return to the show for his second stint as host on March 2. Mulaney, who's one of only three non-cast member writers to return and host the comedy, lent his voice to last year's Oscar winning animated film Spider-Man: Into the Spider-Verse. Country music hit maker Thomas Rhett will perform that night to debut music from his forthcoming album.
March 9 - Idris Elba With Musical Guest Khalid
Idris Elba will make his debut as SNL host on March 9. The actor can be seen later this year in Fast & Furious Presents: Hobbs & Shaw, Cats and the TV series Turn Up Charlie. Best-selling R&B/pop singer Khalid will appear in support of his second album, Suncity, which was released last October.
March 30 - Sandra Oh With Musical Guest Tame Impala
Making her hosting debut on SNL at the end of March will be Killing Eve actress, and Golden Globe winner, Sandra Oh. Oh, who's also known for her many seasons on Grey's Anatomy, is gearing up for the second season of her hit BBC America show. Australian psychedelic rock band Tame Impala will also debut on the stage that night to perform in support of their most recent album, Currents.
April 6 - Kit Harington With Musical Guest Sara Bareilles
Game of Thrones star Kit Harington will stop by for hosting duties just a few days before the final season of the acclaimed HBO fantasy series premieres. Appearing as musical guest will be singer / songwriter Sara Bareilles, who will be releasing her sixth studio album, Amidst the Chaos, this year.
April 13 - Emma Stone With Musical Guest BTS
Hitting the stage for the fourth time will be host Emma Stone, who was recently Oscar nominated for The Favourite. Stone will be seen later this year in Zombieland: Double Tap. K-pop superstars BTS will perform to support their new album, Map of the Soul: Persona.
May 4 - Adam Sandler With Musical Guest Shawn Mendes
The first weekend in May will see another former SNL cast member come back to host, but for the first time. That's right, Adam Sandler, despite all his movie success, hasn't hosted the show that brought him to the attention of comedy lovers everywhere until now. Sandler will join second time musical guest Shawn Mendes on the episode.
May 11 - Emma Thompson With Musical Guest Jonas Brothers
Two-time Oscar winner Emma Thompson will step up to the SNL stage to host for the first time on May 11. Thompson has the films Late Night, Men in Black: International, Last Christmas and How to Build a Girl all coming this year. The musical guest for the evening will be the newly reformed Jonas Brothers, who will appear to promote their upcoming album, Happiness Begins.
Be sure to bookmark this guide, as we'll keep it updated throughout the season as hosts and musical acts are added to the Saturday Night Live schedule!