American Horror Story: Apocalypse Has Lots Of Great Crossover Moments With Coven And Hotel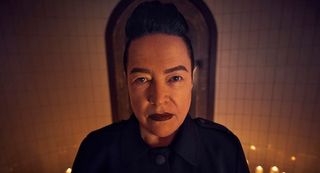 Major spoilers below for anyone who hasn't yet watched American Horror Story: Apocalypse's latest episode.
After taking three episodes to set up its uncomfortable post-disaster narrative, American Horror Story: Apocalypse pulled the curtain down to show viewers what happened in the years before Ms. Venable poisoned the entirety of Outpost 3's residents. Not only did the episode fully bring the bulk of Coven's betwitching ensemble into the fold, but "Could It Be...Satan?" also took a surprise trip back to another former American Horror Story season, with Hotel's haunted lodge and characters reappearing. Let's go over the various connections seen (and unseen) in Episode 4.
Michael Is An Alpha Warlock
Looping everything together in American Horror Story: Apocalypse's latest episode was antichrist Michael Langdon's backstory, which was not set next door to the Murder House under Constance's care, but partially with an elite academy for burgeoning warlocks, similar to Miss Robichaux's Academy. (It also happened to be the building presently known as Outpost 3, where Cheyenne Jackson made his seasonal debut.) Though Michael wasn't necessarily always aware of the powers festering inside him, he strengthened them under the care of Kathy Bates' Satan-worshipping guardian, whom Mrs. Mead was modeled after. Michael's mastery caused his superiors to believe him to be the most powerful supernatural entity in existence. Even more powerful than Coven's Supreme, perhaps, which is how viewers arrived at the biggest surprise of the episode...
Queenie At The Hotel Cortez
Powerful as Sarah Paulson's current Supreme Cordelia may be, she copped to the Hawthorne school's upper echelon that she wasn't able to rescue Queenie's soul from eternally playing board games with Evan Peters' Mr. March within the possessive Hotel Cortez. What a joy it was to see both Gabourey Sidibe's Queenie and Mr. March again, and I was so hopeful for Liz Taylor or Ramona Royale would pop up, too. That didn't happen, though Queenie did get to escape back to the land of the living, but only after Michael and his ever-growing ego showed up to whisk her away. Which meant that Mr. March didn't have a game buddy anymore, the poor guy.
Madison's Hell
Just as Queenie was temporarily trapped in an eternal tug-of-war with another hellacious entity, so was Emma Roberts' Madison Montgomery. Only, she was stuck in her own personal hell, which wasn't all THAT far off from Queenie's stressful fast food afterlife in Coven. Madison was being forced to work as a cashier in a retail department store, which is about as spot-on a character reflection as any in this show. Alas, she didn't actually have to spend all of eternity checking out angst-ridden demons, because she was also saved by Michael, who brought both Madison and Queenie back to Hawthorne. The sight of them made Cordelia literally pass out, which means Michael's powers are more impressive than she thought, which possibly doesn't bode well for her allies.
Outpost 3's Survivors Are All Coven Witches
As we learned early on, and then later witnessed in part, Miss Robichaux's Academy was also attended by Leslie Grossman's Coco, Adina Porter's Dinah, and Billie Lourd's Mallory. Each of them had an "identity spell" put on them, though, so that they wouldn't be aware of their true selves while cavorting with others. (Coco had to have been the "new Madison" of the Academy when she got there.) What's more, when the episode went back in time to show us just how magical Mallory was in her early days, Apocalypse dropped another big crossover cameo in the form of Taissa Farmiga's Zoe Benson. We've yet to see how Coco, Dinah and Mallory will use their powers for either good or evil, but it's interesting to now know they have them.
But Where Are Jessica Lange And Lily Rabe?
"Could It Be...Satan?" featured a handful of moments when it seemed inevitable for Jessica Lange's Constance Langdon (or even Fiona Goode) to bark at someone from a nearby chair, a cigarette dangling from her lips. Similarly, I would have bet some hard cash on Michael's hell visits also incorporating a rescue for Lily Rabe's Fleetwood Mac-obsessed witch Misty Day, whose resurrection has previously been teased. Both actresses are confirmed to be returning to the franchise this season in limited capacities, and I guess it makes sense to spread these crossover cameos out more. But if we don't get Misty Day back by next week, we riot! Unless Michael says we shouldn't, of course.
American Horror Story: Apocalypse airs every Wednesday night on FX at 10:00 p.m. ET, and you can bet that Ryan Murphy & Co. have a lot more weird tricks and twists up their sleeves. While waiting for more showstoppers, our fall TV premiere schedule will assist in finding all the great new and returning shows hitting primetime soon.
Nick is a Cajun Country native, and is often asked why he doesn't sound like that's the case. His love for his wife and daughters is almost equaled by his love of gasp-for-breath laughter and gasp-for-breath horror. A lifetime spent in the vicinity of a television screen led to his current dream job, as well as his knowledge of too many TV themes and ad jingles.
Your Daily Blend of Entertainment News
Thank you for signing up to CinemaBlend. You will receive a verification email shortly.
There was a problem. Please refresh the page and try again.