10 Shows Cancelled In 2018 That We're Really Going To Miss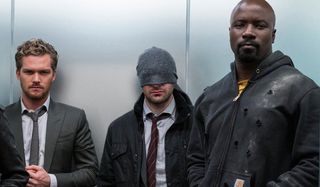 There's nothing more frustrating as a TV viewer than getting invested in a show, only for it to be cancelled. In 2018, several cancelled shows were saved by other platforms -- like Lucifer, The Expanse, Designated Survivor, Last Man Standing, and Brooklyn Nine-Nine. Some other shows ended their runs naturally, like The Americans. And some cancelled shows may still have hope of a new home. But others are more dead than a staked vampire. Here's a look at 10 cancelled shows we'll miss ... including some we still hope to see again someday.
Daredevil/Iron Fist/Luke Cage
When Iron Fist was cancelled in October, fans of the Marvel/Netflix show were shocked. When Luke Cage was cancelled just one week later, they were even more shocked -- and angry. And when Daredevil was recently cancelled, fans were ready to riot. Daredevil's cancellation was especially baffling, since data showed that it was one of the top five most popular shows on Netflix before it was axed. The showrunner had just pitched his plan for Season 4 to Netflix, so it's not like the cast and crew were in on the strategy. And even the mass assumption that this was a move by Disney to move the Marvel characters to the upcoming Disney+ streaming service may not completely pan out.
Turns out, Netflix and Marvel made some kind of deal for the four original shows -- the three cancelled ones, plus Jessica Jones, who will probably fall on the 2019 cancelled list. The deal reportedly stipulates that characters from the shows can't appear in any non-Netflix series or film for at least two years after cancellation. That would keep Daredevil, Luke Cage, and Iron Fist out of the realm of Disney+ streaming use until 2020. Disney+ doesn't get going until the end of 2019, so it's still possible everyone will be back in 2020. But for now, it's everyone's loss.
Timeless
Timeless is actually one of the lucky ones. It was cancelled once, and the fan outcry was so strong, NBC brought it back for a second season. Then NBC cancelled it again after Season 2. Fans brought back the familiar cry, but NBC was only willing to cave enough to give fans a two-part finale, which will air December 20. Some fans are still pushing for Season 3. Star Matt Lanter revealed that the series finale doesn't end on the core Time Team, it's more open-ended. That has already given fans hope that maybe the show will return in some way, on some network, even if it isn't NBC.
The problem with Timeless has never been a lack of passion from fans, there just aren't enough of those fans in total. With under three million viewers, and ratings in the .0.6 zone in the advertiser-loving 18-49 demographic, Timeless has become more a labor of love than a sustainable business for a primetime network show. Timeless' two-hour series finale premieres Thursday, December 20 at 8 p.m. ET on NBC. From there? We'll see.
American Vandal
It is truly a crime to lose this show. American Vandal initially seemed like a bad joke -- a mockuseries following teenagers trying to figure out who drew dicks on high school teachers' cars? Really? But not only was Season 1 hilarious, it had unexpected depth. And it was gripping! It was one of the most pleasant surprises of 2017. When Season 2 came around in 2018, with the Serial/Making A Murderer parody following a new "case," fans were thrilled. Season 2 more than lived up to the high standard of Season 1. And then? Nothing.
Not only were fans shocked by Netflix's cancellation, the American Vandal team was surprised and disappointed as well. The concept for Season 3 was already in development when the show was dropped. Since Netflix doesn't usually release numbers, it's hard to say why they may have axed the show. Too few viewers, presumably, since the show didn't look expensive to produce. The producers said they planned to shop American Vandal to other outlets, so we'll have to see where that goes from here.
Shadowhunters
Shadowhunters is an interesting case in that it was cancelled by Freeform in June 2018, but half of the final season won't air until early 2019. The series was cancelled after Season 3, which was split in two -- the first half premiering in March 2018, with the second half starting on February 25, 2019. In the meantime, Shadowhunters fans have been through all the stages of grief -- denial, anger, bargaining, and depression. They haven't quite reached acceptance yet. The #SaveShadowhunters campaign has been pushing for a fourth season, and reportedly talks have been held. Freeform recently upset fans by mocking the Twitter campaign, suggesting the show won't come back no matter how much they tweet.
If Shadowhunters returns after Season 3, it probably won't be on Freeform. There are complicated financials in play. When Shadowhunters was initially cancelled, Freeform's head of programming said they went back and forth with their co-production partner but they couldn't make the economics work. They added that they were very happy with the show creatively. If another outlet in a different financial situation were to step in, they'd have many adoring and grateful fans.
The Last Man On Earth
Oh, farts. I love the hell out of this show, and I miss it already, but Will Forte was honestly lucky to get four seasons. It probably helped that every season of The Last Man on Earth ended on a massive cliffhanger, leading fans to howl at Fox to renew the show for another season. It worked so many times! Until it didn't. The comedy steadily lost viewers across the four seasons. It started with close to six million viewers and a 2.4 rating in the 18-49 demo, and ended under two million with a 0.7 rating.
Will Forte revealed on the Good Ones podcast (via Deadline) that he had plans for Season 5, explaining more about the people our core group just met at the end of Season 4. Per usual, one or two famous guest stars were meant to be revealed among the new bunker residents. He said Season 5 would've been the final season, but he had no set plan for the series ending.
Sense8
Netflix didn't quite go full Timeless with Sense8, but it did take the rare step of adding a wrap-up special after fan outcry. The sci-fi drama aired two seasons, with Season 2 ending on a cliffhanger. And then Netflix cancelled it. There was such a fury, Netflix decided to create and release a two-hour series finale, which aired in June 2018. Some fans still want a Season 3, but at least the show was given a chance to provide fans closure. Not every series gets that chance. The fans who watched Sense8 loved it, and the show won the GLAAD Media Award for Outstanding Drama Series.
Once again, the decision seemed to come down to economics. According to Quartz, Sense8 cost an estimated $9 million an episode, or $108 million for a 12-episode season, making it one of the most expensive original shows on Netflix. Since Netflix isn't covered by the Nielsen ratings, it's hard to know exactly how many viewers they had. But that's A LOT of money to spend on a TV show, so as upset as fans were, they should be glad they got two seasons and a wrap-up finale.
The Exorcist
I was a loyal member of The Exorcist Congregation, and worked hard to get it a second season. Thankfully, that happened -- with John Cho joining The Exorcist Season 2 cast in a fantastic role that would've gotten awards attention if it didn't air on a horror network TV show.
Sadly, the passionate Exorcist fans couldn't get the show a Season 3, to see what was next for Father Tomas (Alfonso Herrera) and Father Marcus (Ben Daniels). Viewership started under three million and ended under two million. It didn't help that the show aired Friday nights, competing against Hawaii Five-0 and Dateline. Fox officially cancelled The Exorcist in May 2018. This wonderful show will always be a woefully overlooked gem.
The Crossing
This sci-fi show only got to air one season. There were only 11 episodes. Fans barely had time to get hooked on the Steve Zahn drama before it was yanked. There wasn't a huge outcry over the end of this show, but it's still a frustrating sign for the future of the slow-burn mystery. This is exactly why fans get gun-shy about investing in long-form storytelling. Not many viewers have patience for a drawn-out mystery these days, and the ones that do have patience are often punished with a quick cancellation.
The first episode of The Crossing started with 5.4 million viewers and a 0.9 rating in the 18-49 demo; the show ended with 2.10 million viewers and a 0.3 rating. So more than half the viewers left before the end, for various reasons. I can't say I was gripped to the TV, but cancelling the show after one season gave me flashbacks to The Nine, when I was invested and ABC dropped it after one season.
Everything Sucks!
Everything Sucks! is exactly how fans felt after Netflix cancelled the show after just one season. It still hurts fans every time Netflix renews or announces another show. They often respond by bringing up Everything Sucks and asking for it to come back for Season 2. The show only streamed 10 half-hour episodes following teens in Boring, Oregon in 1996. The show dealt with some serious issues, and really resonated with a lot of young fans.
According to a long Vulture report breaking down Netflix's decision-making on various shows, the choice to cancel Sucks came down to viewership. It "only" cost $1.5 million an episode to produce the show, but the audience just wasn't there. Also, a smaller-than-average number of viewers actually completed episodes after starting them. Sucks for the true Sucks fans, but there just weren't enough loyal viewers. Netflix pays close attention to things like cutting out halfway through an episode or watching a few episodes but not the whole season. Keep that in mind.
Once Upon a Time
Unlike many cancelled shows, Once Upon a Time actually got to plan some closure. This is a strange case in that ABC gave Once seven seasons, but many fans think it should've ended after six. The core characters from the beginning wrapped up most of their storylines in the Season 6 finale. It was kind of perfect. But the show decided to continue, returning with a soft reboot in Season 7. Not enough fans embraced the new format, led by an older Henry Mills, so ABC pulled the plug.
Once Upon a Time started with nearly 12 million viewers and a 4.1 rating in the 18-49 demo. That's a huge hit by any measure. The show slowly lost viewers over time, but Seasons 2-4 stayed in the 9 million range with an average rating of about 3.3. Things dropped a bit from there, and Season 7 ended in May 2018 after an average viewership of 3.4 million with a 0.9 rating. I can't say Once ended before its time, but that doesn't mean I won't miss it. I loved those characters, especially Emma Swan, who I would argue to be one of the most fully developed heroes on TV.
Those TV shows may be gone (for now), but here's what is continuing into 2019 -- and potentially beyond.
Your Daily Blend of Entertainment News
Gina grew up in Massachusetts and California in her own version of The Parent Trap. She went to three different middle schools, four high schools, and three universities -- including half a year in Perth, Western Australia. She currently lives in a small town in Maine, the kind Stephen King regularly sets terrible things in, so this may be the last you hear from her.