TV's 11 Most WTF Moments Of 2018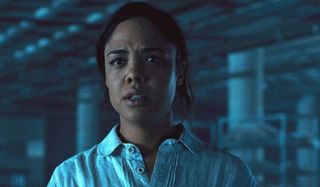 2018 was a great year for television across the board, which almost always means it's chocked full of moments no one saw coming. From the casual "wtf" to the actual "WTF," this past year had many using the term in confusion, sadness, shock and excitement. Ranked from wild to wildest, here are our top 11 of TV's WTF moments of 2018.
Jeopardy- Alex Trebek Grew A Beard
Alex Trebek shocked America at the start of Jeopardy Season 35 when he revealed he'd be starting the season off with a well-groomed beard. It was a shock to the system, as one of the world's most recognizable game show hosts had only gone with a mustache or clean shaven to that point. The change got so much traction that Jeopardy polled people online and asked them to decide if the beard stayed.
In what may have been a WTF moment for Trebek, he seemed to realize the mistake he'd made in allowing the world to have control of his appearance. Trebek announced his wife overruled all voting, and that she preferred him clean shaven. Trebek is now back to his hairless look, but has teased viewers it would only take a few days without a razor for his beard to make a triumphant return.
Dancing With The Stars- Bobby Bones Wins
Dancing With The Stars had a WTF year in general, with a handful of things happening that had viewers saying the phrase. Fuller House star Juan Pablo Di Pace was eliminated despite having a perfect score, and while that was crazy, the wildest was yet to come. That came when Bobby Bones and Sharna Burgess ended up winning the competition, despite never scoring above a 24 the entire season.
Bones' win sparked some outrage, and that, along with other factors, led to ABC taking a step back and opting to skip a return of Dancing With The Stars in Spring 2019. That's a big deal given the show's been a staple on ABC for quite some time. Whether the show returns to widespread acclaim or is worse than before, it goes without saying this year's season will always be remembered for its "wtf" ending.
The Voice- Adam Levine Throws A Contestant Under The Bus
Season 15 of The Voice created quite the controversy in later episodes, as a contestant fought to stay alive in the competition in spite of his coach's lack of support. Adam Levine could've encouraged America to rally behind DeAndre Nico shortly after his performance, but instead decided to use that time to plug another of his contestants facing elimination, Reagan Strange.
Strange was unable to compete due to sickness, but despite that, she advanced into the Top 8 over DeAndre Nico. The moment didn't sit well with fans, who sounded off enough for The Voice to acknowledge the moment in a later episode. Reagan Strange was eventually eliminated, and with all of Adam's contestants out of the running, the controversy faded. Still, him turning on his own team member may make others more wary of joining his group in future seasons.
The Bachelor- Arie Dumps Becca On Camera
Arie Luyendyk Jr. will go down in The Bachelor's history after dumping his then-fiance Becca Kufrin for runner-up Lauren Burnham. It wasn't necessarily controversial that Luyendyk Jr. decided to end things with Kufrin, but rather how he and ABC decided to have it go down that had folks saying "WTF." Luyendyk Jr. invited the cameras along to film the breakup with Kufrin and air it all on television unedited.
Surprisingly, Kufrin hasn't publicly shown any ill will towards her ex-fiance following the incident. In fact, Kufrin said she doesn't think Arie Luyendyk Jr. did it maliciously, but rather didn't think the situation through entirely before inviting ABC along for the breakup. Kufrin might've been onto something with that thought, as Luyendyk Jr. caught some heat again shortly after the finale with an ill-timed April Fool's prank with Lauren Burnham.
Star Trek: Discovery- Enterprise Meets Discovery
Star Trek: Discovery blew minds in Season 1 when the USS Discovery ended up facing another famous Starfleet ship, the USS Enterprise. At the time, all that was known during the reveal was that Captain Kirk was not on board, but Captain Christopher Pike and potentially Spock were. For fans who had been asking when the iconic Star Trek character and adopted brother of main character Michael Burnham would appear, this was huge.
Since then, Star Trek: Discovery has revealed a bearded Spock will appear in Season 2, and he'll be played by Ethan Peck. Fans will also get to see more of the infamous Captain Pike, who will be given more canon Star Trek adventures thanks to Anson Mount. Surprisingly, all reveals have lived up to the WTF hype of the original moment. Unfortunately, its set a precedent, so we'll be expecting something even crazier at the end of Season 2!
"Elseworlds"- Crisis On Infinite Earths Announced
There was a lot of WTF going on throughout the Arrow-verse's "Elseworlds" crossover, as heroes swapped bodies and Batwoman made her debut. None of that held a candle to what came later, however, as The Monitor teased it was all a test for a greater threat that was on the way. At the end of the special, it was confirmed the Arrow-verse was adapting "Crisis On Infinite Earths" as the crossover for next year.
The reveal that The CW is adapting one of DC's most popular comic book storylines was massive and had viewers speculating as to how the upcoming event will impact each superhero franchise. "Crisis On Infinite Earths" had been thought to be a possibility, but no one expected it would arrive in 2019 like it's currently being planned for. No doubt the special will provide at least one future "WTF" moment for us to gush over next year.
Westworld- The Hosts Escape
After a season that didn't make a lot of sense, Westworld kicked the crazy into high gear right as Season 2 was coming together. Long story short, Dolores switched her consciousness into a host that looked like Charlotte, and killed the actual Executive Director of Delos. Dolores then escaped with the help of Stubbs and with several cores in her possession.
Now in the real world, Dolores brought back Bernard and convinced him they're in this thing together. As for what that means exactly is unknown, but the hosts being out of the facility has the potential to be wild. It was a big move for Westworld, or should it be called The Real World when it returns? The better question is what is Dolores planning now that she's outside? Hopefully not revenge, I don't like humanity's odds against the hosts.
Roseanne- Cancelled After Controversy
Roseanne's return to television was a big success for ABC, but 2018 proved that even the biggest stars can fall in the midst of controversy. Roseanne Barr's controversial Twitter remarks led to ABC immediately cancelling Roseanne, despite renewing it for Season 2. The cast, crew and Barr were stunned, as it looked like their massive collaborative effort was all for nought thanks to a tweet.
Fortunately, ABC eventually met with Roseanne Barr and worked out an exit deal that allowed the rest of the cast and crew to return to a new version of the show called The Conners. Things have simmered down past the initial WTF factor brought on by the cancellation, although Barr did pop up on Twitter once specifically to voice her displeasure with how the spinoff decided to write off her character.
13 Reasons Why- The Broomstick Scene
13 Reasons Why is never afraid to create controversy and, on the heels of a disturbing suicide scene in Season 1 that had a lot of folks talking, the Netflix drama had something wilder in store for Season 2. The scene involved Devin Druid's Tyler suffer a vicious attack at the hands of bullies. After a brutal onslaught, Tyler had his head shoved into a toilet and was sodomized with a broom handle.
The scene may have been a little extreme for some, but a harsh reality as it was another scenario seemingly ripped from headlines portrayed in the drama. Devin Druid later advocated for continuing the conversation started by his scene on Twitter, and was thanked by groups for his raising of awareness. As as the scene may have been, it wasn't enough to stop the run of 13 Reasons Why rolling as Season 3 is coming in 2019.
The Walking Dead- Rick Grimes Survived
The announcement that Andrew Lincoln was leaving The Walking Dead was shocking, and fans wondered en masse how the series' flagship character was going to exit the drama. The episode prior to his exit, the answer seemed clear. Rick was impaled on a steel rod, while Walkers closed in on him from both sides. It seemed as though the writing was on the wall, and Rick was going on to join Lori and Carl.
Of course, the big moment came and Rick was flown away from an otherwise certain death via helicopter. That scene was WTF worthy all on its own, but then AMC's follow-up announcement that Rick would be getting standalone movies really sent it over the top. All credit to AMC for flipping the script, and giving the world a shocking survival in 2019 over a death.
This Is Us- Nicky Is Alive
Mandy Moore teased This Is Us Season 3 would be the most ambitious season the series has done to date, but the show hitting a series low in viewership showed interest was waning. That changed in the midseason finale, as the show had America talking once again after the fate of Jack's brother Nicky Pearson was revealed. As it turned out, Nicky didn't die in Vietnam, and was alive and living in Pennsylvania.
Fans of This Is Us quickly got over the lacklustre reveal of "Her," and began to wonder exactly how Jack's brother was alive in the present. After all, Jack said Nicky died and he wouldn't lie, right? Did Nicky survive without his brother knowing, or is there a sadder story behind this? This Is Us will get a chance to captivate America again, and hopefully, provide an answer as popular as the circumstances behind Jack's death in Season 2.
Those who have a WTF moment they think should've been added can list their selection in the comments below. For a look at other things coming to television, visit our fall and midseason premiere guides.
Your Daily Blend of Entertainment News
Mick likes good television, but also reality television. He grew up on Star Wars, DC, Marvel, and pro wrestling and loves to discuss and dissect most of it. He's been writing online for over a decade and never dreamed he'd be in the position he is today.