Star Trek Discovery Season 2: What We Know So Far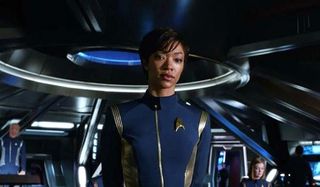 Patrick Stewart may be making a grand return to the Star Trek franchise but that doesn't mean Star Trek: Discovery is suddenly chopped liver. The streaming series gained a fair share of franchise fans in its inaugural season, and its run played a big part in drawing a lot of eyes to CBS All Access. No doubt the series will do the same in Season 2, as the drama gears up for another inventive story, the return of a few classic characters, and probably some swearing. With that said, here's all we know about Season 2 and what fans can expect.
When Will Star Trek: Discovery Season 2 Debut?
The exact premiere date for Star Trek: Discovery Season 2 is unknown, although we've been told to expect the show to arrive on CBS All Access in the early half of 2019. Executive producer and now showrunner Alex Kurtzman has been consistent with that date since Season 1 was still airing, and no news has come out to indicate we should expect it any sooner. Additionally, production seems to be chugging along in spite of behind the scenes drama, so, provided no other massive roadblocks come up, Star Trek: Discovery should arrive when expected.
What Will Star Trek: Discovery Season 2 Be About?
Star Trek: Discovery Season 1 ended with the USS Discovery face-to-face with the USS Enterprise, and while it's been confirmed that the Enterprise and its crew won't be around all season, there will be some connection. Former co-showrunner Aaron Harberts said a theme of Season 2 revolves around the family one chooses versus the family one is born into, and with Michael Burnham's adopted brother Spock on board the Enterprise, he'll no doubt have a part to play in this theme. That much was confirmed in the Season 2 trailer anyway, which hinted that Spock is somehow linked to seven mysterious red bursts spread out light years apart. The Discovery will team up with Captain Christopher Pike and his Enterprise crew, in what sounds to be a rescue mission to find the Vulcan.
Another theme teased for Season 2 of Star Trek: Discovery involves spirituality, and the struggle between logic and faith. It's an issue Michael Burnham somewhat struggled with in Season 1, as the human raised by Vulcans slowly became more accustomed to her more human desires. No doubt she'll continue to struggle with this balance in Season 2, and it's possible the rest of the Discovery crew might go along for the ride as well. Beyond that, the Discovery is slated to get a new permanent captain, and appearances from Mirror-Georgiou, Voq/Ash, or even Harry Mudd are always on the table. One thing that seems certain, though, is that the adventure is only beginning.
What Have We Seen From Star Trek: Discovery Season 2?
A first-look trailer for Star Trek: Discovery Season 2 was released at San Diego Comic-Con 2018, and with it came the arrival of Anson Mount's Captain Christopher Pike. As previously mentioned, the trailer seemed to revolve around mysterious red bursts and the revelation that Burnham's brother Spock might be in trouble. Given what is known about the Enterprise's role in Season 2, it's possible this is just an arc of Season 2 and not the entire big picture of what's happening in the upcoming season. That said, even the small stories in Season 1 seemed to come full circle by the finale, so it's possible the trailer contains more about Season 2 than we know for now.
The Star Trek: Discovery first look also contains the high-intensity space flying and explosions that appear to indicate the action will be as constant as ever in Season 2. It's doubtful the Klingons are ready to take on the Federation so soon after their conflict in Season 1, but a silhouette spotted in Burnham's helmet at the start of the trailer appears to indicate some alien race could be behind all this drama. Who that might be, however, is anyone's guess, as Star Trek: Discovery has not been shy about redesigning some of the series' most iconic species.
Michael Burnham
Burnham might've lost whatever budding romance she had with Ash Tyler when he awoke as Voq, but Star Trek: Discovery's main character at least got the consolation of being pardoned and reinstated in Starfleet for her role in ending the war with the Klingons. Burnham's heroics have undoubtedly earned her the respect of the majority of the Discovery crew, which means she'll probably get a lot more friendly interactions with crew members who aren't Tilly. Burnham will definitely appreciate the regained acceptance of her peers, even if she won't readily admit it.
Burnham may not have a ton of time to appreciate that kindness, however, as the Season 1 finale threw her right into another complicated situation. Star Trek: Discovery is ready to show some more family drama, as Burnham appears to be on a collision course with her brother Spock. Fans will just have to wait and see what transpires if that encounter happens, as Vulcans aren't typically known for emotional interactions. That said, with Spock half-human and Burnham a human raised by Vulcans, one shouldn't be surprised if their exchange gets a bit more heated than the conversations that took place between Burnham and Sarek. Spock might help Burnham in her quest to balance the Vulcan and human aspects of her life, and, perhaps, together the two can touch on the season's overarching theme of logic vs. spirituality.
Stamets
Paul Stamets had a rougher season of Star Trek: Discovery than most and walked away lucky to be alive after merging with the Spore Drive. Unfortunately, his partner, Lt. Hugh Culber, wasn't so lucky, and we're sure Season 2 of Star Trek: Discovery will show Stamets continue to mourn for his lost other half. We're also sure we'll see him work up some other brilliant tech to aide the Discovery and its crew, although it's worth noting the Season 2 trailer only showed him briefly. Perhaps without the Mycelial network on the Discovery, his role in the current season won't be as large as it was in Season 1?
Tilly
Things were looking up for Sylvia Tilly at the end of Star Trek: Discovery, as the quirky crewmember was awarded admission to Starfleet's officer training school. Her mirror counterpart proved she's capable of handling command, although it's safe to say Tilly won't be handling things as her mirror self did if she ever gets the chance to lead. We're not sure how the surprise arrival of the Enterprise will impact Tilly's new development in Season 2, but we're assuming she'll be dropping another f-bomb if it causes a significant delay to her future goals.
Saru
Saru ended Season 1 as the first Kelpian to ever receive the Starfleet Medal of Honor, and as acting Commanding Officer of the USS Discovery. The moment meant a lot to Saru, who had been pining for command of his own ship for a long time. Unfortunately, the moment appears short-lived as the trailer showed Captain Christopher Pike will eventually take command of the vessel not long after their encounter. Saru also managed to bond with Burnham before the season's end, which means Season 2 of Star Trek: Discovery will almost certainly see the two on much better terms.
Christopher Pike
Star Trek fans are already familiar with Captain Christopher Pike, as the iconic franchise captain is largely known for being in command of the USS Enterprise prior to James T. Kirk. Star Trek: Discovery Season 2 looks to show more of Pike at his peak, and will show far more of what the Enterprise was like before Kirk's arrival. We'll also, presumably, get to see how Pike interacts with Spock, which is interesting, due to the Vulcan being one of the thin links between the two captains.
Spock and Captain Kirk had a pretty good bromance, but it's hard to say whether or not that'll be true with Spock and Pike. The Enterprise captain appears concerned for his crew member, but that may be the amount of concern he'd show towards any missing crew member from his ship. If fans don't get to see much interaction between Pike and Spock, at least they'll get to see more of the captain in action, which is something the original series didn't show much of outside the pilot.
Spock
The story of Spock in Star Trek: Discovery is interesting, and not just because his adopted sister is playing the lead character. The show has cast Ethan Peck to play a younger version of the Vulcan, despite a rather rampant insistence early on in production that the show would not be casting a new Spock. Originally, it was strongly implied that the series would use past Spock voice work and footage to re-create the character, but, apparently, some things have changed.
That said, perhaps that's still partly true as Jonathan Frakes revealed that Young Spock will, for sure, be around in a couple Season 2 flashbacks. Alex Kurtzman didn't reveal if the Spock Frakes referred to was Ethan Peck or a younger actor brought in to play a more child-like Spock, although he has confessed this will be a different Vulcan than the one portrayed by Leonard Nimoy and Zachary Quinto. Essentially, Peck's version may not quite be the level-headed clear thinking Vulcan he's largely been portrayed as, which might be why he's missing, and possibly in danger.
Sarek
Michael Burnham isn't the only relative of Spock's who is involved in Star Trek: Discovery, as Star Trek fans know his father, Sarek, has a long and strained history with his son. It's been known for a long time that Sarek wasn't the biggest fan of Spock joining Starfleet over the Vulcan Science Academy, but Star Trek: Discovery revealed why the sleight was so significant. Now, we'll get to see if Sarek forgives his son for throwing away an opportunity that Burnham so desperately wanted, but was denied, after the Vulcans gave their father an ultimatum where only one of his children could join. Judging from their relationship in later years, we're assuming whatever interaction happens between the two won't go well, but we could be surprised.
Harry Mudd
Rainn Wilson's Harry Mudd hasn't been confirmed for Season 2 of Star Trek: Discovery, although Star Trek fans are guaranteed to see him before the new season begins. Mudd will return in Short Treks, which will give the character a fresh short adventure, as well as further flesh out the Star Trek universe. Mudd's big attack on the Discovery was one of the highlights of Season 1, and while it's exciting to hear he'll get another stand-alone adventure, some fans are hoping he still makes an appearance in the new season.
What's Going On Behind The Scenes?
Star Trek: Discovery Season 2 got thrown a curveball not long into production when it was revealed that Season 1 showrunners Aaron Harberts and Gretchen Berg were being replaced. The duo, who originally took over for Bryan Fuller, were both removed after the budget for the Season 2 premiere was so out of control that all remaining episodes had to have a chunk of their budgets removed to compensate for it. Additionally, it was reported that Berg and Harberts had created a toxic work environment for the writing staff, and were, reportedly, cursing and making threats towards a few people. Executive producer Alex Kurtzman is now in control of the series for at least Season 2, and it is unknown if he will replace himself should the series return for Season 3.
As mentioned, Star Trek: Discovery will return to CBS All Access sometime in early 2019. For a look at what television shows will be arriving before that, be sure to visit and bookmark our handy summer and fall premiere guides. For other things coming to streaming, head on over to our Netflix and Amazon premiere guides.
Mick likes good television, but also reality television. He grew up on Star Wars, DC, Marvel, and pro wrestling and loves to discuss and dissect most of it. He's been writing online for over a decade and never dreamed he'd be in the position he is today.
Your Daily Blend of Entertainment News
Thank you for signing up to CinemaBlend. You will receive a verification email shortly.
There was a problem. Please refresh the page and try again.