The Blacklist Season 6 Finale Preview: Where Will Red And Liz's Story Wrap Up?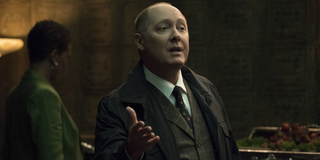 (Image credit: Virginia Sherwood / NBC)
Fans of The Blacklist are hurtling towards its Season 6 finale. Having left off with a major cliffhanger, the series has no shortage of questions to answer. There are some things to go on and speculate about as the finale gets closer.
If you want to remain entirely unspoiled heading into The Blacklist's Season 6 finale, now is the time to turn back and/or check out some of our spoiler-free Blacklist stories. Spoilers lie ahead for the Season 6 finale of The Blacklist.
Now to the episode. Let's start with the logline for The Blacklist's season finale. It states that President Diaz's "true plan" will come into focus, even though fans thought they knew what President Diaz and Anna McMahon were up to following the penultimate episode of Season 6.
Having retrieved and unlocked the dossier, the Task Force learned that Anna McMahon plans to assassinate the president. The twist is that President Diaz is apparently in on the plan. That bit, as the Task Force noted, is hard to follow. Before the team could act on any of this info, McMahon stormed in and arrested Aram, Ressler, and Cooper.
Liz was chatting with Red on the phone when Anna McMahon and her forces arrived. Hence, Liz is safe. As the teaser for The Blacklist's season finale shows, she is going to team up with Red to save her friends. The question is, what is McMahon and President Diaz's ultimate plan? Apparently, there is more to it.
The Blacklist's creator, Jon Bokenkamp, teased a few surprises were ahead regarding Anna McMahon and President Diaz. Will fans finally get the whole truth in the season ender? One can only hope. Speaking of truth, there is another one big mystery that needs to be solved: Red's true identity. More on that in a bit.
Let's dive into some of the promotional images for The Blacklist's season finale. This first one shows Cooper, Ressler, and Aram inside a big box. Yes, the same one that Red spent so much time in during the pilot. Check it out:
Poor Aram! He seems anxious. Do not worry though. The trio's circumstances will take a significant turn. Somehow, they are going to get out of the box. This next picture shows all of them out and about, alongside Liz. Red can be spotted to the far left. Everyone appears to be looking at him. Check it out and continue for more Blacklist speculation.
Where are they? In all likelihood, one of Red's hideouts. Perhaps his safe house. Please, note the red roses. A homey touch. Could this be an ode to Red? Maybe. Everyone appears to be enjoying dinner at one point. You cannot fight an evil conspiracy without a good meal. Check it out:
Who is the person sitting next to Aram? Only one way to find out. While everything appears to be going well at first, things may take a dark turn. The order of the promotional photos makes it hard to pinpoint when the action in this next picture takes place.
Red can be seen being escorted by what may be a SWAT team with Cooper and Panabaker behind him. It is hard to tell, but Red is definitely in handcuffs. Please, check out the picture replete with Red's unfortunate wristwear below:
After Red almost got executed in Season 6, it just feels way too soon to be seeing him back in custody. Also worth taking a look at are stills from Red and Ressler talking to one another. Blacklist fans can probably guess what they may be discussing. Get a feel for what it might be, here:
Ressler has been in hot pursuit for answers about Liz's mother and Red's identity. Could Ressler decide to take the direct approach and confront Red, one-on-one? If Red is not going to answer Liz's questions, it seems doubtful he will answer Ressler's. That said, if Ressler wants to get answers and Red is fond of lawn gnomes, he should probably be concerned. Ressler is a gnome killer.
Perhaps they are just having a talk regarding Liz. Red has always seemed more or less supportive of Ressler and Liz, and The Blacklist seemed to be laying the groundwork for a potential romance between Liz and her fellow agent. If the show is moving forward with a pairing between the two, Red would weigh in.
Speaking of Red, this could be another big episode regarding his true identity. According to the logline, Red will secretly meet with a man who has info on Red's past. Yes!
Who is this man and what does he know? Fans will have to tune in to see. Will what this guy says shed any light on Ilya Koslov? As in, could he further cement that conclusion? Could The Blacklist confirm Red's identity, once and for all? Thus, ending an entire season built around the mystery? Stay tuned.
The Blacklist has a lot of reasons to bring this part of the season to an end. I think it has been an enthralling mystery that steadily drove the season. Red's connection to Liz has always been a point of curiosity, which the entire series has centered upon.
This plot has given that a more narrowed and specific purpose. I think there is a strong chance that The Blacklist will leave viewers with some sense of closure on that matter. It could also see the closing of one door and the opening of another.
The back half of the season seemed to give viewers the answers they did not know they have been waiting for, since Season 1. Fans will just have to wait and see if those answers survive the finale. I would not put a last-minute bombshell past The Blacklist. Remember that is what brought us to Season 6.
I do not think the will take the Ilya angle off the table. One scenario could have The Blacklist drop a huge shocker on us by having someone getting introduced to Liz. Their last words? "I'm Ilya Koslov's (enter theory here)."
Tune in to find out if I am way off base. The Blacklist Season 6 finale will air this Friday, May 17 at 8 p.m. ET on NBC.
Like a contented Hallmark movie character, Britt happily lives in the same city she grew up in. Along with movies and television, she is passionate about competitive figure skating. She has been writing about entertainment for 5 years, and as you may suspect, still finds it as entertaining to do as when she began.
Your Daily Blend of Entertainment News
Thank you for signing up to CinemaBlend. You will receive a verification email shortly.
There was a problem. Please refresh the page and try again.