Yes, David Harbour Really Hated Hopper's Mustache In Stranger Things Season 3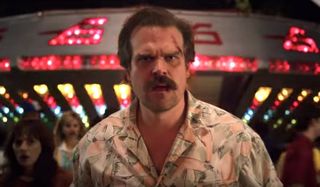 Actors sometimes go through radical physical changes to fully embody the characters they play. It's not unusual to hear about stars gaining or losing lots of weight, packing on muscle or shaving their heads once they sign on to play a part, and sometimes those changes are really difficult for them. Well, it turns out that growing a Tom Selleck-level lip toupée can also cause some drama.
According to David Harbour, who portrays the already relatively hirsute Chief Hopper on the Netflix supernatural drama Stranger Things, having a massive mustache for Season 3 was great...Until it wasn't.
Alright, I'm already confused. As I mentioned earlier, Hopper, and therefore his portrayer, have hardly been clean shaven and well-kept for the past two seasons. In fact, Hopper is the very epitome of a caring, yet sloppy, man-bear. He's got a bit of a gut, courtesy of drinking too much beer, his hair is too long and, yes, he has all kinds of facial hair.
We've seen Hopper / Harbour on Stranger Things with a beard / goatee / mustache combo, so, could only having a mustache to deal with really be that much trouble?
Based on what David Harbour told Entertainment Weekly, the answer is a resounding "YES!" As Harbour noted when he spoke with them, he and his handlebar got along just fine for a couple of months of filming, but after that it was game over for the relationship. What's a new nose neighbor to do?
It sounds like whatever efforts David Harbour's soup strainer made to mend fences didn't work. (I love the idea that his mustache gained sentience. It did spend most of its time in Hawkins, Indiana, after all.) When Harbour finally wrapped filming on Stranger Things Season 3 back in mid-November 2018, he took to social media to let everyone know that it was time to say "goodbye mustache" as he bid an official farewell to his "#facecatepiller." So long, snot mop. We hardly knew ye.
Now, if you're like me, you're probably wondering what would have inspired the decision to go from full-on facial hair to a crumb catcher only existence, and, it turns out that the impetus was especially perfect for the time period of Stranger Things Season 3. David Harbour also shared that Hopper, much like many other men who survived the mid-1980s, has become obsessed with (you guessed it) the television show Magnum P.I. and aforementioned star Tom Selleck's glorious flavor saver by the time 1985 rolls around.
While it's sad that the Hopper-stache only lasted for a few months, at least we can all get to enjoy David Harbour and his face lace in all their glory once Stranger Things Season 3 hits Netflix on July 4. Maybe there will be some closeups that we can screenshot and then paper our walls with as we eat our Upside-Down Whoppers and drink our disgusting New Cokes. One can only hope...
Bachelor Nation, Gilmore Girl; will Vulcan nerve pinch pretty much anyone if prompted with cheese...Yes, even Jamie Fraser.