The 100 Showrunner Confirms Departure Of Original Character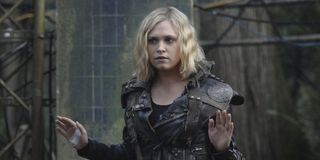 Spoilers ahead for the penultimate episode of The 100, called "Adjustment Protocol."
The 100 has never held back from killing off characters en masse, but the latest episode saw the apparent death of a character so major that some fans are understandably in denial that she's really gone from the show. Yes, Abby was seemingly killed in "Adjustment Protocol" after her body was taken over when Russell installed the consciousness of his recently murdered wife into Abby.
But could a character who has been present and key from the very beginning of the series really have gone out like that, so soon after Kane? After everything, was Abby really gone? Well, showrunner Jason Rothenberg took to Twitter to confirm Abby's death in no uncertain terms. Take a look at his first tweet on the subject:
The rule for Season 6 of The 100 has been that people who have their bodies taken over are killed, even if their bodies are still going. The consciousness of the people taking over their bodies meant the death of the original minds, so Abby being taken over should have automatically meant that viewers had to accept her death. That said, Clarke survived being possessed by Josie due to a neural network that protected her.
The 100 Lead Stars Shock Fans By Revealing They Got Married
It was possible that Abby could have somehow cheated death, despite all signs pointed toward her end. She got to reunite with her daughter, have poignant moments with others who were important to her, make a heroic decision, and even experience her life flashing before her eyes. So, Jason Rothenberg's confirmation isn't shocking, even if it is disappointing. Still, the promo for the Season 6 finale proves that Abby's death doesn't mean Paige Turco's final episode was "Adjustment Protocol." Take a look:
Jason Rothenberg's first social media message suggests that Paige Turco won't be around as Abby, Simone, or anybody else following the end of Season 6, so hopefully the Season 6 finale gives Turco a fitting farewell, even if she's not playing Clarke's mom anymore. Hey, at least this probably means that Clarke won't be forced to face off against somebody wearing her mom's body into Season 7! Yay?
The showrunner went on to express the difficulty of saying goodbye, as well as to check in on fans who had to watch Abby lose her life:
Maybe Abby has headed off to an afterlife that reunites her with Kane! That would at least be an upside to the losses of two major characters in the span of one season. Then again, Clarke's dad might be in that afterlife as well. That could get a little awkward. Afterlife love triangle? Probably not in a spinoff.
Clarke almost gave away the game that Josie is no longer in her head when she saw that Abby had been taken over by Simone, so it's probably a safe bet that she'll be emotionally compromised in the season finale, and an emotionally compromised Clarke can be a dangerous Clarke.
Tune in to The CW on Tuesday, August 6 at 9 p.m. ET for the Season 6 finale of The 100. The show was already renewed for Season 7 next year, despite being one of the least-viewed scripted TV shows of the 2018-2019 TV season. The early renewal will make it one of The CW's longest-running series now that Arrow and Supernatural are coming to an end.
Resident of One Chicago, Bachelor Nation, and Cleveland. Has opinions about crossovers, Star Wars, and superheroes. Will not time travel.
Your Daily Blend of Entertainment News
Thank you for signing up to CinemaBlend. You will receive a verification email shortly.
There was a problem. Please refresh the page and try again.