HBO Hired A Sex Coordinator To Help Deal With Nude Scenes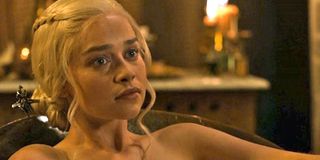 Sex scenes are pervasive in both movies and television, but television shows often run for much lengthier periods of time. By extension, this can mean there's a lot a more sex that goes into a production, particularly on premium cablers like HBO that can show a lot more nudity than network TV.
A recent article revealed that after The Deuce's James Franco dealt with allegations related to sex scenes on the set, they reached out to a sex coordinator Alicia Rodis, who walked actors through these nudity related scenes on The Deuce, starting with Season 2. The job title at HBO Rodis technically holds is "Lead Intimacy Coordinator" and we explore what that means below.
Who Is Alicia Rodis?
According to a lengthy profile on The Atlantic, Alicia Rodis is a former stunt coordinator who realized along with a few colleagues in the industry there was a gap when it came to facilitating sex scenes on set. While stunt work has traditionally coordinated
So, Rodis and several colleagues created Intimacy Directors International, a business that goes into productions both on the screen and on the stage and fixes some of the problems with nudity and sex scenes certain productions are sometimes having. Alicia Rodis also works with Siobhan Richardson and Tonia Sina, who both also previously worked as fight coordinators before becoming intimacy coordinators.
What Does A Sex Coordinator Do?
Alicia Rodis in particular does multiple scenes in relation to sex scenes and nudity as an intimacy coordinator. She makes sure the actors have the right gear so their intimate parts aren't actually touching and the scenes can go off without a hitch. She also works with the actors to explain what the interaction will be like and presumably answers questions when those related to the scenes have them.
Finally, she explains this can get down to very particular details, including things like "setting the number of pumps" in sex scenes. In the past, Alicia Rodis says this wasn't often done ahead of filming scenes or at least wasn't often done in detail, which could cause additional awkwardness and confusion in situations that are already tough to navigate involving nudity.
What This Means For HBO
It's definitely true that HBO has grown a little more intimacy shy in recent seasons of TV. You don't have to look any further than the recently ended Game of Thrones to realize the titillating scenes went by the wayside as the fantasy drama approached its endgame. The headline from the series over the last couple of seasons were more about there being fewer nude moments rather than more nudity. Look no further than:
Game Of Thrones Star Talks Fewer Nude Moments In Later Seasons
Still, even during the final season of that show, there were sex scenes shot between characters like Danerys Targaryen and Jon Snow or Jaime Lannister and Brienne of Tarth that had to be navigated, just like on HBO shows like Euphoria or The Deuce which also tie in nudity and sex. Euphoria, for example, made headlines for the number of penises shown in Season 1 earlier this summer.
Does This Mean Nudity Is On Its Way Out?
Look, a sex or intimacy coordinator doesn't mean nudity is on its way out at HBO and other premium cablers. The Game of Thrones example I brought up in terms of fewer nude moments likely came about due to 1. The show needing to approach its endgame and have better stuff to deal with and 2. The actors on the series having higher pay grades and having more clout to negotiate things like nudity clauses as the series wore on.
It should be noted, however, that HBO has started taking the idea of "premium" television experiences even more seriously. A few months ago, we learned HBO had ultimately opted to cut out the adult programming that had long been a staple on the network. However, when HBO dropped its "late night adult fare," citing a lack of demand for those types of projects nowadays, likely given the prevalence of porn on the Internet. Given Game of Thrones episodes have actually had an effect on porn during airings, I suppose it's a fair tradeoff.
Reality TV fan with a pinch of Disney fairy dust thrown in. Theme park junkie. If you've created a rom-com I've probably watched it.
Your Daily Blend of Entertainment News
Thank you for signing up to CinemaBlend. You will receive a verification email shortly.
There was a problem. Please refresh the page and try again.