Vikings: What We Know So Far About The Final Season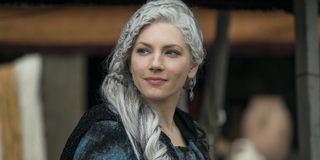 (Image credit: Jonathan Hession / History)
Vikings is heading into its sixth and final season. After countless battles, shocking deaths, and non-stop drama, the History series announced it is coming to a close. And, it made tremendous headway towards its final season with a twist-filled Season 5 finale in January.
The finale ultimately resulted in a lot of closure for many characters, but expect that to be somewhat disrupted when the series sets sail for its final voyage at some point. Here is what is known so far about the last season. Brace yourself, Vikings fans!
The Teaser
Believe it or not, fans already have a teaser trailer for Season 6. How lucky are we? The teaser reveals a lot of the adventure and mayhem heading your favorite characters' way. As you can see, it is a brief trailer but has a lot of quick peeks at some major action.
Did you catch everything? Lagertha is back in battle mode, Bjorn is busy being king, and Ivar is off to cause trouble elsewhere. Lagertha was talking about putting her shield down for good in Season 5, so it is surprising to see her going the warrior's way again.
Ubbe is sitting in a highly interesting chair at the 4-second mark. Vikings viewers also get their first glimpse at Kiev, which is where Ivar was heading off to at the end of Season 5. It looks like he arrives and makes himself comfortable quickly.
A scene showing fire on the water is an ominous indication that dark times are ahead. You cannot say The Seer did not warn everyone. Shown in flames at the 11-second mark is someone that appears to be Hvitserk. Vikings is known for its visions though, so do not consider it a definitive reveal of his fate.
At the end of the trailer, Lagertha is wearing dark navy robes (or at least appears to be). She says that "he died for all of us." Is she talking about Bjorn, one of Ragnar's other sons, or none of the above? Ragnar is considered a martyr to the Vikings people, so, perhaps, she is referring to him. Time will tell. Speaking of which...
When Will Vikings Season 6 Premiere?
No date has been set for Season 6 to premiere yet. Vikings' showrunner, Michael Hirst, previously hinted at the first half premiering "later this year" to Variety. That would put it premiering in late 2019, but there is a way to potentially narrow down when to expect the show's return.
The first half of Season 5 premiered in November 2017. Likewise, the second half also bowed in November 2018. If Season 6 sticks to that release schedule, Vikings should return at some point in November of this year. Stay tuned.
How Many Vikings Episodes Are Left
The final season will span 20 episodes. Like its previous rollouts, Season 6 will span two, ten-episode installments, better known as Season 6A and Season 6B. That means a lot of Vikings still remains after Season 5. During its earlier seasons, a season of Vikings was comprised of ten episodes. When you compare it to that, it's like Vikings has two more seasons left, which is good news for fans.
Why Vikings Is Ending
Vikings' showrunner, Michael Hirst decided it was time to end the show. In an interview earlier this year, Hirst revealed the circumstances that led him to realize the end had come. After completing filming on Season 6 in November 2018, he realized he had said all he needed to about Ragnar and his sons. He added that he had done all he wanted to do with the show.
What Is Next For Lagertha
While the premiere is a ways into the future, details on your favorite characters' future storylines have been forthcoming. First up is Lagertha. Vikings' showrunner has revealed quite a few interesting tidbits about her, and we know that in Season 6, Lagertha will try to step away from the spotlight.
She wants to retire and enjoy a more pastoral kind of life. As you saw in the teaser trailer, events do not allow for that to last long. Once a Viking, always a Viking it seems. Will Lagertha go out in battle? The Seer previously told Lagertha that a son of Ragnar would kill her. Will Season 6 be the one that sees this come to pass? Keep watching.
What Is Next For Rollo
Rollo's future is still unclear. He was last seen dropping a paternity bombshell on Bjorn, and wanted Lagertha and Bjorn to come away with him but they refused. Rollo then backed Ivar in what seemed to be a calculated move to give them no choice. Ultimately, Bjorn took back Kattegat without his uncle/maybe-bio dad's help.
Rollo is probably proud. Will they ever sort out if Rollo is Bjorn's biological father? If they do, will it change anything for Bjorn? It would be cool if Season 6 addressed the dangling plot thread. Why introduce it if it did not lead to something?
What Is Next For Bjorn
Bjorn ended Season 5 on an exceedingly good note. He took command of Kattegat and was named king. Bjorn also reunited with his mother, whom he had not seen in quite a while. How do things look for Bjorn's future?
Michael Hirst told TV Guide that Bjorn would try to be a good ruler. While he comes in as a very popular leader, he is quickly confronted with some difficult choices. Hirst said that Bjorn will end up making "some bad decisions," which will have an "impact on him."
Vikings' showrunner also discussed how Ragnar did not want power. However, Bjorn does. Wonder who he got that from? Spoiler alert: Lagertha and possibly, Rollo. His mother did want to be Queen of Kattegat, and she succeeded for a time. Meanwhile, his maybe-biological father has done well for himself in Frankia.
What Is Next For Ivar
When viewers last saw Ivar, he was heading out of Kattegat after murdering his wife, Freydis and got into a cart on his way to some undisclosed location. Prepare to get a front row ticket to his destination.
Apparently, Ivar's change in location is going to change him up a bit too. Ivar goes from Kattegat to Kiev next season. Vikings' showrunner teased that Season 6 will see him face "new challenges" that will have him interacting with the Rus Vikings. He will also form a relationship with the Rus Prince. More on him later.
Will Ivar be any less of a villain than he has been all of this time? The show will tell the tale for sure.
What Is Next For Ubbe
Season 5 was an eventful one for Ubbe. He got close with King Alfred in Wessex, and he continued to build his relationship with his wife, Torvi. The son most like Ragnar, Ubbe got a lot done. By the end of the season, Ubbe had returned home to Kattegat.
He almost died fighting to procure Ragnar's dream of farming land in Wessex. Now, he is focused on another vision – his own. Michael Hirst has revealed that the wanderer side of Ubbe will come out in full force in Season 6. He is in search of the land he heard about, which exists west of Iceland.
What Is Next For Hvitserk
Hvitserk started out the second half of Season 5 as an ally to Ivar as the lone brother to support Ivar's bid to be King of Kattegat. By the end of Season 5, Hvitserk had seen sense and switched sides. Restoring his relationship with Bjorn, Hvitserk helped him fight to take back Kattegat.
In Season 6, Michael Hirst has teased that Ragnar's son will continue trying to find himself. He is a bit of a lost soul and still struggling to reconcile his earlier actions. Will he find peace? Hvitserk appeared to be dead in one of the scenes shown in the trailer for Season 6, so he may end up dying while trying to find that peace.
What Is Next For Harald
Harald ended Season 5 fighting alongside Bjorn and did not betray him as previous events in the season had suggested. Will he stay on Bjorn's side? Harald is fixated on Bjorn's now-wife, so chances are slim.
Another question worth considering is if Harald will be sticking around Kattegat, or will he stay in an attempt to get revenge on Lagertha? Since The Seer said she would be killed by one of Ragnar's sons, that is a battle Harald does not seem tipped to win.
The Major New Character Coming To Vikings Season 6
The main new character set to stir things up is the Rus Prince. Russian actor Danila Kozlovsky will take on the role. What do we know about the prince? It is known that Kozlovsky will play Oleg The Prophet aka Oleg Novgorod, per Deadline.
The Varangian prince has been described as "ruthless" by Vikings' showrunner in a separate report. Maybe Ivar will meet his match. Danila Kozlovsky starred in the Russian-language film Viking, which I have watched. Based on his performance in the movie, I think it is safe to say he should do an excellent job on Vikings.
Before long, you will get to see him and Vikings' other stars back in action. It is the final chapter in the saga, which means every episode will directly lead to every character's ending fate. The show has never had trouble emitting tension and its sixth season should continue the tradition. Hopefully, Rollo and other characters will be back for the final season.
A premiere date for Vikings' sixth and final season has not been set yet. Whenever the last season premieres, it will do so on History, so be sure to bookmark this guide as updates for the last season of Vikings come in!
Your Daily Blend of Entertainment News
Like a contented Hallmark movie character, Britt happily lives in the same city she grew up in. Along with movies and television, she is passionate about competitive figure skating. She has been writing about entertainment for 5 years, and as you may suspect, still finds it as entertaining to do as when she began.