SEAL Team Showrunner Steps Down After CBS Investigation Ahead Of Season 3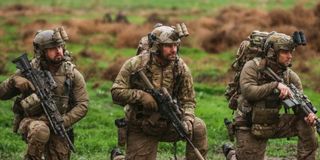 Executive producer John Glenn has relinquished his responsibilities and stepped down from his role as SEAL Team showrunner. This comes on the heels of CBS TV Studios concluding an internal investigation involving Glenn. While the reasons behind the investigation have not been revealed, it did not include sexual harassment allegations.
John Glenn, who took over as showrunner in Season 2, has not only exited SEAL Team, but his overall producing deal with CBS has been terminated as well. Meanwhile, Glenn's lawyer, Michael Plonsker, claims that the former showrunner "disputes any findings" from the mysterious investigation.
Producer Spencer Hudnut has been tapped to take over showrunner duties for the series ahead of Season 3. Additionally, production of the show itself has continued without any interruptions. In a statement (via The Hollywood Reporter), Glenn expressed how "proud of the work" he and his team accomplished during Season 2 of SEAL Team and that "listening to any concerns" from staff was important.
This isn't the first time CBS has had trouble with its internal staff. Last year, the network ousted former CEO Les Moonves following allegations of misconduct and sexual harassment. Michael Weatherly, who is the lead actor and a producer on Bull, also came under fire for alleged comments by guest star Eliza Dushku, best known for her roles on Dollhouse and Buffy the Vampire Slayer, who left the series and later settled with CBS. A couple of weeks ago, former Star Trek: Discovery writer Walter Mosley quit the show after being accused of using the N-word among colleagues, and NCIS: New Orleans executive producers Adam Targum and Brad Kern were fired for misconduct.
SEAL Team, created by Benjamin Cavell, follows the lives of Navy S.E.A.L.S., including David Boreanaz's Jason Hayes, Jessica Paré's Mandy Ellis and Max Thieriot's Clay Spenser, as they train and take on dangerous missions.
The show was renewed last spring and the third season will premiere on Wednesday, October 2 at 9 p.m ET. The fall TV season is quickly approaching. To keep up with all your highly anticipated new and returning shows, be sure to check out our extensive TV guide for all the premiere date information.
Your Daily Blend of Entertainment News