Big Brother Spoilers: Who Won Final HOH Part 1, And What Might That Change?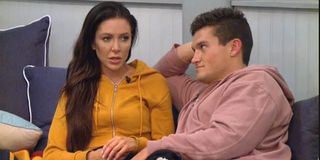 SPOILERS ahead from the 2019 Big Brother 21 live feeds.
Big Brother 21 is down to the final three -- Nicole Anthony, Holly Allen, and Jackson Michie -- and they just competed in the first of three competitions to decide the final HOH. Part 1 was held Thursday and will be shown this Sunday, September 22, 2019, "in its entirety," per Julie Chen.
Here's how it played out:
Because it was Jackson who won another competition, I do wonder if this will light some alarm bells in Holly's mind. She's already making all the right noises to Nicole on that front. More on that in a second.
Final HOH Part 1 was not pure endurance, as Holly Allen might've hoped/expected. It's possible she missed her chance for another endurance comp when they broke it out as a surprise knife-twist at Final 4 and she threw it to Nicole.
Part 1 was a big ol' puzzle, and apparently it was a tough one. Nicole was kicking herself because puzzles are her thing. That's how she beasted through the double elimination HOH. This should've been her comp. So I'm sure fans will decide it was "rigged" for Jackson. More on that below too.
Not sure of the plan this year, but lately Big Brother has been doing the "Scales of Just Us" comp for Part 3. I have mixed feelings about. It's a great tense live competition, but it's so much of a crapshoot. Usually the answers could legitimately go either way and you have to guess right.
Cliff Hogg III was sent to jury last night, and is now spinning things for Nicole and against Jackson -- and for himself as America's Favorite Player, I have no doubt.
Look, I know that some fans think production rigged the Final 4 Veto for Jackson. I don't. I think they all got the same production help, as they even suggested themselves on the live feeds, and now fans are cherry-picking examples that make Jackson look bad. Yes, the TV edit made it look like Nicole was closer in that Veto, just like the TV edit made it look like Nicole was slow in the BB Comics Veto she was later shown to win. It's called creating drama for TV.
Even @BB_Updates, which rarely replies to anyone, got sick of fans twisting information to pile on Jackson and responded with more context on a post-Part 1 conversation Jackson had with Holly about Part 2:
Jackson already looks bad from the banishments to his obnoxious comments to blowing off Have-Not rules. But that doesn't mean he isn't legitimately beasting through competitions that his fellow houseguests could also win. They could've gotten rid of him multiple times and chose not to.
I'm not a fan of Jackson, but I'm even less a fan of the mob mentality that kicks in whenever fans hate someone a lot or love someone a lot. This season, Jackson is getting the hate -- in some cases, deservedly -- and Nicole is getting the love. Anytime Jackson wins, his haters say "Grodner rigged it" for him. But if Nicole won, they'd just say she slayed.
It's much more likely any "rigging" would be done to help Nicole win in a big David vs. Goliath twist. Every season fans think the show is rigged -- for Frankie to win, or Paul, or Tyler -- and none of them actually won.
If it's any consolation to his haters, even if Jackson does win, Big Brother fans will still say it was "rigged" for him or it was because his mom threatened to sue CBS. So he can't win no matter what. Congrats.
At any rate, back to Holly and Nicole. We're now beyond Holly calling Nicole arrogant and bullying, and Nicole blasting Jackson and Holly as "martyrs." They will compete in Part 2 and they've already had a conversation about what it might mean if one of them wins Part 3. Nicole was planting seeds for Holly not to take Jackson to the end because Jackson is a beast and the jury might reward that. Holly said she knew. She said she'd be considering it.
Just like that Final 4 deal was always better for Jackson and Holly than Nicole and Cliff, a Final 2 of Jackson and Holly may be better for Jackson -- unless the jury is very bitter. From my perspective, Holly has spent the past few weeks playing a very passive game, letting Jackson take the lead on everything.
I want to see an active move from Holly, and choosing to take Nicole to the end over Jackson would be a baller move that showed she DID put game first. However, Jackson would certainly be pissed and Holly would be jeopardizing her relationship with him outside the house. That may not mean anything to us, but she genuinely likes the guy. He has gone out of his way to save her, but it's not quite an equal relationship in that keeping Holly around does seem to help him more -- unless the jury is so bitter they reward Holly just for not being Jackson. It has happened before.
If Holly is passively taken to the end, I personally would vote for whoever sits next to her. If Nicole manages to pull out a Part 3 victory -- which no one would ever call rigged -- and she takes Holly to Final 2, I think Nicole has an excellent chance of winning. She wouldn't get Jackson's vote but otherwise, she could swing almost anyone.
If Holly wins Part 3 and chooses to go with Jackson, she may benefit from a bitter jury that rewards her better social game and her loyalty. Same situation if Jackson wins Part 3 and picks Holly. He's a comp beast, but traditionally that's not enough. Jackson vs. Holly could go either way.
Big Brother 2019 is now winding down, with the final episodes airing this Sunday and Wednesday on CBS. Keep up with all the action on the live feeds (opens in new tab).
Your Daily Blend of Entertainment News
Gina grew up in Massachusetts and California in her own version of The Parent Trap. She went to three different middle schools, four high schools, and three universities -- including half a year in Perth, Western Australia. She currently lives in a small town in Maine, the kind Stephen King regularly sets terrible things in, so this may be the last you hear from her.
Your Daily Blend of Entertainment News
Thank you for signing up to CinemaBlend. You will receive a verification email shortly.
There was a problem. Please refresh the page and try again.