Why Netflix's Mindhunter Season 3 Is On Hold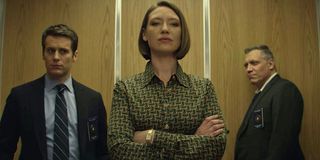 David Fincher's put a lot of heart and soul into making Mindhunter, a Netflix series about the beginnings of the BAU within the 1970s bureaucracy of the FBI. The well-reviewed show has Fincher as a producer and the director of multiple episodes each season. He's also apparently why Mindhunter Season 3 is currently on hold.
Recently, Mindhunter Jonathan Groff has been doing some press for Disney's latest animated feature Frozen II, but a lot of people want to know about Mindhunter, particularly given Netflix hasn't actually greenlighted the show for Season 3 yet. Yes, really. However, what's putting everything Mindhunter related on hold at the moment is the fact David Fincher has been drawn elsewhere, as he's set to make another movie.
We learned a few months ago that David Fincher is set to direct a biopic about Herman Mankiewicz, a Hollywood name cinephiles may know but average theatergoers these days may not know, and who is famous for writing Citizen Kane along with other famous screenplays like The Pride of St. Louis. That movie, Mank, is currently in the works and we learned about the cast – which will include Gary Oldman as Mankiewicz and Tom Burke as Orson Welles-about a month ago. So, that project seems to be moving forward sooner rather than later, for what it's worth.
It will be the first movie David Fincher has helmed since 2014 when he put Gone Girl out into the universe. Still, even though it is moving forward at a quick clip, it will also take the director out of commission for many months before talk about Mindhunter Season 3 can even resume, according to a THR report. (Although Jonathon Groff also told Collider he's "ready to jump" whenever Fincher is.)
Presumably, the question is really one of "when" and not of "if" given Netflix hasn't made an actual announcement for Season 3 of Mindhunter yet. It is worth pointing out that the first season of Mindhunter aired in 2017 and then Season 2 didn't drop until 2019. So, it's not as if this show has had a consistent yearly release. Fans will presumably wait as long as needed for new episodes.
After Mindhunter Season 2 was released, we heard from series lead Holt McCallany that David Fincher has a firm idea in mind in regards to how many seasons he would like the Netflix series to run in order to tell the optimal story. That number was five. Therefore, we aren't even at the halfway point for the drama yet, should Netflix continue greenlighting Mindhunter. In addition, there are some theories that Season 2 definitely set up for more story in Season 3 via Easter eggs.
Once Season 3 moves forward, it will likely take some months to shoot. For example, Season 2 reportedly filmed between April and December of 2018 before going into post-production.
Mank is seemingly in the way of getting the ball rolling on Mindhunter, but at least we aren't having a conversation about another Netflix series ending too soon right now. That said, there may be more than a two-year gap this time around.
Early in its run, Netflix was key to bringing dead shows back to life and let a lot of programs go on for multiple seasons before they wrapped their runs. A lot of shows on the streaming platform are getting cancelled after one or two seasons now, including the surprise shock of The OA's cancellation earlier this year. Fingers crossed Mindhunter doesn't surprise us in this way, and we'll be sure to keep you updated regarding both Mank and Mindhunter in the coming months.
Reality TV fan with a pinch of Disney fairy dust thrown in. Theme park junkie. If you've created a rom-com I've probably watched it.
Your Daily Blend of Entertainment News
Thank you for signing up to CinemaBlend. You will receive a verification email shortly.
There was a problem. Please refresh the page and try again.