Where Is Vikings Going With Ivar's Dead Wife Lookalike In Midseason Finale?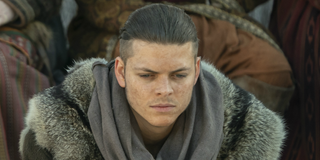 In Vikings Season 5, Ivar married a woman who was every bit as diabolical as he is: Freydis. After Ivar killed their son, Freydis turned against him and helped Bjorn take back Kattegat. In retaliation, Ivar strangled Freydis to death, before leaving to parts (then) unknown. Cut to Season 6, and Ivar was in Rus when he eventually met his late wife's lookalike.
Vikings had been hinting about the introduction of the doppelganger twist for a long time. Actress Alicia Agneson, who played Freydis and now portrays Katia, teased the shocking turn on Instagram last year. Then came the teaser for Season 6, which hinted at what fans now know. Ivar has come face-to-face with one from his past.
It took a while into Season 6's first half before Vikings introduced Alicia Agneson's new character. The incredibly violent Oleg first presented her to Ivar as his soon-to-be-bride. Ragnar's son became immediately enthralled by Katia's striking resemblance to Freydis. Thus, complicating Ivar and Oleg's already-complicated relationship even further.
Oleg and Katia have since gotten married and hooked up in front of Ivar, all while Katia has remained curious about Ivar's doppelganger claims. In the latest Vikings, Ivar reunited with Hvitserk and brought him back to Rus. After Katia met Hvitserk, Ivar asked his brother if he noticed the resemblance between Katia and Freydis.
Hvitserk claimed that Ivar was "still crazy." Is this because whatever Hvitserk has been on wore off, or he's flat-out lying to Ivar? Or could it be something else? Alex Høgh Andersen, who plays Ivar, shared some insight into what is going on. Asked if Katia's resemblance to Freydis is "in his head" on Vikings, Andersen told TV Guide:
I have to say that the idea that Katia does not actually resemble Freydis never crossed my mind. Ivar has not demonstrated that he is out of touch with reality, so it would be unexpected. Assuming the resemblance is real, it is next to impossible to figure out where Vikings is going with this lookalike storyline.
There is no way Katia is Freydis. Nor does it seem likely she is knowingly related to her. What, if any, significance does Katia and Freydis' resemblance have on Vikings? Is Oleg trying to set Ivar up for something? He clearly has excellent sources to play games with him.
Oleg proved that to Ivar earlier in Season 6 when he revealed the method that he used to learn the identity of his brother's wife. It was not "supernatural" in nature. Did Oleg have someone sketch Ivar's wife (off-screen on Vikings) to learn what she looked like and then work to find Freydis' double? If so, to what end? Nothing is too wild to rule out at this point.
It is clearly bothering Ivar and getting under his skin. However, it is not unhinging him nor making him aggressively pursue Katia. If Oleg is playing a mind-game with Ivar, I do not get his endgame. What is strange is that, as mentioned above, Hvitserk denied Katia's likeness to Freydis in the latest Vikings.
The similarity should be undeniable, and yet, Hvitserk refuted it. Maybe he is gaslighting Ivar as punishment. Otherwise, I have no idea why he would do that. As for Oleg's angle, Katia does have the potential to cull information from Ivar if she pushes the right buttons.
So far, she has gleaned a bit of Ivar and Freydis' backstory. It is not information that would necessarily help Oleg in any endeavor in Kattegat. Does Oleg want Ivar to reveal something about how Freydis opened up Kattegat for Bjorn to Katia? The trailer for Season 6 and the midseason finale showed that Oleg will launch a large-scale invasion.
Will having Katia give Oleg some sort of leverage over Ivar in the upcoming battle? If that is what Oleg is planning to use her for, then I do not know how it fits. It is not as if Katia has been seducing Ivar. She seems quite content being Oleg's wife. Vikings clearly has something up its armored sleeve.
Find out what happens with Freydis' lookalike when the midseason finale of Vikings Season 6 airs this Wednesday (February 5) at 10 p.m. ET on History. After it ends, there will be more winter and spring premieres to look forward to.
Like a contented Hallmark movie character, Britt happily lives in the same city she grew up in. Along with movies and television, she is passionate about competitive figure skating. She has been writing about entertainment for 5 years, and as you may suspect, still finds it as entertaining to do as when she began.
Your Daily Blend of Entertainment News
Thank you for signing up to CinemaBlend. You will receive a verification email shortly.
There was a problem. Please refresh the page and try again.