Bachelor Spoilers: How Madison's Sex Clash With Peter Is Different From Luke P.'s Fight With Hannah Brown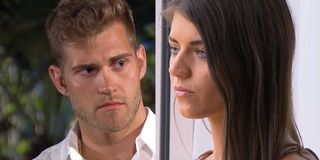 SPOILERS ahead from The Bachelor 2020, aka Bachelor Peter Weber's Season 24.
The Bachelor 2020 overnight dates, aka fantasy suite dates, air for Peter Weber on February 24, 2020, and ABC will show Peter and Madison Prewett clashing over sex. We just saw something similar last year with the ultimatum fight between Bachelorette Hannah Brown and Luke Parker. It may seem unfair to compare Luke P. to Madison, but that's kind of the point.
Luke Parker was very unpopular on Hannah Brown's The Bachelorette 2019 for various reasons of his own making. Madison Prewett is much more popular on Peter Weber's The Bachelor 2020 for reasons of her own making.
But we can't ignore the similarities in how their faiths informed their decisions during The Bachelor and Bachelorette's overnight dates. And we shouldn't ignore how neither one should've signed up to be on this show if they really wanted to take a hard moral stand against sex. Look around you, guys. It's Bachelor Nation not Christian Mingle!
We know from The Bachelorette that Pilot Pete loves him some sex and he doesn't need to wait for an actual bed to do the deed (four times). That was always destined to clash with someone like Madison. We know from Reality Steve's overnight dates spoilers that they do clash over sex. And even though Madison does walk away at the end of the date in a cliffhanger before the overnight dates rose ceremony -- to air at the start of the "Women Tell All" episode -- she does come back and continues into the finale. (And then reportedly quits in the final week before the final rose ceremony, but we're currently waiting for more details on that.)
Madison and Luke P. took similar positions against the lead having sex with someone else in the fantasy suites, but they expressed their positions in very different ways in different contexts, and that's worth talking through...
Madison Does Not Have A History Of Being Controlling
Luke P. walked into that overnight date with a lot of baggage from Bachelorette Hannah Brown's season. He had already shown himself to be aggressive, territorial, angry, possessive, a "psychopath" who fought with the other bachelors and acted like Hannah was already his wife, etc. Hannah already gave him second chances before he even showed up that day and announced his sex ultimatum (more on what he said below).
That's very different from Madison. Madison has been shown to be one of the nicest and most sane people on Bachelor Peter's season. While Hannah Ann was the one with early Luke P. comparisons because she kept stealing Peter's attention, Madison looked like the one who might win by default for being the only non-catty woman there. She was never controlling or possessive or anything like that, so her actions during the overnight dates come in a very different context.
Madison Is A Virgin Saving Herself For Marriage, Unlike Luke P.
Bachelor Colton may have been a virgin last year, but Luke P. was not. He was a wild man who felt God come to him in the shower for a wake-up call. That changed his perspective on how the marriage bed should be kept pure. Like everything with Luke P., it was presented in a way that wasn't just a personal choice but a general announcement for how everyone should live.
Then there's Madison. Madison didn't tell Peter she was a virgin saving herself for marriage until the overnight dates. Maybe she didn't think it would be an issue. But it's different from a guy who had plenty of sex until making a different choice and then expecting his wife to make the same choice. Madison is waiting for The One and -- maybe it's naive, maybe it's romantic -- it sounds like she was hoping The One she waited for would also be waiting for her. Not to say she didn't know Peter had sex before meeting her. But maybe once he'd met her he would STOP having sex with others. Which takes me to this next point.
Peter Already Told Madison He Was Falling In Love With Her
Even if Peter didn't know Madison was a virgin, he did know -- or should've known -- what he was doing when he told Madison he was falling in love with her. Maybe she's just naive about The Bachelor, but she may have thought he only loved her, and even though he couldn't pick her right there, he knew she was The One. The Bachelor is just not the right place for Madison, but the romantic in her might've thought "If he loves me, he won't want to have sex with anyone else -- much less two other women in the same week." Crazy talk! I know Hannah Brown had a strong connection with Luke P. right away, but I don't know if she told him she was falling in love with him the way Bachelor Peter spelled it out to Madison -- basically letting her believe one thing while he must've interpreted it differently.
Madison Approached Peter Before The Overnight Dates
This is a big difference. The Bachelor 2020 hometown dates episode ended with Madison pulling Peter aside. When the overnight dates episode began, she told him that if he slept with someone else it would be hard for her to move forward with this. So Peter tried to get clarification, saying if he were to spend the night with someone else, that's not something she could do. Madison tried to make it clear it's not an ultimatum, but his actions would speak louder than words.
She didn't tell him what to do, she just made her own hopes and position clear. It sounds like she was looking for a sign that she was The One for him -- and not having sex with two other women is a great sign, in my opinion. It's not like he was contractually obligated to have sex, and some people in love don't even want to have sex with anyone other than the person they love. Imagine!
Madison And Luke P. Expressed Their Overnight Dinner Talks Very Differently
Madison didn't tell Peter she was saving herself for marriage until the dinner part of their overnight date. That's when she said she wouldn't be able to say yes to a proposal and move forward if Bachelor Peter slept with the other women. Peter seemed surprised that she would throw it all away if he had sex with the other women, as if she didn't already try to make that clear before he made his choices. Madison didn't want to ask if Peter had sex, because it made her uncomfortable, but she wanted to know for herself and her own future. There was a promo that aired before showing Peter say, "I don't want this to feel like it's all about sex, but six days prior I was intimate with someone else." That might be what Peter told Madison. However he phrased it, he said he had sex with other women. Madison cried and left and Peter consoled her, then they parted for the night.
Contrast that to how Luke P.'s dinner talk with Hannah Brown went. First of all, Luke P. immediately started talking about how he'd heard people on the show proclaim their faith and then say they were looking forward to the fantasy suites, and he thought --- whoa, whoa, whoa, that's not right!
That's what he told Hannah Brown. Luke P. added that, if Hannah told him she had sex with one or (he chuckled) multiple guys, he would be wanting to go home.
So that was an ultimatum. That was telling Hannah B. what she should do as a person of faith. Hannah called him out on being a hypocrite for doing so many things earlier in the season that reflected poorly on his character, but she gave him another chance, and here he was on his high moral horse telling her how to behave. Madison spoke for herself and what she hoped from Peter vs. Luke P. was telling Hannah what to do, basically slut-shaming her because that's not the behavior he needed from his future wife.
Here's how that played out, including Hannah Brown telling off Luke P. and sending him home:
In contrast, Madison was making decisions for herself and hoping the man who had already said he was falling in love with her did not want to have sex with anyone else. She even told Bachelor Peter it would basically be breaking her heart if he wanted to have sex with anyone else. So he was put in a position to make a choice, knowing how she felt going in. While she was clearly hurt and disappointed with his choice to exercise his rights as the Bachelor, the fact that she ultimately returned to try again also showed how much she cared -- and that she wasn't trying to own or control him.
If Bachelor Peter and Madison do end up together, I hope it's because Peter knows now that she is The One and he won't go having sex with anyone else he can. I'm guessing she's not the type for an open relationship. But as much as I like Madison -- who doesn't seem like a hypocrite, unlike Luke P. -- I don't know that I would see Peter as the right match with her values. And she can't expect him to change for her. But it's not my life.
The overnight dates cliffhanger continues into Monday, March 2's "Women Tell All" episode. It'll show Bachelor Peter dumping Victoria F., just in time for Victoria to take the hot seat and defend herself from various allegations. Then the finale should be a two-night affair between Madison -- who does return at least long enough to meet Peter's parents again -- and Hannah Ann, who just announced a big move. The Bachelor airs Mondays at 8 p.m. ET on ABC.
Gina grew up in Massachusetts and California in her own version of The Parent Trap. She went to three different middle schools, four high schools, and three universities -- including half a year in Perth, Western Australia. She currently lives in a small town in Maine, the kind Stephen King regularly sets terrible things in, so this may be the last you hear from her.
Your Daily Blend of Entertainment News
Thank you for signing up to CinemaBlend. You will receive a verification email shortly.
There was a problem. Please refresh the page and try again.