Bachelor Spoilers: Major Madison Updates On How Peter's Season Finale Ends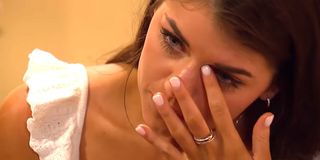 SPOILERS ahead from The Bachelor 2020, aka Bachelor Peter Weber's Season 24.
We finally have some breaking news this week on Peter Weber's The Bachelor 2020 finale! I was going to make the headline "Shocking Madison Updates" but is it shocking that virgin Madison Prewett quits Windmill Pete's season? Not during the overnight dates, but sometime during the finale. Madison leaving was already one theory on why Bachelor Peter might not have a "normal ending." Then again, it is surprising that Madison was recently spotted filming something with The Bachelor producers. This is reportedly NOT for The Bachelorette 2020 filming:
Did Madison just film an update to her love story with Bachelor Peter? Does she leave during The Bachelor Season 24 filming -- which happened from September to mid-November 2019 -- but he wins her back in the real world and they are together now in February 2020? Madison is smiling in that Twitter photo but she does tend to smile and laugh (and say "like") a lot in general.
We still don't know everything, but there's a lot to read into Reality Steve's latest spoilers updates. Up to this point, Steve only knew that Madison Prewett and Hannah Ann Sluss were Bachelor Peter Weber's final two, with Victoria Fuller having a lot of drama over hometowns but returning for overnight/fantasy suite dates before being sent home again.
There's still a lot that Reality Steve hasn't confirmed about the ending -- and what happens to Hannah Ann Sluss through this whole thing -- but he did say he thinks Bachelor Peter picked or wanted to pick Madison. He thinks they're dating right now but not yet engaged. That's complicated by the news that "Madison self-eliminates this season," as in she quits, she leaves, she walks out, however you want to phrase dumping Windmill Pete. He's pretty certain about that.
Does Madison return in the end? I would imagine she doesn't show up again in the finale itself in Australia or Peter could've had that "normal" ending. Just pick one -- Madison or Hannah Ann -- and be done. Plus, If Madison is filming something for The Bachelor this week, it's possible they are filming a post-show check-in like they did when Hannah Brown dumped Wrong Reasons Jed in that pre-taped piece, or on Bachelor in Paradise when cameras followed Tayshia and John Paul Jones for their (brief) reunion.
When does Madison quit The Bachelor? Apparently during finale week ,after the overnight date rose ceremony, because it's after Victoria F. leaves. But when exactly, Steve was not sure. It was reportedly after she met with Peter's parents again -- remember, she already met them on her first date with Peter -- during finale week. A promo will air during "The Women Tell All" special on March 2 showing a preview of Hannah Ann and Madison both meeting Peter's parents.
So anyone who thought Peter's mom was talking about Madison in her "bring her home to us" speech is probably right. Probably.
Why does Madison quit? Well, as you might also guess, it's reportedly related to sex. Virgin Madison told Peter before the overnight dates that, if he was intimate with anyone else, she was going to have trouble moving forward. So he already knew that going into the fantasy suites. However, she reportedly didn't say she was saving herself for marriage until their dinner talk. She wanted to know if he had sex with anyone else and he admitted he had.
Bachelor Peter already said he was falling in love with her and it sounds like she was hoping for him to keep it in his pants. Maybe she's too naive or romantic, but I can't disagree with the idea of hoping someone is so in love with you they don't even want to go have sex with two other people that same week. But this is Pete. If Madi really thought that, she shouldn't have come on The Bachelor at all, but especially not on a season with a guy who had sex four times in a windmill with Bachelorette Hannah Brown.
Steve initially said that Madison heard from either or both Hannah Ann and Victoria F. that Bachelor Peter did have sex with them. Apparently Madison really heard about Peter's sex from Peter himself, which is how it should be. Madison is reportedly not OK with that and decides to leave -- but not right away. She walks away and cries after hearing the sex update, but she returns for the overnight dates rose ceremony, which will be shown at the start of the "Women Tell All" episode.
So if this Madison leaving spoiler plays out, she must walk away sometime after meeting Peter's parents in the final week. We have that promo of Peter saying he doesn't know what to do, his heart is broken right now, and I suspect that's about Madison leaving.
It almost sounds like a mix of Colton/Cassie and Luke P./Hannah B. Cassie quit Colton's season toward the end because she wasn't ready to get engaged, but they reconnected to Give It A Shot and are dating but not engaged. Luke P. confronted Hannah Brown about having sex with other guys on overnight dates and it became the breaking point for their relationship. Is this different? Since the finale spoilers are not totally known, Bachelor Peter's finale ending might have major differences.
Bachelor Peter Weber and host Chris Harrison have been acting like no one will be able to guess this ending. ABC exec Rob Mills dropped a hint about the story not even being over yet -- which might fit with Madison quitting but reconnecting with Bachelor Peter right now in the real world to Give It A Shot.
One interesting note: Madison reportedly has nothing to do with Chris Harrison's news, whatever "we all" just found out. So that's a separate thing we still have to hear about. Chris' news is not that Madison left.
This could be why ABC exec Rob Mills talked about the ending being a roller coaster. Maybe Bachelor Peter was crazy in love with Madison and then she quit and he didn't know what to do but leave. OR what if there's a twist like Bachelorette Desiree's season, where she seemed to have the best connection with Brooks until he quit. Then she ended up getting engaged to Chris anyway -- and now they are happy together.
What if Bachelor Peter is heartbroken over Madison but decides it's a sign he should be with Hannah Ann, but then something happens with Hannah Ann and SHE leaves too? Maybe she quits or something else happens to make it a not normal ending. I am totally stretching on that. It is a pure speculation theory and most likely as crazy as the pregnancy and producer theories. It wouldn't even make sense for that to be Chris Harrison's update, since Peter being down to no one wouldn't fit with Chris' semi-casual "I don't know how this ends..." news. In that case, Chris would be more like, "Peter, I don't know what to tell you. You're fucked."
But Hannah Ann does have some role in the finale and we need to know what it is. Is she basically like her real-life friend Hannah Godwin last year -- just sitting there waiting for the Bachelor to show up while he has an existential crisis over another bachelorette? Or is she directly involved in his finale choice?
If Hannah Ann is dumped or ignored in the end, that might help her case as the next Bachelorette. Or ABC could listen to Bachelor Peter, who was actually smart about something with his thoughts on who should hand out roses this spring. (Update: Nope. All signs point to ABC not going with Peter's choice.)
For the first time this season, I'm excited to see what happens next. Victoria F. won't be shown leaving until the start of the "Women Tell All," which allows them to drag out that Madison/Peter cliffhanger for another week and get Victoria F. in the hot seat on the WTA. You had to know she would be there for that. Yeah, there are a lot of other things to talk about, but she's tied to so much of the drama and she deserves to have her say.
The Bachelor 2020 continues Mondays at 8 p.m. on ET. The "After the Final Rose" special should give us major Peter Weber updates but also possibly/probably confirm the next Bachelorette, since she will have to start filming immediately. That weird new spinoff will follow The Bachelor Season 24, then The Bachelorette Season 16, and then Bachelor in Paradise 2020, which will probably star 90% of Peter's (too) young cast.
Your Daily Blend of Entertainment News
Gina grew up in Massachusetts and California in her own version of The Parent Trap. She went to three different middle schools, four high schools, and three universities -- including half a year in Perth, Western Australia. She currently lives in a small town in Maine, the kind Stephen King regularly sets terrible things in, so this may be the last you hear from her.
Your Daily Blend of Entertainment News
Thank you for signing up to CinemaBlend. You will receive a verification email shortly.
There was a problem. Please refresh the page and try again.