Wayne Brady's Let's Make A Deal Just Got Its Biggest Audience Ever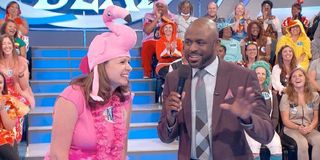 COVID-19 has affected industries far and wide, with Hollywood studios shutting down production on hundreds of TV shows and movies in the hopes that quarantine and social distancing will flatten the curve of the novel coronavirus. Network shows like Grey's Anatomy and MacGyver will have shortened seasons. Meanwhile, AMC's The Walking Dead had its Season 10 finale pushed back because of post-production delays. In short, everything is in upheaval, but Wayne Brady's Let's Make a Deal game show is thriving and just got its biggest audience ever.
During the week of March 27, Let's Make a Deal saw a significant rise in viewership. According to Nielsen (via EW), the game show drew a whopping 4.29 million viewers. That's a pretty amazing surge in numbers. With most everyone stuck at home during the coronavirus pandemic, the higher audience numbers aren't very surprising. The game show, which is hosted by Whose Line is it Anyway? star Wayne Brady, was rejuvenated 11 years ago when CBS execs decided to bring the series back to daytime.
Elsewhere in daytime news, The Price is Right also nabbed a huge audience last week. The popular game show attracted 5.62 million viewers, the highest it's had in four years. That's great news for The Price is Right, which halted production back in February to allow Drew Carey time to grieve the death of his ex-fiancée Amie Harwick.
Meanwhile, daytime soaps like The Bold and the Beautiful and The Young and the Restless both saw higher audience numbers, with 3.66 million and 4.21 million, respectively. That's The Bold and the Beautiful's highest audience size in two years!
What's more, CBS' daytime shows have already filmed anywhere between four to six weeks worth of content prior to the mass production shutdown. While there has been no confirmation regarding when production will be back up and running, the network has a few weeks more of new daytime content to entertain the folks at home in the interim. It's some good news for Let's Make a Deal and its daytime cohorts in these uncertain times.
In addition to hosting Let's Make a Deal, Wayne Brady guest-starred in several episodes of The CW's Black Lightning Season 3. He played the villain Gravedigger, and the superhero show's season finale confirmed that he didn't die in an explosion. While there has been no news regarding a promotion to series regular status, I imagine he'll be back in a recurring role at the very least.
Let's Make a Deal airs weekdays in syndication, so be sure to check local listings for times. To see which shows are facing delays and shortened seasons due to the coronavirus pandemic, make sure to swing by our updated TV list.
Your Daily Blend of Entertainment News