How To Get Away With Murder Is 'A Little Game Of Thrones' In Final Episodes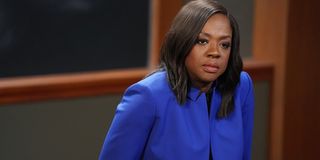 Warning! Spoilers ahead for How to Get Away with Murder Season 6, Episode 10, called "We're Not Getting Away with It."
How to Get Away with Murder is headed toward its series finale with a lot at stake. The Season 6 midseason premiere saw the FBI finally arrest Viola Davis' Annalise after she attempted to hide out in Mexico. With certain characters selling each other out, no one's any closer to figuring out who may have killed Asher. Things are about to get even more dicey for all the characters involved, and How to Get Away with Murder showrunner Pete Nowalk calls the series' final episodes "a little Game of Thrones."
The Season 6 midseason finale aired back in November and left viewers shocked after Asher died while bleeding out on his apartment floor. After months spent waiting, Season 6 returned this week with a fresh new debacle that saw Michaela and Connor arrested and charged with murdering Asher. According to the police, their fingerprints were all over the murder weapon. However, the FBI promised them plea deals if they offered up Annalise. According to Pete Nowalk, there are a lot of precarious hurdles on the way for the characters. Here's what he told TV Guide:
That sounds like an accurate comparison. HBO's Game of Thrones did involve several of the major characters betraying each other and negotiating deals that aligned with their own, often nefarious, plans. These tactics are very much at play right now in How to Get Away with Murder and Annalise will have to figure out who she can really trust now that Michaela and Connor are seemingly no longer her allies. As for who killed Asher, Pete Nowalk teases that viewers will learn who killed him and what he was doing at the time of his death very soon.
How to Get Away with Murder Season 6 airs Thursdays at 10 p.m. ET on ABC. The show has seemingly been unaffected by the shutdowns that have heavily impacted other TV productions and will air its series finale as scheduled on May 14.
Your Daily Blend of Entertainment News