What's Happening With Clare Crawley's 2020 Season Of The Bachelorette?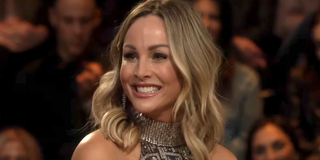 I think it's fair to say that we've all had a weird time the past few weeks. And, while there are certainly big things to complain and worry about, one thing that's had many members of Bachelor Nation bummed to no end, is the knowledge that we will not have Clare Crawley's 2020 season of The Bachelorette (a.k.a. Season 16) to look forward to this May, when it was supposed to begin airing. If you've been wondering exactly what's happening with Crawley's first go-round as franchise lead, or, less specifically, The Bachelorette in general, we have some answers for you!
Below, we've listed all the details we could gather about the next season of The Bachelorette, good, bad and ugly, for you to sink all of your Bachelor Nation teeth into. We'll start with the most basic question, because why not make my job a little easier? Let's get down to it!
Why Won't We See Clare Crawley's Season Of The Bachelorette In May?
Ah, yes, this (month) old chestnut! Filming on Season 16 of The Bachelorette had to be postponed back on March 13, which was right around the time pretty much every other TV and film production shut down so that everyone could go home and self-isolate to try to keep people healthy. Basically? It was really just super bad timing, seeing as how the day production closed up shop was the very day that was supposed to be the first day of filming on Clare's journey to find love. Had production been able to go on as planned, we would have seen Season 16 premiere on May 18, but with that unable to happen, we won't get a debut for Clare's rose-giving skills as lead until sometime later.
When Will Clare Crawley's Season Of The Bachelorette Film And Air?
When, exactly, is "sometime later"? Unfortunately, just like every other television show or movie that had to stop production, we don't really know yet. The producers of The Bachelorette are beholden to the nature of our current health crisis and word from officials on when it will finally be alright to assemble in large groups and start kissing everyone in sight again. We all hope that such a time will come well before the end of 2020, but, right now, we don't know if it will.
What Is The Plan For Filming The Bachelorette When They Can Start Again?
I'm so glad you asked! As a faithful member of Bachelor Nation, you will likely know that production never really stops, even if there isn't a show on the air (though we do have The Bachelor: Listen To Your Heart airing on Mondays right now). Casting, scouting locations, planning adventurous dates and the like take pretty much year-round work, so the team behind Clare Crawley's 2020 season has put a temporary, and very hopeful, plan into place for when they get the all clear to shoot her season.
According to Bachelor Nation spoiler king Reality Steve, here's how they'd like to be able to handle filming on Season 16 of The Bachelorette later this year:
It's clear that we're probably going to get a very different show in Season 16 of The Bachelorette than we would have before, but I think we all understand that this would all be done in an effort to get our jollies while still keeping people healthy. Now, obviously, a large part of this plan hinges on the show being able to pick things back up in July or early August when producers would like to, so that the show can begin to air no later than September.
Assuming we get that (Please let us get that. I'd love to be able to leave my house without wearing a mask before summer is over.), production is trying to secure one location, a resort or something similar, so that everything they need to do - cocktail parties, rose ceremonies, dates, and the living quarters of all cast and crew - can be handled without having to travel during filming or exposing production to potentially ill individuals. Along those lines, everyone would be tested before being getting there and would not be able to leave until the five weeks of filming were completed, which might keep spoilers from getting out.
I like to think this means that, when Clare dumps someone, that guy would get to go home. But, just think about all the emotional madness that might ensue if she dumps men and they're forced to stick around? I literally just got good-reality-show-drama chills from that thought, you guys! Speaking of which...
What's Happening With The Men Cast For Clare Crawley's Season Of The Bachelorette?
This is yet another super tricky question to answer right now. As those who were looking forward to Clare's season know, all of her men had been cast, which makes total sense, considering that there were set up at the Bachelor Mansion to start filming when things were shut down. Two problems have now arisen with that iteration of Clare's Coterie, though.
First of all, even though production probably kept Clare and the men apart for whatever time they were at the mansion, all of the guy's names had been made public. So, once Clare got back to the real world post-production stoppage, she could have easily looked everyone up and begun weeding some folks out or choosing potential favorites, which would make watching her meet the guys on camera way less fun when the show started to actually film.
Secondly, how many of those guys, who had taken several weeks off of work or even quit their jobs to be on The Bachelorette, plus given up their apartments or sublet them, or set up a house sitter or even long-term baby sitting for any kids they might have had, would be willing or even able to go through that all over again later in the year? I doubt many bosses who were willing to give an employee six weeks off to do a reality show would be prepared to do so again. Even though the opportunity fell through last time, they will likely need all hands on deck to get things up and running at full speed when filming would be starting.
So, this means that production is looking, one more time, to cast Clare Crawley's 2020 Bachelorette season. We don't know right now which men from the first round of casting will be sticking around, but seeing as how the start of production is still up in the air, I'm sure they're going to hold off on any firm announcements until cameras are actually rolling and have been doing so for a while.
When Will We Get Spoilers For Clare Crawley's Season Of The Bachelorette?
Whoa, there. Nothing's happening yet! I mean, it's amazing that we even know what The Bachelorette producers are thinking of doing once they can start filming. The good news, though, is that we never know when some tidbit will leak out, so stay tuned and hope for the best!
That's all the information we have right now about what's happening with Clare Crawley and Season 16 of The Bachelorette. You can always watch The Bachelor: Listen To Your Heart in the meantime, which is airing on Mondays at 8 p.m. EST, but to see what else is on the small screen in the coming weeks, be sure to check out our Netflix premiere guide, and look into this summer's debuts!
Your Daily Blend of Entertainment News
Yennefer's apprentice, Gilmore Girl; will Vulcan nerve pinch pretty much anyone if prompted with cheese...Yes, even Jamie Fraser.