Why Fuller House's Candace Cameron Bure Started 'Bawling' During The Series Finale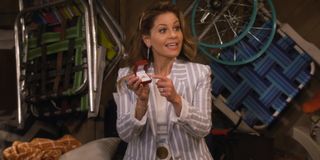 Warning! Spoilers ahead for the Fuller House series finale.
The final episodes of Fuller House were filled with a lot of emotion, nostalgic guest appearances from the good old days of Full House, and a whole lot of hugging. This is the Tanner family, so it's to be expected. The Netflix series culminated in a beautiful triple wedding for Stephanie, DJ, and Kimmy and a few other surprises. Recently, series star Candace Cameron Bure explained why she started "bawling" during the series finale.
After the triple wedding, Stephanie and Kimmy revealed that they were moving out of the Tanner-Fuller-Gibbler household to be closer to the new locations for Uncle Monty's, a sandwich shop owned by Jimmy, Fernando, and Steve. That alone moved DJ to make an emotional speech about how much her family meant to her. However, in a surprise twist, Kimmy and Stephanie decide to stay and keep the She-Wolf pack together. Awoo! It was that particular moment that made Candace Cameron Bure cry. Here's what she told TVLine:
Indeed, everyone moving out of the Fuller house all at once would have been incredibly sad. The Tanner-Fuller-Gibblers were over-the-top and often ridiculous, but they were a family who were always there for each other. Plus, it was the final episode and if I got choked up just watching it, then Candace Cameron Bure's weeping in that moment makes absolute sense. And I agree, it was rather "perfect."
The actress also said that she "meant every word" she said while giving her emotional speech at the wedding. To Candace Cameron Bure, they weren't just words on a page that a writer had written; they meant "so much" to her personally. Cameron Bure also revealed that they only filmed two takes of that scene because it was "so emotional." Honestly, basically everything about the Fuller House series finale was emotional, but I'm happy Stephanie, DJ, and Kimmy got their happy ending. She-wolf pack forever, am I right?
Elsewhere in the series finale, Joey McIntyre officiated the triple wedding after Pastor Tim had to drop out. There were also a lot of special guests at the wedding, including Candace Cameron Bure's mom and aunt (just not the missing Aunt Becky, of course). However, the actress thinks that Blake McIver Ewing's Derek Boyd, a.k.a. the absent Michelle's childhood friend, was the "standout surprise guest." I can only hope that Cameron Bure's mom and aunt weren't offended.
All five seasons of Fuller House are currently streaming on Netflix. For more on what to watch, be sure to check out our 2020 summer TV premiere guide.
Your Daily Blend of Entertainment News
Thank you for signing up to CinemaBlend. You will receive a verification email shortly.
There was a problem. Please refresh the page and try again.