Carnival Row's Cara Delevingne Gives Update For Season 2 On Amazon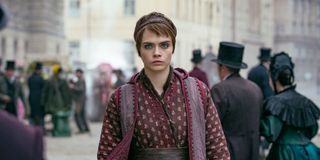 Season 2 of Amazon's Carnival Row began filming last November, but Hollywood-wide shutdowns in March suspended production on the sophomore season. Not to worry, however, because Season 2 is still coming. Eventually. Will the shutdown delay the new season? Where did filming leave off? Series star Cara Delevingne gave an update about Carnival Row Season 2.
Carnival Row was filming in Prague when everything came to a screeching halt. Back in March, Orlando Bloom figured the shutdown would only last "a few weeks" before getting back to business, but that has definitely not been the case. However, now that countries around the world are reopening in phases and shows might be picking back up with filming soon, where does that leave Season 2 of Carnival Row? Speaking with Variety, Cara Delevingne was the bearer of good and bad news. Here's what she said:
The winter is still a ways away, but it makes sense that Carnival Row might not start filming again until then given current circumstances. The model-turned-actress also confirmed that she had finished filming six of the eight episodes ordered for Season 2, so there's still some work to be done. But hey, at least Cara Delevingne thinks the season will "be so good," which makes me excited.
Plot details for the Amazon show's second season are scarce, but Season 1 ended with Cara Delevingne's Vignette Stonemoss, a pansexual fairy, barricaded inside Carnival Row, which turned into an internment camp for all non-humans. I'd imagine that Season 2 will pick up where Season 1 left off, but only time will tell. Either way, whatever's happening in the season has got the cast rather curious and excited, so that's something to hold on to until there's more information.
Carnival Row Season 1 debuted last August on Amazon. I can't say for sure, but it would have likely premiered around the same time this year had the shutdowns not occurred. If Cara Delevingne's correct and Season 2 doesn't start filming until the winter, then fans will have to wait a whole lot longer before the next season premieres. I'd wager that Carnival Row's second season won't be ready until at least the spring of 2021, but that's just speculation.
Season 2 doesn't yet have a scheduled release date, so stay tuned to CinemaBlend for updates on the series. In the meantime, fans can binge-watch Carnival Row Season 1 on Amazon Prime. For more on what to watch in the coming months, be sure to check our 2020 summer TV premiere guide.
Your Daily Blend of Entertainment News
Thank you for signing up to CinemaBlend. You will receive a verification email shortly.
There was a problem. Please refresh the page and try again.