What Netflix's Santa Clarita Diet Cast Is Doing Now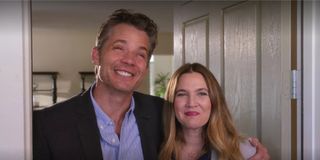 Santa Clarita Diet was the very entertaining Netflix show that starred Drew Barrymore and Timothy Olyphant, which took the standard family comedy and added the twists of having the Hammond family try to balance family life with zombie life. Drew Barrymore and Timothy Olyphant's infectious enthusiastic personalities and great on-screen chemistry really made Sheila and Joel a very enjoyable pair to watch. The entire Santa Clarita Diet cast really brought a unique energy that worked for the series.
I was really sad when Netflix made the decision to cancel Santa Clarita Diet, because it was a series that I looked forward to watching every season. I'm also a fan of Drew Barrymore and Timothy Olyphant--they both are just very charming actors to watch on-screen, and they both have appeared in some of my favorite TV shows and movies. I'm also a fan of some of the supporting cast. As a huge It's Always Sunny in Philadelphia fan, I'm always excited to see Mary Elizabeth Ellis play other characters besides the Waitress. Liv Hewson and Skyler Gisondo are young actors who have a similar charm as Olyphant and Barrymore.
Since we won't be graced with a new season of the Santa Clarita Diet this year, let's see what the cast has been up to since the series ended.
Drew Barrymore (Sheila Hammond)
Drew Barrymore played Sheila, the woman who ate some clams and later found herself with a strong craving for human flesh. Barrymore appeared as a judge on the CBS reality show The World's Best. She judged alongside RuPaul and Faith Hill, with James Corden as the host. It was similar to America's Got Talent with contestants with a variety of talents competing. It only lasted one season with 12 episodes.
Drew Barrymore is the latest celebrity to take on talk show hosting duties. The Drew Barrymore Show was originally scheduled to premiere in the fall of 2020, but as of January 2020, the exact format of the series hasn't been disclosed to the public. Barrymore appears in the movie The Stand-In with Michael Zegen, Charlie Barnett, Ellie Kemper, Holland Taylor, T.J Miller, and Lena Dunham. It was originally supposed to premiere at the Tribeca Film Festival, but the release has been delayed due to the COVID-19 pandemic.
Timothy Olyphant (Joel Hammond)
Timothy Olyphant played Sheila's pretty supportive husband Joel, who really had to redefine what til death do us part meant when his wife became part of the undead club. Recently, Olyphant had a small but memorable role in the Oscar winning movie Once Upon a Time in Hollywood. He played a fictionalized version of James Stacy, an American actor best known for the TV western Lancer. Olyphant is set to star opposite Melissa McCarthy, Kevin Kline, Chris O'Dowd, Loretta Devine, Daveed Diggs, and reunite with his Santa Clarita Diet co-star Skyler Gisondo in The Starling. The film has finished filming, but doesn't have a set release date.
Olyphant' continued to build an impressive TV resume after Santa Clarita Diet's cancellation. He reprised his Deadwood role as Seth Bullock for the continuation movie. He played himself during a cameo appearance on the final season of The Good Place, and he also appeared in an episode of Curb Your Enthusiasm. Olyphant has a role in the upcoming Chris Rock starring season of Fargo. His character will be called Dick "Deafy" Wickware. He also recently signed up to appear in The Mandalorian Season 2.
Liv Hewson (Abby Hammond)
Liv Hewson played Abby in Santa Clarita Diet, the daughter of Joel and Sheila. The parents tried to keep her in the dark about Sheila's new appetite, but that could only last so long. Liv Hewson is non-binary, so I'll refer to Hewson as they. Hewson appeared in the Oscar nominated movie Bombshell as Lily. They appeared in the movie with Charlize Theron, Nicole Kidman, Margot Robbie, Kate McKinnon, and John Lithgow.
Hewson also appeared in the Netflix original movie Let it Snow. Recently, they filmed an Australian indie romance called Under My Skin. It features an ensemble cast of actors who identify as non-binary or trans non-binary. It also features Alexis Denisof.
Skyler Gisondo (Eric Bemis)
Skyler Gisondo played loyal, helpful Eric, the Hammonds' friend and neighbor. He had a will they/won't they relationship with Abby. It looked like they might, but Santa Clarita Diet ended before their relationship took off. Gisondo had a supporting role in the teen comedy Booksmart. He also had a lead role in Feast of the Seven Fishes.
In September 2019, Gisondo began filming a movie also featuring Vince Vaughn called The Binge. He'll also appear with Timothy Olyphant and others in The Starling. Skyler Gisondo has a series regular role in the Danny McBride series The Righteous Gemstones, and he also appeared in the 10th season of Curb Your Enthusiasm.
Mary Elizabeth Ellis (Lisa Palmer)
Mary Elizabeth Ellis played Eric's mom Lisa, who somehow managed to stay oblivious to everything throughout the series. Ellis continues to have a recurring role on It's Always Sunny in Philadelphia as the Waitress. She also appeared in her husband Charlie Day's series The Cool Kids, which was cancelled after one season on Fox.
Mary Elizabeth Ellis has a role in a Charlie Day directed film called El Tonto. The film has an all-star cast that includes Day, John Malkovich, Kate Beckinsale, Jason Sudeikis, and Vikings' Travis Fimmel. Ellis also has a supporting role in the upcoming Cinderella's Fairy Godmother movie Godmothered.
Nathan Fillion (Gary West)
Nathan Fillion played Gary West (and his head) for the first two seasons of Santa Clarita Diet. Then his former Firefly co-star Alan Tudyk took on the head role. He is one of the Hammonds' co-workers and Sheila's first kill. The severed head sticks around and becomes basically part of the family. Fillion will appear in The Suicide Squad sequel in 2021. His role in the movie is still a mystery.
Nathan Fillion currently has the lead role in ABC's The Rookie. It's about a 40-something year old man who decides to become a police officer. The series reunites him with his former Santa Clarita Diet co-star Richard T. Jones. ABC recently renewed The Rookie for Season 3.
Natalie Morales (Anne Garcia)
Natalie Morales played Anne Garcia in Santa Clarita Diet. She was a deputy who became Lisa's girlfriend. Morales appeared in the Kumail Nanjiani and Dave Bautista film Stuber. Currently, she has two films in the post-production stage, Happily, which stars an ensemble cast that includes Joel McHale and Paul Scheer, and The Little Things, which stars Denzel Washington, Rami Malek, and Jared Leto.
Morales had the lead role in NBC's short-lived sitcom Abby's, which was coupled with appearances in the same network's comedy Sunnyside. Back on the streaming side of things, Morales appeared in Justin Roiland's Solar Opposites and had a major recurring role in the second season of Dead to Me.
Richard T. Jones (Rick)
Richard T. Jones played Rick, one of Joel's close friends and another police officer. In 2019, Jones appeared in a movie called Round of Your Life as Coach Wilson. It's a film about a 15-year old who starts golfing when his father becomes comatose after a car accident. He wants to win the state title to honor his father.
Jones stars opposite Nathan Fillion in The Rookie. He plays Police Sergeant II Wade Grey. He also had an appearance on the HGTV series Home Town. The series is about a married couple restoring Southern homes in Laurel, Mississippi. Richard T. Jones appeared in Home Town's Season 4 premiere, "From Los Angeles to Laurel."
Ricardo Chavira (Dan Palmer)
Ricardo Chavira played Eric's stepdad and Lisa's husband, Dan. He was a sheriff's deputy and quite suspicious of the Hammonds. Chavira only appeared in the first season of Santa Clarita Diet. He then went on to have a recurring role on Jane the Virgin. He also made appearances in the series Scandal, Hawaii Five-0, Kevin Can Wait, and the short-lived series Rise.
In 2019, he appeared in the romantic TV holiday movie Christmas Reservations opposite Melissa Joan Hart. In 2021, Ricardo Chavira appears in the Netflix Selena TV series. The series follows the life and death of international superstar Selena. He'll play Selena's father Abraham Quintanilla.
Ramona Young (Ramona)
Ramona Young played Ramona, Eric's brief love-interest who also worked at Rite-Aid and became a zombie. Ramona Young appeared in the Common and Mary Elizabeth Winstead movie All About Nina. She is also appearing in Unpregnant, an adaptation of the novel of the same name. It stars Haley Lu Richardson, Barbie Ferreira, and Sugar Lyn Beard. It'll be distributed by HBO Max and produced by Greg Berlanti.
Young had a main role, turned recurring role, as Mona Wu in Legends of Tomorrow. She also has a recurring role as Eleanor in the Netflix and Mindy Kaling series Never Have I Ever.
Andy Richter (Carl Coby)
Andy Richter played the Hammonds' boss Carl. Richter continues his role as writer, executive producer, and sidekick on Conan. He also continues his voice-over work on American Dad!, The Stinky & Dirty Show, andthe Big Hero 6 series. Richter made appearances on Black-ish and Fresh Off the Boat. He also has a podcast called The Three Questions with Andy Richter.
Though I would love for a Santa Clarita Diet movie to come along, just to tie everything up a little nicer, it's clear that the cast continues to stay active and busy. Therefore, the chances of Netflix revisiting this world anytime soon is highly unlikely. For now, I'll just have to rewatch the series on Netflix, and continue to monitor their career and catch them in other projects.
Your Daily Blend of Entertainment News
Spent most of my life in various parts of Illinois, including attending college in Evanston. I have been a life long lover of pop culture, especially television, turned that passion into writing about all things entertainment related. When I'm not writing about pop culture, I can be found channeling Gordon Ramsay by kicking people out the kitchen.