Nick Cordero's Wife Said Blue Bloods Actor Isn't Available For Lung Transplant, But There's Hope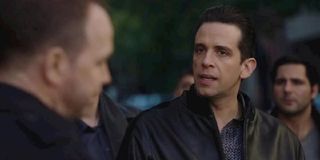 Nick Cordero's journey to recovery continues. The Blue Bloods actor and Broadway star is still in the ICU, even after finally testing negative for COVID-19. Cordero's health has been in a constant state of flux as he's suffered through severe complications due to the illness ever since being admitted to the hospital in March. Wife Amanda Kloots has been giving regular updates on his progress, and in the latest round of news, she revealed that Cordero's body wasn't yet ready for a lung transplant. However, there's still hope.
Nick Cordero has been in the hospital well past 60 days now. The actor has awakened from his coma, and he showed signs of improvement following stem cell treatment. However, the journey towards a full recovery has been slow going. Amanda Kloots once again took to her Instagram story to provide an update on Cordero's health, and the news wasn't as positive as hoped. Here's what Kloots had to say:
A previous update from Amanda Kloots revealed that Nick Cordero's lungs were severely damaged and that there were holes forming where there shouldn't be. It sounds like a lung transplant would help fix that issue in an ideal scenario, but Cordero's body is understandably (if also unfortunately) "too weak" to withstand that kind of surgery at the moment.
However, despite all the bad news and slow progress, Amanda Kloots remains incredibly hopeful that things will turn around for Nick Cordero. The actor may not be able to handle a lung transplant just yet, but the doctors reassured her that lungs are quite powerful organs, so it won't necessarily be a foregone possibility forever. Kloots went on to describe what a doctor told her about the state of Cordero's lungs:
It sounds like Nick Cordero's lungs might recover on their own, though we'll just have to wait and see how things turn out for the Blue Bloods actor. That said, the human body is resilient. If Cordero's doctor is imploring Amanda Kloots to not "give up hope," then it's possible things might look up eventually.
Here's hoping that things really do take a turn for the better and Nick Cordero gets stronger by the day. Stay tuned to CinemaBlend for updates on Cordero's progress.
Your Daily Blend of Entertainment News
Thank you for signing up to CinemaBlend. You will receive a verification email shortly.
There was a problem. Please refresh the page and try again.