Nick Cordero's Wife Asking For A 'Miracle' As Blue Bloods Star Hits Day 60 In The Hospital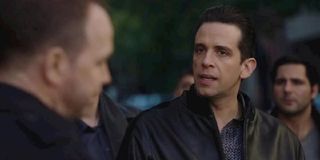 Blue Bloods actor Nick Cordero has had a long and arduous experience in the hospital following complications from COVID-19. While Cordero has awakened from his coma and has now tested negative, he's nowhere near being out of the woods just yet. Now, his wife Amanda Kloots is asking for a "miracle" as Cordero hits day 60 of his hospital stay.
It's been two months since Nick Cordero was hospitalized, and Amanda Kloots once more took to social media to provide an update on her husband's health. It's been a long uphill battle, with some good days and a lot of bad days, but it seems the Blue Bloods actor's progress has halted. In an Instagram story, Kloots provided the details. Here's what she said:
It sounds like the lack of updates from Amanda Kloots are due to the "standstill" in Nick Cordero's health progress. Previously, Cordero had been in a medically-induced coma that he struggled to wake up from. While he was under, the doctors amputated his leg after further complications and also inserted a temporary pacemaker into his heart. Cordero had also suffered from having holes in his lungs. All of those things have, obviously, taken an understandable emotional toll.
It was rough for a long time and still is. Nick Cordero's progress doesn't seem to be taking a turn for the better, especially after being in the hospital for two months. Still, Amanda Kloots is staying incredibly strong and she's hoping that something good will happen to turn the tide in Cordero's favor. Here's how she put it:
Here's hoping for the best for both Nick Cordero and his family. Perhaps things will start looking up for the better soon. Stay tuned to CinemaBlend for ongoing updates about Cordero's progress.
Your Daily Blend of Entertainment News
Thank you for signing up to CinemaBlend. You will receive a verification email shortly.
There was a problem. Please refresh the page and try again.