That David Fincher Netflix Movie Finished Filming, So What Does That Mean For Mindhunter Season 3?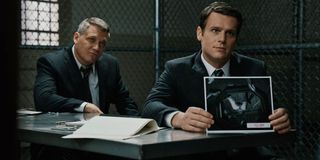 Mindhunter has been in renewal limbo for quite some time. Netflix released Season 2 in August 2019 and the true crime series' popularity and acclaim made a Season 3 renewal seem like a no-brainer. However, fans got some bad news in January when the cast was released from their contracts and renewal talks were indefinitely put on hold. A lot of the hold-up surrounding the show's future has been attributed to David Fincher's commitment to directing the biopic drama Mank. But now that Fincher's film is finished, what does that mean for Mindhunter Season 3?
Director David Fincher and Mindhunter cinematographer Erik Messerschmidt put in some hard work filming Mank, which documents the making of Citizen Kane, for Netflix. Fincher's also been busy behind the scenes producing the second season of the Netflix anthology series Love, Death, and Robots. As you can imagine, that has left little room to start developing Mindhunter Season 3. But Fincher supposedly has a five-season plan for the true crime series, so could Season 3 get back on track now that Mank is done? Speaking with Collider, Messerschmidt was asked if he knew anything about a potential third season. In his words:
That's really unfortunate, although it could have been worse if he said Fincher wasn't interested in Season 3 at all. At this point, it really does seem like the five-season plan is more of a pipe dream that'll never happen. Of course, Mindhunter's limbo status could very well change once Hollywood starts up again, but it's hard to be optimistic. Plus, just because David Fincher is finished filming Mank, that doesn't mean that he'll even be able to hop right back to Mindhunter so soon. There's also post-production and promotional commitments to think about, and Fincher also has other projects on the horizon that he's meant to produce or be an EP on.
Mindhunter Season 2 expanded on the work of the FBI's Behavioral Science Unit. Whereas Season 1 saw the team working within the confines of the Quantico base, Season 2 sent them on location to Atlanta, where Jonathon Groff's Holden and Holt McCallany's Bill Tench attempted to solve the "Atlanta Child Murders." Mindhunter Season 3 could go all in on the idea that Tench's son Brian might be showing the early signs of a serial killer. Brian suffocated a toddler in Season 2, and Tench was struggling with how to deal with that.
There's also the open-ended storyline of Holden's panic attacks, which weren't properly dealt with, and the numerous serial killers — William "Junior" Pierce and the BTK Strangler — that were introduced in Season 2, giving the BSU the option to take them on in Season 3. Based on Erik Messerschmidt's response, though, it sounds like fans will have to be patient for a lot longer.
The first two seasons of Mindhunter are currently streaming on Netflix. For more on what to watch, be sure to check out our 2020 summer TV premiere schedule, as well as our complete Netflix guide to 2020 releases.
Your Daily Blend of Entertainment News