The Best Lonely Island Music Videos, Ranked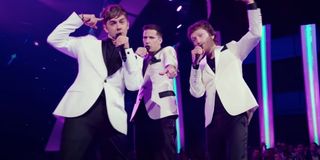 Throughout the mid to late 2000s, no musical performance on Saturday Night Live was as anticipated as the hilarious hip hop stylings of Andy Samberg, Jorma Taccone, and Akiva Schaffer. The childhood friends, whom you may recognize better collectively as The Lonely Island, became known for debuting their music videos on the NBC variety show.
In addition to becoming, arguably, bigger than the show that made them famous, the group would eventually reach a level of prestige in the worlds of both comedy and music that only a select few had achieved before. After dropping three chart-topping studio albums, performing on an Academy Award-nominated song from The LEGO Movie, and collaborating with Judd Apatow on the critically acclaimed feature film Popstar: Never Stop Never Stopping, The Lonely Island are now iconic enough to have earned a special list ranking some of their most notable work in ascending order.
As fate would have it, that is exactly what we have decided to do, based on the criteria of comedic appeal, originality, and grooviness. The following are my own personal choices of the top five best music videos from The Lonely Island, starting with the mention of a few pieces that are just as honorable.
Honorable Mentions
When your ranking of an artist's work comes with a maximum number of five entires, there are bound to be a few examples that, unfortunately, do not make the cut. However, I would be feel incredibad if I did not give props to some Lonely Island classics such as the ultra-embarrassing "J*zz in My Pants," boastful corporate lifestyle ballad "Like A Boss," featuring then Saturday Night Live host Seth Rogen, and what is probably the most uproariously funny and shocking track from Popstar: Never Stop Never Stopping, "Finest Girl (Bin Laden Song)." Of course, as the rest of the list will guarantee, no one does collaborations better than Andy Samberg and crew, such as the magic they created with The Strokes vocalist Julian Casablancas on the musical "cautionary tale" that is "Boombox" and Akon with the hilarious, but truly liberating, "I Just Had Sex."
5. Threw It On The Ground (2009)
This video stars Andy Samberg (along with a few other familiar faces from SNL), as a New Yorker on a one-man war against "the system," which he fights by promptly throwing what he perceives as a force of oppression onto the ground. However, in reality, these are just friendly offerings from street vendors, the result of a gross misunderstanding, or random civilians' property that he had no business touching in the first place.
The joke that this guy is really just an ignorant ass evolves from lightly quirky, with the destruction of an energy drink sample, to gut-busting, with "Hollywood phonies" Ryan Reynolds and Elijah Wood's high-voltage retaliation against Samberg's delusional "hero," making "Threw it On the Ground" one of The Lonely Island's more under appreciated masterworks.
4. Jack Sparrow (2011)
The fourth track from The Lonely Island's sophomore album Turtleneck & Chain, is one of their most beloved efforts, however, especially for its incredibly geektastic video depicting a recording session with Michael Bolton.
The Grammy-winner ignores the trio's intentions for a song fit for the club scene in favor of lyrical references to the Pirates of the Caribbean franchise, hence the title "Jack Sparrow," which turns out to be just the first of many films he goes to great lengths to embody, despite his young colleagues' many protests. The singer's uncontrollable, cinephilic tendencies screwing up The Lonely Island's one attempt at something unusually earnest is an irresistible concept for how unfathomably random it is, while wrapped in a truly "big, sexy hook" as promised, and quite possibly Bolton's best work.
3. I'm On A Boat (2009)
Before Michael Bolton, one of The Lonely Island's more strikingly unlikely alliances was on this ode to aquatic transportation with T-Pain. Jorma Taccone is bummed that Andy Samberg, after winning a free boat ride for three in his cereal box, invites the robotically-voiced rapper and Akiva Shaffer instead of him, meaning he is forced to miss out on riding with dolphins in tuxedos and making love to a mermaid on a luxurious yacht cruising by New York harbor. I tend to giggle the most at T-Pain's main contribution of auto-tuned echoes to The Lonely Island's raps in "I'm on a Boat," a brilliant spoof of sea-based hip-hop music videos that, in my opinion, blows Will Ferrell and John C. Reilly's "Boats and Hoes" from Step Brothers right out of the water.
2. Lazy Sunday (2005)
What made T-Pain and The Lonely Island such an unlikely collaboration was the auto-tune master's musical accomplishments and the trio's comparative lack thereof at the time, which was essential to its success. However, the explosive popularity of "Lazy Sunday," which eventually garnered a sequel after seven years, remains a mystery as it is nothing more than Andy Samberg and Chris Parnell's retelling of their impromptu decision to see a movie in rhyme under a slamming gangsta rap beat. Still, the second-ever "SNL Digital Short" become one of show's first viral sensations, inspired countless parodies (even on The Office), caused audiences to never think of The Chronic - WHAT! - cles of Narnia the same way again, and made The Lonely Island comedy gods without anyone knowing who they were yet.
1. D*ck In A Box (2006)
All it took to get The Lonely the recognition they finally needed was a little help from their friend Justin Timberlake. Andy Samberg and the multi-talented artist, and one of the most celebrated Saturday Night Live hosts in history, star as R&B singers who give a most-NSFW Christmas gift to their significant others, which, while seemingly proving successful in private, does not end well for them when presenting the idea in public.
An instant classic, "D*ck in a Box" has since become a holiday tradition for SNL, on which Timberlake and Samberg have reprised the smooth duo countless times, and at Madison Square Garden, too, and remains one of The Lonely Island's most brilliantly raunchy and celebrated achievement in showing the world "that's the way you do it."
What do you think? Am I wise enough to know that this JT collaboration is the greatest piece of art The Lonely Island have blessed the world with, or did my picks make your wanna throw your device on the ground? Let us know in the comments and be sure to check back for additional information and updates on the hip-hop comedy group, as well as even more or our own pop culture rankings, here on CinemaBlend.
This poll is no longer available.
Your Daily Blend of Entertainment News
Jason has been writing since he was able to pick up a washable marker, with which he wrote his debut illustrated children's story, later transitioning to a short-lived comic book series and (very) amateur filmmaking before finally settling on pursuing a career in writing about movies in lieu of making them. Look for his name in just about any article related to Batman.