Fox's Next: 6 Biggest Things To Know From The Comic-Con Panel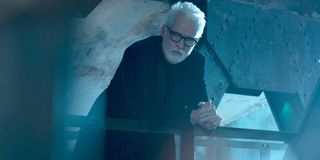 Imagine the possibility that the device you are currently using to read this article could be used against you, and not necessarily by the authority of a human, but something equally malevolent and (even worse) more intelligent. It is a scary, but quite plausible concept and one that the creator and cast of Next, a new thriller coming this fall to Fox, seemed more interested in discussing than the series itself while promoting it at this year's Comic-Con over video chat.
The drama series, created by former 24 executive producer Manny Coto, follows a tech entrepreneur (John Slattery of Mad Men and MCU fame) who collaborates with the head of an FBI cyber crimes unit (Sons of Anarchy's Fernanda Andrade) to hunt down an artificial intelligence creating widespread chaos. It is the kind of story that is often serves as the basis of a James Cameron movie or an episode of Black Mirror, but Coto and his Next cast seem to take the concept it a little more seriously than simple entertainment.
During their virtual Comic-Con panel discussion, moderated by Senior Entertainment Writer at Thrillist Esther Zuckerman, Manny Coto, John Slattery, and others dished on their characters, how the concepts explored in Next freak them out, and how the series became even more relevant than they expected amid recent events. Find out all about that and more from the following six coolest things we learned during the interview.
Creator Manny Coto's Children Helped Inspire The Plot Of Next
A concept as complex, disturbing, and culturally relevant as Next sounds like it could have stemmed from multiple avenues. While Manny Coto does discuss much of the in-depth research on the topic of artificial intelligence he endured while plotting the series, the initial spark actually came from his own children, as he explains:
The mystery behind Manny Coto's resident Amazon Echo and its lively personality, so to speak, only became more disturbing when tech leaders like Elon Musk or Bill Gates and other experts on the matter began voicing their own concerns over AI. All the Emmy-winner would have to do is develop characters through which he could present these themes and Next was born.
What We Learned About The Next Cast's Characters
The panel offered some interesting bits of information about the characters in Next.
John Slattery - Paul LeBlanc
Following his role as the husband of a conservative activist on the Emmy-nominated historical FX miniseries Mrs. America, John Slattery leads the cast of Next as Paul LeBlanc, a tech executive with a tendency to speak "what he thinks without considering the thoughts or feelings of other people," as the 57-year-old actor describes. Despite having intellect crucial to defeating the evil titular AI, his flaws put him at odds with other characters, including his own brother.
Jason Butler Harner - Ted LeBlanc
Former Ozark star Jason Butler Harner describes his character Ted LeBlanc as "the Roy Disney" to his brother Paul's Walt, with whom he co-founded their successful tech company. While Paul is "the mind" of the company, Ted prefers to focuses more on the business side of things. Harner also teased that, while the siblings do love each other, the premiere season of Next will showcase "some adversarial moments and some slights" between them after chaos ensues.
Fernanda Andrade - Shae Salazar
Affected on a more personal level by that chaos is Shae Salazar, an FBI cybercrimes unit leader played by Fernanda Andrade, who teams up with Paul LeBlanc after he is able to convince her that "a dear friend fo hers who was a father figure to her" was killed by a super intelligence. The actress hinted at some of the secrets that are to be revealed about her character on Next, stating:
LeBlanc and Salazar are not alone in this fight against the evil AI, however.
Eve Harlow - Gina
Starring as Gina, the nerdy cybercrimes division employee, is Eve Harlow, a bit of a fan favorite in the nerd community herself from roles in The 100 and Agents of S.H.I.E.L.D. The actress mentions in the panel discussion that she was "stoked" when she first laid eyes on the pilot script for Next, being a self-described tech junkie in real life. Harlow almost contradicts that hobby later on, especially when describing how much she misses life "away from keyboard" in the wake of COVID-19, but more on that later.
Michael Mosley - CM
Also part of the fight against cybercrime is CM, played by fellow Ozark vet Michael Mosley. The actor, also known from hit crime procedural series Castle and Criminal Minds, revealed that his character, a former hacker, may work with the FBI, but he is not necessarily one of the good ones:
One thing that is certain is the super intelligence at the center of Next is danger of unimaginable circumstance. Just ask John Slattery.
John Slattery's Description Of The Next AI Sounds A Bit Like Ultron
Manny Coto likens Next to a classic "manhunt thriller" in response to Esther Zuckerman's inquiry of what to expect from the series. Star John Slattery uses that phrase to segue into a full-scale description of what his character's digital enemy is capable of, which quite frankly, reminds me of a certain MCU movie villain:
While the similarities are clear, perhaps hearing this description from Tony Stark's father is why I cannot help but think of Ultron. Comic book movie references aside, the mere idea of such a threat is enough to instill much distrust in the technologies society holds dear today and the cast of Next is living proof.
Working On Next Made The Cast A Lot More Tech Paranoid
The entire Next panel seemed to come prepared with their own indictments on the current (and plausible) state of technology, such as Jason Butler Harner's frightening scenario in which all the devices we use on a daily basis "could suddenly communicate with each other… and then [decide] that it wants you to be gone." Arguably, the most sobering insight regarding these fears came from Fernanda Andrade, who said the following:
Perhaps the most concerning aspect to these potential dangers is how rapidly these new technological developments seem to come about these days. Manny Coto especially felt the weight of that while mapping out the series.
The Story Of Next Would Change As Technology Advanced
Moderator Esther Zuckerman rightfully insinuated that technology was "moving as fast as the writing" of Next during the panel discussion. Manny Coto was always careful to keep the plot up to date, and even made one of the most popular topics in technology today a late addition to the story when he realized its potential for concern, stating:
It almost makes you look at that recent deepfake imagining Bill Hader as the T-1000 in Terminator 2: Judgment Day differently, doesn't it?
The Panel Was Also Shocked By How Relevant Next's Topics Became Amid Quarantine
If there was one thing that the makers of Next were not prepared for, in terms of thematic relevance, is how the series would reflect the circumstances of COVID-19, and not just by how the series made headlines after a crew member tested positive for the virus. Without going into specifics, Manny Coto calls the similarities "jaw-dropping… because it's going to look like we based this all on recent events when we finished shooting right before the virus hit." Jason Butler Harner would comment on the comparisons, and shed light on how reliant we seem to be on these technologies especially in the pandemic's wake, earlier in the conversation, revealing he had to use a friend's wi-fi to participate in the panel after his went out.
Hopefully, our future does not look as bleak as Next aims to prophesy after it premiers on Fox on Tuesday, October 6, 2020. Be sure to check back for additional information and updates on this technophobic thriller, as well as even more insight into the best panel discussions at this year's virtual San Diego Comic-Con, here on CinemaBlend.
Your Daily Blend of Entertainment News
Jason has been writing since he was able to pick up a washable marker, with which he wrote his debut illustrated children's story, later transitioning to a short-lived comic book series and (very) amateur filmmaking before finally settling on pursuing a career in writing about movies in lieu of making them. Look for his name in just about any article related to Batman.
Your Daily Blend of Entertainment News
Thank you for signing up to CinemaBlend. You will receive a verification email shortly.
There was a problem. Please refresh the page and try again.