Amanda Kloots Pays Tribute To Blue Bloods' Nick Cordero On One-Month Anniversary Of His Death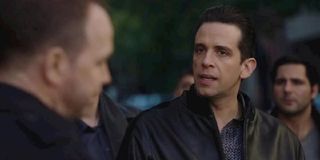 Blue Bloods and theater actor Nick Cordero died on July 5 following a turbulent battle with COVID-19. The late actor had multiple health setbacks and was hospital-bound for months, but many had hoped he'd make it through. Now, Amanda Kloots is paying tribute to her late husband on the one-month anniversary of his tragic death.
Amanda Kloots he took to Instagram once more to post a heartfelt and emotional message addressed to the late actor on this mournful anniversary. Here's what Kloots wrote:
Amanda Kloots was by her husband's side through the good and bad days of his illness, at least metaphorically speaking during the span when she wasn't able to do so in person. After Nick Cordero hit the 90-day hospital mark, Kloots said she "broke big time," but nevertheless tried to stay strong through the ordeal while caring for son Elvis and providing social media updates on Cordero's condition. When Cordero passed, it was Kloots who broke the news.
When that news went public, a number of celebrities (Hamilton's Lin-Manuel Miranda, Viola Davis, Zach Braff, and more) reacted to Nick Cordero's death online and expressed heartbreak and sadness. The outpouring of love was emotional and you could see how adored Cordero was amongst his friends and colleagues, as well as how much of an impact he made on each of their lives.
Accompanying the one-month anniversary tribute was a picture of Amanda Kloots with Nick Cordero taken during much happier times, with the pair smiling at the camera and embracing. Take a look at the sweet photo below.
Prior to Nick Cordero's death, the Bullets Over Broadway actor was undergoing stem cell treatment and there were some positive signs at the time. When he was first admitted to the hospital, doctors misdiagnosed him with pneumonia. He was later placed in a medically induced coma, had his leg amputated, and later needed a temporary pacemaker placed inside his heart, beyond also suffering from holes in his lungs. He was also put on dialysis for his kidneys to continue functioning. It was really rough going, but Amanda Kloots and never lost hope. When Cordero succumbed to COVID-19 complications, Kloots and his mother were by his side.
We here at CinemaBlend continue to keep Amanda Kloots and her family in our thoughts during this incredibly difficult time.
Your Daily Blend of Entertainment News
Your Daily Blend of Entertainment News
Thank you for signing up to CinemaBlend. You will receive a verification email shortly.
There was a problem. Please refresh the page and try again.