Nick Cordero's Wife Offers Update On Blue Bloods Actor After Finally Getting To Visit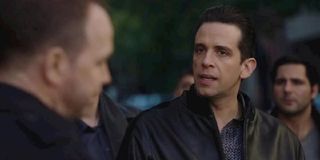 Following Nick Cordero's admission to the hospital, Amanda Kloots has been open about her husband's harrowing experience in the wake of his COVID-19 diagnosis. Now, well after more than two months in the hospital, Kloots was finally able to visit the Blue Bloods actor for the first time. In a new update, she also offers some uplifting news.
Father's Day weekend proved eventful for the Cordero family. For the first time since being hospitalized, Amanda Kloots was finally able to visit Nick Cordero in the ICU. Kloots posted a picture of herself holding Nick Cordero's hand for the first time in months, accompanied by the lyrics to Andy Grammar's "Don't Give Up On Me." Following her Father's Day visit on Sunday, June 21, Kloots took to her Instagram story to provide another update on Cordero's health. Here's what she said:
That is fantastic news and seems like a big step forward given other recent reports about the actor! Amanda Kloots goes on to reveal that she's been singing "Our House," by Crosby, Stills, & Nash to her husband whenever she drops by the hospital. She says the song is "apropos" because it was written in Laurel Canyon, which is "not far" from the house she and Nick Cordero bought together. Kloots also says she follows up the song with a prayer, holds Cordero's hand, and kisses him before asking him to carry on fighting.
The actor and Broadway star of shows like Rock of Ages and A Bronx Tale had previously been in a coma following health complications from the novel coronavirus. Nick Cordero's health deteriorated very quickly and the ramifications of the illness resulted in his leg being amputated, holes in his lungs, and a temporary pacemaker being inserted for his heart. So, it was pretty bad for a long time.
However, Nick Cordero's terrifying ordeal didn't end after waking up from his coma. Although the Blue Bloods star tested negative for COVID-19 last month, his body was still reacting to the illness. Amanda Kloots has revealed that he has good and bad days and, though he isn't strong enough for a lung transplant right now, he has been receiving stem cell treatment that has improved his progress.
Not to jinx it or anything, but things do seem to be looking up for Nick Cordero and even Amanda Kloots seems like she's in slightly better spirits following her visits with him over Father's Day weekend. Here's hoping that things continue on a positive note for the Blue Bloods star and his family.
Stay tuned to CinemaBlend for continuing updates on Nick Cordero's health. In the meantime, be sure to check out our summer TV schedule for more on what to watch.
Your Daily Blend of Entertainment News
Thank you for signing up to CinemaBlend. You will receive a verification email shortly.
There was a problem. Please refresh the page and try again.