Amanda Kloots Documents Her Journey As She Moves Into New Home, Picks Up Nick Cordero's Ashes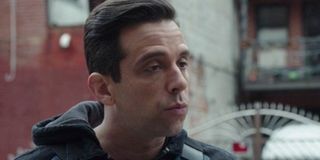 Blue Bloods actor and Broadway star Nick Cordero died in July following coronavirus complications. For months prior to his death, his wife Amanda Kloots offered all kinds of ups-and-downs updates concerning his health progress, and she has remained connected with fans even after. On the one-month anniversary of his passing, Kloots posted an emotional tribute to social media. More recently, she documented moving into a new home that Cordero bought for them before his extended hospital stay, and Kloots also updated fans on picking up Cordero's ashes.
To say that Amanda Kloots has had it rough over the last several months would be an understatement. In an Instagram story, Kloots revealed that things have been hard for her recently and that she's felt like she "can't even function." However, in the month or so since Nick Cordero's death, Kloots says she's been supported a lot by her brother and sister-in-law. Later on, she relayed what it felt like to pick up Cordero's cremated ashes. Here's what she said:
That's pretty heartbreaking. It's pretty clear to see how much Amanda Kloots loved her husband and how much his death has impacted her, which will likely be the case for a while. That said, the advice her friend offered is indeed beautiful, because having his ashes is almost like having a piece of him there with her. Losing a loved one is incredibly difficult, but Kloots seems to be doing her best to keep herself and their son Elvis happy.
In an Instagram post, Amanda Kloots also shared the news that she and the aforementioned one-year-old Elvis had officially moved into their new home. Alongside the caption, she revealed why the home was so special to her, especially in the wake of Nick Cordero's death. In her words:
Amanda Kloots included a sweet picture of herself alongside her late husband and son on the day they first got the keys to their new home. At the time, the house hadn't been renovated, but Kloots said she wanted to document what things looked like before and after everything was settled. Take a look at the photo below.
I hope that Amanda Kloots' new home will bring her and Elvis some comfort knowing that it was "Nick's dream," and we here at CinemaBlend send lots of housewarming wishes for the family.
Your Daily Blend of Entertainment News
Your Daily Blend of Entertainment News
Thank you for signing up to CinemaBlend. You will receive a verification email shortly.
There was a problem. Please refresh the page and try again.