Nick Cordero's Wife Provides Update After 'Rocky Night' In The ICU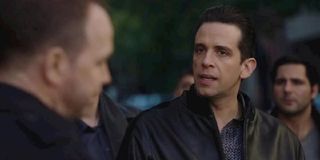 Blue Bloods' Nick Cordero and his family have had their life turned upside down in recent months. After being diagnosed with COVID-19, Cordero's health deteriorated rather quickly. Amanda Kloots has been providing fans with continuous updates on her husband's situation and recovery process, and her most recent update revealed that Cordero had a "rocky night" in the ICU.
Nick Cordero has been in the hospital since late March, when he was initially admitted for pneumonia. However, that's not what it turned out to be at all, and Cordero's health was swiftly affected. He was in a coma and faced several health complications that have contributed to the ups and downs of his wellness in recent months, with Kloots diligently giving fans information regarding Cordero's progress. In a video post made to her Instagram story, Kloots' most recent update suggests that things might be looking up despite another health scare. Here's what she said:
Notwithstanding the "rocky night" Nick Cordero experienced in the ICU, Amanda Kloots' update sounds cautiously optimistic. This outlook is much different than before. In early June, Kloots was prompted "to say goodbye" to her husband and was told a few times that there's a chance he might not make it. However, Kloots has been keeping the faith and hope alive that Cordero would get better, despite the fact that blood clot issues led to his leg being amputated, among other health complications.
Now that Nick Cordero's awakened from his coma, the focus has been on boosting his lung strength. Amanda Kloots' last update detailed how the doctors were doing stem cell research and treatment to help boost his lung health. Cordero's lungs were severely damaged after his diagnosis, and he later developed holes in his lungs. Since the treatment began, Kloots said Cordero was showing signs of improvement and body strength overall.
So, while the Blue Bloods star is not out of the woods just yet, "things are doing OK," according to Amanda Kloots. He's been in the hospital for over 60 days now, but here's hoping things continue looking up for Nick Cordero and his family.
Your Daily Blend of Entertainment News
Thank you for signing up to CinemaBlend. You will receive a verification email shortly.
There was a problem. Please refresh the page and try again.